Mind the gap: Vietnam's youth take time to grow, find themselves
Taking a gap year is still a new concept to Vietnam's youth
Taking a gap year is still a new concept to Vietnam's youth
Though the idea of a 'gap year' is still in its infancy in Vietnam, local students are actively seeking out opportunities to enrich their lives and expand their horizons between finishing high school and beginning university.
A high school graduate, Bich Ngoc works at a dragon fruit farm in Vietnam in this photo provided by her.
A 'gap year' is typically an extended period of time when high school graduates travel, work, or volunteer before beginning higher education.
The idea is that young adults can use their experiences to mature before moving on to the next stage in their lives.
In Vietnam, the phenomenon is manifesting itself within the confines of the country's cultural climate – primarily local volunteer opportunities and visits to neighboring countries.
The trend is becoming overwhelmingly embraced by recent graduates who feel unprepared to leave the ivory tower of traditional education before entering the real world, instead seeking out a new environment where non-traditional opportunities for self-improvement and spiritual awakening abound.
"After working for a month after graduation, I realized that I lacked life experience and was not ready for a career," said 22-year-old Le Bich Ngoc while visiting Thailand.
"That prompted me to leave everything behind and travel through neighboring countries to see what other people do and how they live."
Deferring an academic year has become so popular that many top-notch universities have created provisions that allow students to put their education on hold while they take time to break loose from their studies and develop a personal vision and sense of purpose.
"I don't feel happy at school, nor do I have the faintest idea of what job I want after graduating," said Ha Thi Kim Tuyen, a junior at the Ho Chi Minh City University of Science.
"I want to spend a year finding my own answers, improving my skills, and participating in social activities before I go on to complete my education."
Many who have taken a gap year are eager to share personal accounts of vast transformations in their character and outlook.
Pham Dinh Hai Long, 22, said that he personally gained a greater self-knowledge during his gap year.
Ho Bao Ngoc, a student at Foreign Trade University in Ho Chi Minh City, had a similar experience, sharing that most of her fellow gap year takers became "new people."
The gap-year phenomenon is still new and uncommon for Vietnamese students, but the majority of those who do choose to take a year off have already secured admission to a foreign educational institution.
Nguyen Dinh Ton Nu, who earned a scholarship to Harvard University, opted to defer entering university for a year to focus on her multiple commitments, such as taking care of her grandmother, playing the piano to her parents, planting roses, and learning how to love and study.
However, for many others, a year off is still a foreign concept.
Vietnam's educational system offers few opportunities for students to take a transitional year, with most discouraging the delay of college admission or failing to integrate it into training programs.
The uninstitutionalized status implies that taking a year away from studies must present itself as a personal wish, rather than a formalized practice.
It seems that with this new idea making its entrance into the modern Vietnamese educational experience, the schools are the ones lagging behind the students./.
VNF/TTO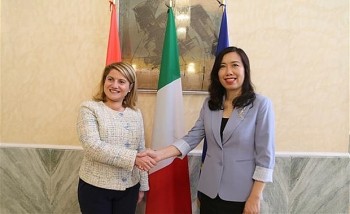 Friendship
The Vietnam - Italy political consultation is part of the occasion of the 50th anniversary of diplomatic ties and the 10th anniversary of the framework of the strategic partnership.