Mr. Sugi Ryotaro, Special Ambassador for Vietnam – Japan relations honored
Special Ambassador for Vietnam-Japan Sugi Ryotaro has been honoured with the third-class Labour Order of Vietnam for his enormous contributions to the relations between the two countries over the past 30 years.
Vietnamese Ambassador to Japan Vu Hong Nam presents the third-class Labour Order of Viet Nam to Special Ambassador for Viet Nam-Japan Sugi Ryotaro. — VNA/VNS Photo Thanh Tung
On behalf of the President of Viet Nam, Vietnamese Ambassador to Japan Vu Hong Nam presented the order to Sugi Ryotaro at a ceremony in Tokyo on Wednesday.
In his speech, Nam highlighted Sugi Ryotaro's dedication to Vietnam-Japan relations, especially in culture, over the past three decades.
He said when Vietnam was still facing hardship, Sugi Ryotaro took the lead in introducing Japanese culture, music and arts to the Southeast Asian nation to bring the two peoples closer together, thus creating a foundation for today's extensive strategic partnership between the two nations.
The diplomat also highlighted Vietnam's appreciation of his huge contributions to the country, as well as Vietnam-Japan connections.
In their congratulations, former Politburo member and former Minister of Public Security of Viet Nam Le Hong Anh and Secretary General of Japan's ruling Liberal Democratic Party Toshihiro Nikai also highly valued Sugi Ryotaro's devotion to the two countries' friendship. They expressed their hope that this relationship will keep flourishing in the future.
Addressing the event, Sugi Ryotaro recalled his memories of Vietnam, including his meeting with then Party General Secretary Do Muoi in the early 1990s. At that time, he told the Vietnamese leader that the two countries' ties in both economy and politics remained underdeveloped, so they should use culture to make a breakthrough for this relationship.
On this occasion, Prime Minister Nguyen Xuan Phuc and Deputy Prime Minister and Foreign Minister Pham Binh Minh sent congratulations to Sugi Ryotaro.
Sugi Ryotaro first came to Vietnam in 1989. A few years later, determined to promote Vietnam-Japan relations, he held a charity concert at the Hanoi Opera House. This can be considered as the first concert of foreigners held in Vietnam. On this occasion, Mr. Sugi met with Party General Secretary Do Muoi, the two sides pledged to promote bilateral relations based on cultural pillars.
VNF ( VNS )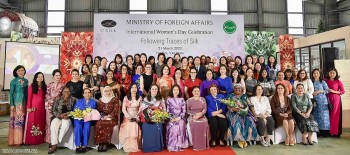 Friendship
Female ambassadors, representatives from diplomatic corps and international organizations, along with spouses of diplomats in Vietnam gathered together to find about more about silk weaving and silk products in Vietnam.