Mui Ne Named Among Top 10 Best Beach Vacations
With ideal sunny weather all year round and amazing hotel deals, Mui Ne Beach in Binh Thuan province is the highest-ranking Asian beach among the world's best beach vacations.
Daydreaming about a vacation by beach but do not know where to start? Already planned an actual vacation but want to see what to expect at your destination? Look no further, we have a list of the 10 best beach vacation across the globe made by the famous luggage storage company Bounce.
Those beaches were evaluated for water temperature, weather, average hotel price, number of restaurants and bars, and number of Instagram hashtags, so all you have to do is you keep scrolling to get the whole picture of your experience.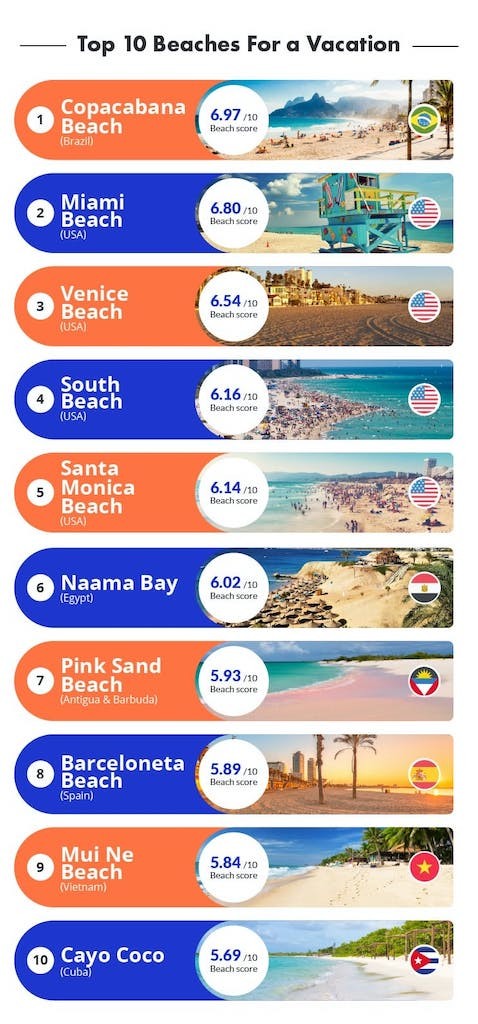 Top 10 best beach vacation across the globe by Bounce. Photo: Bounce
Mui Ne is the highest-ranking Asian beach
Mui Ne attracts many tourists every year thanks to its beautiful clean beach. At this tropical paradise, you are not only enjoy the nature but also taste many delicious seafood. According to Bounce, Mui Ne in Vietnam ranked at 9th place with 5.84 out of 10 score.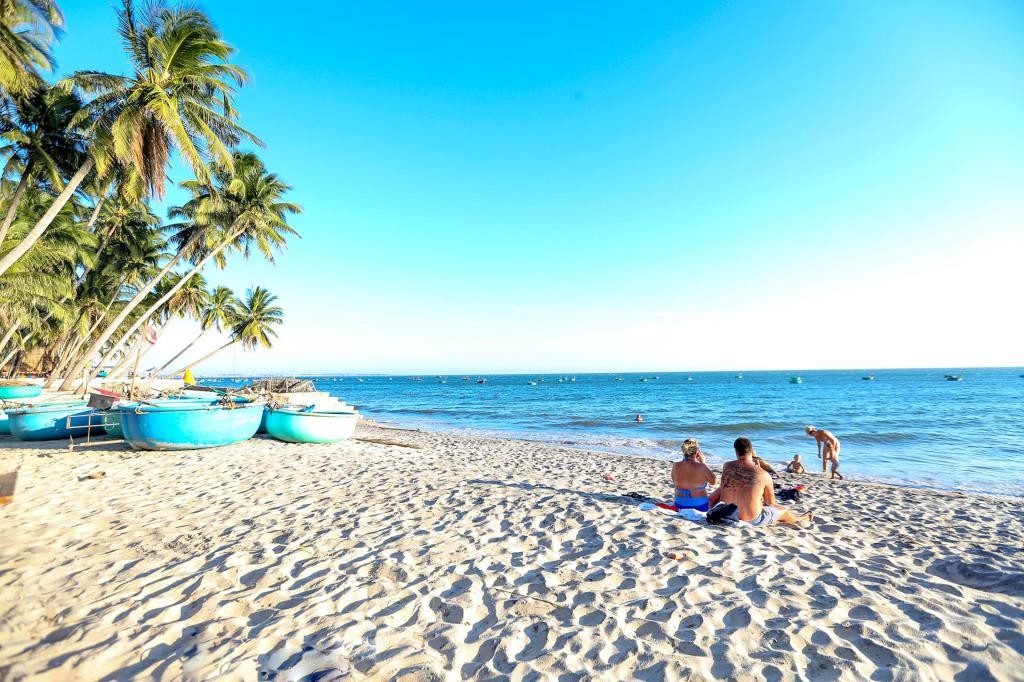 Mui Ne in Vietnam ranked at 9th place with 5.84 out of 10 score. Photo: Adventure Journey
Out of the 10 destinations, the only one with average hotel prices under $55 per night is Mui Ne. The exact price is $54.12, and on top of being affordable Mui Ne also has average temperatures of 26.5 degrees celsius and it has hundreds of restaurants to choose from. The water temperature is slightly warmer at 27.5 but it is just perfect to enjoy swimming, water sports or just a simple dive.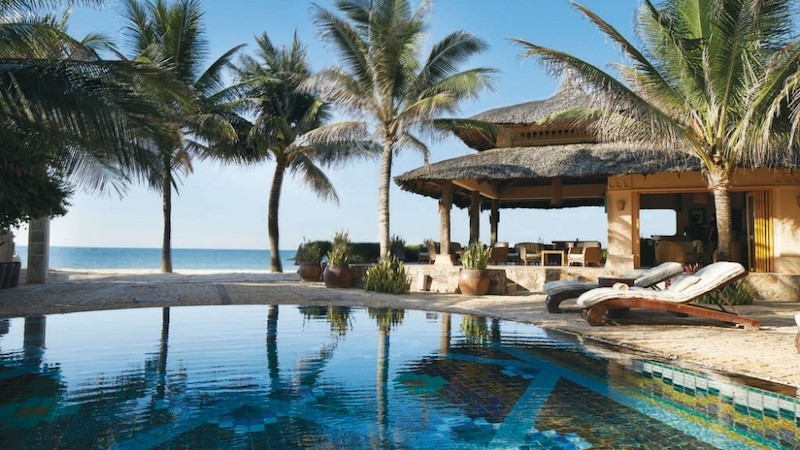 Mui Ne's average hotel prices is under $55 per night. Photo: Chudu24
Above Mui Ne, Barceloneta Beach in Spain landed 1 spot above Mui Ne with just 0.05 difference in score.
One of the most popular tourist destinations in Europe is the Catalan city of Barcelona in northern Spain. One of the reasons for the city's attractiveness is its Mediterranean climate and beautiful beaches. The most iconic of those beaches is Barceloneta which achieved a score of 5.89. Barcelona has 9,681 restaurants at the disposal of holidaymakers, meaning it is the fourth highest-ranking beach for this category.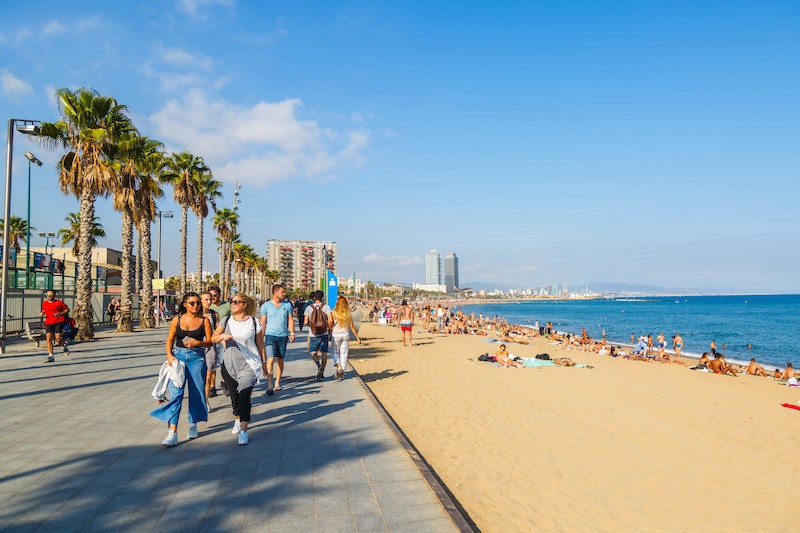 Barcelona beaches are famous European destinations. Photo: Time Out
Brazil landed in first place, Cuba last
No stretch of sand could compete with Copacabana in Rio de Janeiro, Brazil: It landed in first place with 6.97 points, thanks in part to the fact that it has more restaurants and bars (11,153) than any other beach on the list, cited from Mental Floss. Looking back from Copacabana gives you a view of one of the most iconic cities in the world under the watchful eye of the Christ the Redeemer statue.
No 1 beach vacation: Copacabana in Brazil. Photo: Minube
The rest of the top five comprised beaches in the US Florida's Miami Beach missed out on the top spot by less than two-tenths of a point; and California's Venice Beach was just 0.26 points behind that.
Miami Beach's popularity among spring breakers no doubt bolstered its performance—it's been hashtagged on Instagram roughly 14.4 million times. Copacabana, for reference, clocked just 3.8 million hashtags.
You might try the sunny beaches of Egypt's Naama Bay, a warm, calm body of water off the Red Sea. It came in sixth place with 6.02 points, narrowly outperforming Antigua and Barbuda's Pink Sand Beach and Spain's Barceloneta Beach.
Pink Sand Beach on the island of Barbuda in the Caribbean is one of the most striking on the list with the distinctive hue of the sand giving it the obvious name. Still, the beach is let down by having a small number of bars, as well as expensive hotel prices.
The premium beach Cayo Coco. Photo: Fredericton International Airport.
The last one to make the list is Cayo Coco beach in beautiful Cuba. Located just off the Cuban mainland, Cayo Coco beach sits on the northern coast of the island that shares its name. Characterized by the coral reefs and white sand beaches, the island's premium beach is Cayo Coco.
Cayo Coco is actually one of the country's best bird-watching destinations with 150 different bird species. It is home of one of the largest colonies of pink flamingos in the Caribbean!
What is your favorite beach vacation? Which criteria would matter the most to you when choosing a beach destination?