Multiple blasts hit Sri Lanka churches, hotels; at least 200 dead, hundreds injured
The death toll in a string of blasts targeting hotels and churches in Sri Lanka on Sunday (Apr 21) has risen to 207, including 35 foreigners, a police official told AFP.
The aftermath of the blast at St Sebastian's Church at Katuwapitiya in Negombo. (Photo: [email protected])
At least 450 injured people have been admitted to hospital, police spokesman Ruwan Gunasekera told reporters in Colombo.
He added that three people had been arrested in connection with the attacks that mostly targeted high-end hotels in the capital and churches where worshippers were attending Easter services.
Gunasekera said the police were investigating whether suicide bombers were involved in all of the blasts.
In a video on his Twitter account, Sri Lanka's State Minister for Defence Ruwan Wijewardene said the country's Criminal Investigations Department is working with the police and the military to investigate the attacks.
"We believe that all the culprits who have been involved in this unfortunate terrorist incident will be taken into custody as soon as possible," he said, adding that suspects have been identified.
Eight explosions in hotels and churches have been reported on Sunday. The police official said at least 45 people had been killed in Colombo, where three hotels and a church were hit.
Another 67 were killed in an attack on a church in Negombo north of the capital, with another 25 dead at a church in the town of Batticaloa, in the east of the country.
The blasts hit several high-end hotels and one church in the capital, while two additional churches were targeted outside Colombo, police said.
The first explosions were reported at St Anthony's Church in Colombo and St Sebastian's in the town of Negombo just outside the capital.
At least 160 people injured in the St Anthony's blast had been admitted to the Colombo National Hospital by mid-morning, an official told AFP.
"A bomb attack to our church, please come and help if your family members are there," read a post in English on the Facebook page of the St Sebastian's Church at Katuwapitiya in Negombo.
Shortly after those blasts were reported, police confirmed three hotels in the capital had also been hit, along with a church in the town of Batticalao, in the east of the country.
The aftermath of the blast at St Sebastian's Church at Katuwapitiya in Negombo. (Photo: [email protected])
An official at the Batticaloa hospital told AFP more than 300 people had been admitted with injuries following the blast there.
The nature of the explosions was not immediately clear.
President Maithripala Sirisena said he had ordered the police special task force and military to investigate who was behind the attacks and their agenda.
The military had been deployed, according to a military spokesman, and security stepped up at Colombo's international airport.
"PM (Prime Minister) met with ministers and senior military personnel; all measures taken to maintain peace," Sri Lanka's Minister of Economic Reforms and Public Distribution, Harsha de Silva, said in a tweet on his verified account.
"Security tightened. Please stay calm. Please act responsibly. Please no politics. We must all act together as Sri Lanka citizens. My condolences to all families who lost loved ones."
He said in another tweet he had been to two of the attacked hotels and was at the scene at St Anthony's Shrine, and described "horrible scenes."
"Please stay calm and indoors," he added.
Photos circulating on social media showed the roof of one church had been almost blown off in the blast.
The floor was littered with a mixture of roof tiles, splintered wood and blood.
Several people could be seen covered in blood, with some trying to help those with more serious injuries.
VNF/CNA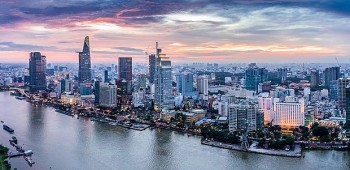 Economy
Japanese investors have been interested in the property market in Vietnam.