NA Chairman Meets Deputy Speaker of Hungarian Parliament
National Assembly Chairman Vuong Dinh Hue and a high-level delegation of the Vietnamese legislature arrived at Budapest, on June 25, beginning an official visit at the invitation of of the Speaker of the National Assembly of Hungary.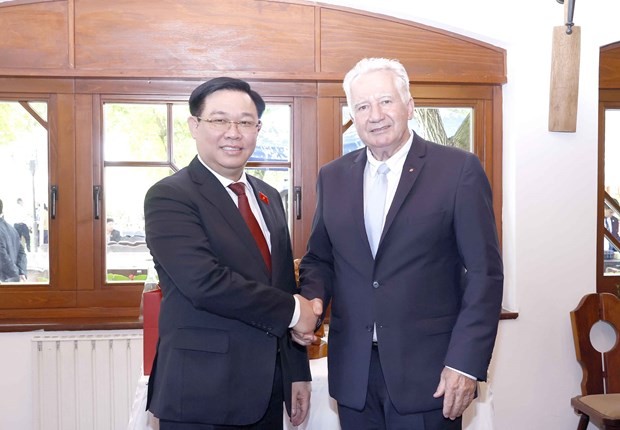 National Assembly Chairman Vuong Dinh Hue (L) and Deputy Speaker of the Hungarian parliament István Jakab. Photo: VNA
National Assembly Chairman Vuong Dinh Hue visited Albertirsa city on June 26 as part of his official visit to Hungary, where he was welcomed by Deputy Speaker of the Hungarian parliament István Jakab and city officials, reported VNA.
At his meeting with the deputy speaker of the Hungarian parliament, Hue thanked him for spending time to accompany the Vietnamese delegation to Albertirsa and a processing factory of Mirelite Mirsa, an outstanding local enterprise in clean and green agriculture.
The two parliament leaders agreed that the two sides should focus on cooperation in agriculture, especially when Hungary has strengths in supply chains from cultivation, processing to marketing and distribution.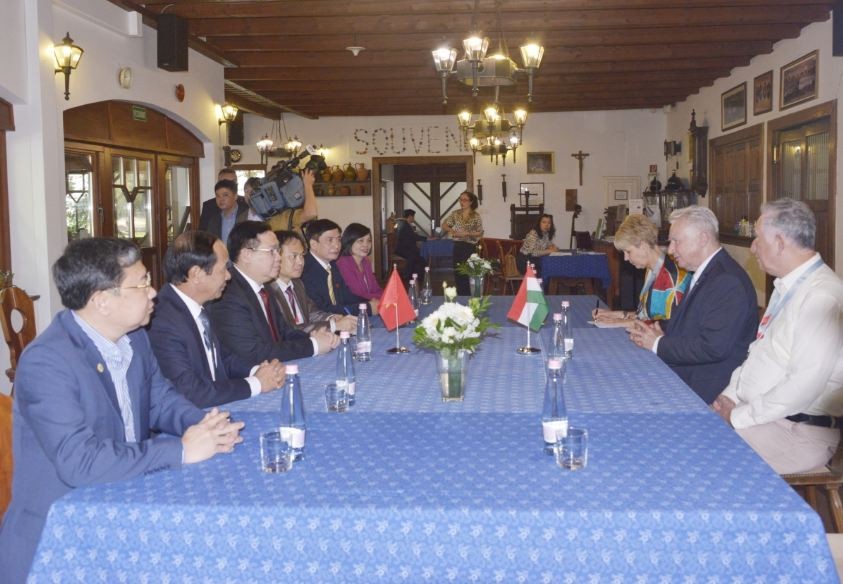 NA Chairman Vuong DInh Hue meets with Deputy Speaker of the Hungarian parliament István Jakab. Photo: VOV
They affirmed that there remains ample room for the two countries' cooperation, and shared the belief that the visit of the Vietnamese NA Chairman will contribute to promoting the Vietnam-Hungary comprehensive partnership, of which the ties between the two parliaments are an important pillar.
The Hungarian parliament leader said despite fluctuations in the world and regional situations, Hungary is ready to share its development experiences with Vietnam given the long-standing friendship and cooperation between the two countries.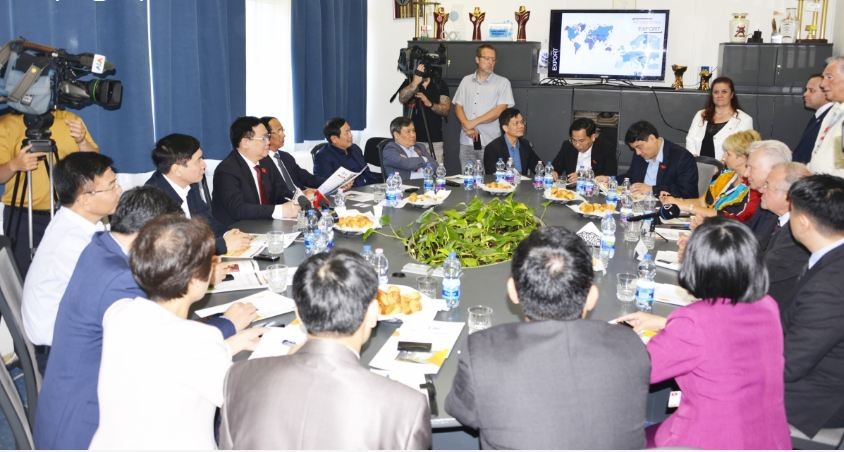 NA Chairman Vuong Dinh Hue at the processing factory of Mirelite Mirsa. Photo: VOV
Visiting the processing factory of Mirelite Mirsa, Chairman Hue stressed that agriculture, farmers and rural development are always strategic issues for Vietnam.
He said although agriculture accounts for just 12% of Vietnam's economy, it is a pillar of the national economy. The country exported more than USD 48.5 billion worth of agricultural products in 2021, but the added value of Vietnamese farm produce remained low due to the low rate of processing.
Hue welcomed the company's plan to expand business to Southeast Asia, including Vietnam.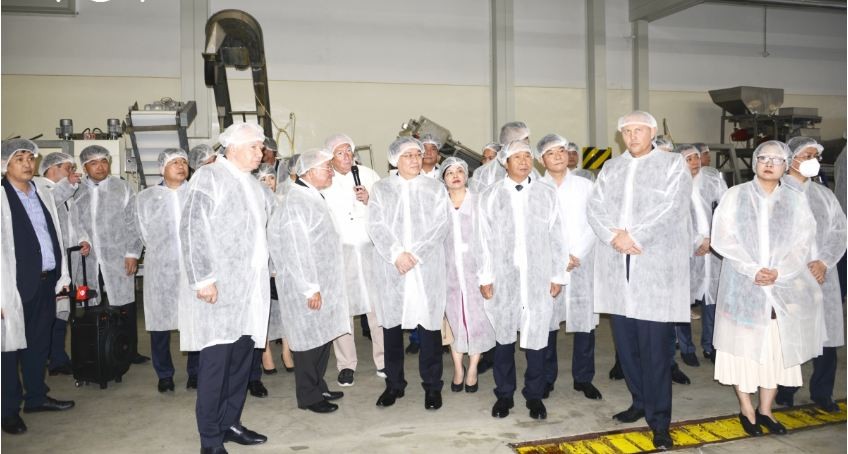 NA Chairman Vuong Dinh Hue and delegates at the processing factory of Mirelite Mirsa. Photo: VOV
Chairman Hue and delegation arrived at Liszt Ferenc airport in Budapest, the capital of Hungary, in the afternoon June 25 (local time).
Hue and the delegation were welcomed at the airport by Deputy Speaker of the Hungarian parliament István Jakab, Hungarian Ambassador to Vietnam Ory Csaba and Vietnamese Ambassador to Hungary Nguyen Thi Bich Thao, among others.
The visit of NA Chairman Hue takes place amid good development of the Vietnam-Hungary ties after the two countries elevated their relationship to a comprehensive partnership during the visit in 2018 of Vietnam's Party General Secretary Nguyen Phu Trong.
Hungary has been very active in pushing for the ratification of the EU-Vietnam FTA. It was also the first among EU member states to ratify the EU-Vietnam Investment Protection Agreement (EVIPA).
The two-way trade totalled USD 1.1 billion last year with improved balance of trade, despite impacts of Covid-19.
Education-training is a traditional cooperation field between the two sides, with thousands of Vietnamese having received training in Hungary. The European nation has been the largest provider of scholarships for Vietnamese students among EU nations. It is taking necessary steps to establish a Hungarian cultural centre in Hanoi.
It has been committed to providing Vietnam with ODA loans worth EUR 440 million for the implementation of a number of priority projects in Vietnam.
The two parliaments have also maintained the exchange of high-ranking delegations, sharing of experience and exchanges between their committees and parliamentary friendship groups, along with close coordination at regional and international inter-parliamentary forums like AIPA, AIPA, IPU, APPF, ASEP or APF.
The visit demonstrates the political resolve of both sides to promote parliamentary cooperation, particularly in building and completing a legal corridor to facilitate stable and long-term operation for their investors and businesses, and promote collaboration in multiple areas.
During the visit, both sides are set to sign a cooperation agreement for the next phase, aimed at raising bilateral parliamentary cooperation in the new period to new heights, according to VOV.
They will exchange delegations not only at the leadership level but also between their legislative committees, parliamentary friendship groups, and young parliamentarians to share legislative experience as well as to coordinate with each other at international forums.
A seminar on educational cooperation will be held as part of the visit to promote strong cooperation in the field of education and training, to generate high-quality human resources for Vietnam's national development and international integration in the new period.
Hungarian Peacekeepers Honored by Vietnam

The Association of Vietnamese in Hungary recently held an event to honor members of the Hungarian delegation who joined the international mission to monitor the ...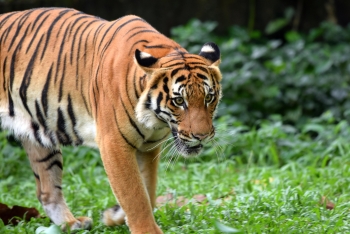 Economy
#ShopeeGivesBack, Shopee's long-term community initiative, has raised over RM48,000 from 1 May 2020 to 31 July 2022 for two Non-Governmental Organisations (NGOs) championing environmentally-conscious efforts in Malaysia.