NGOs Help Locals Get Access to Better Water and Sanitation Facilities
Poor hygiene, inadequate quantities and quality of drinking water, and lack of sanitation facilities cause millions of the world's poorest people to die from preventable diseases each year. Women and children are the main victims.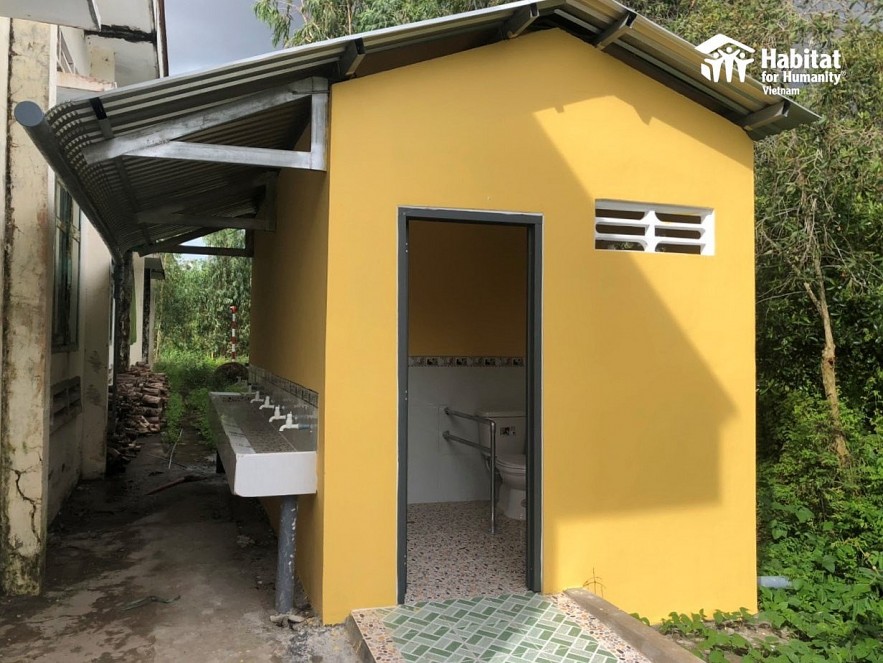 2 primary schools in Thanh Loi commune have significantly improved their sanitary and hygienic conditions. Photo courtesy of Habitat for Humanity Vietnam
Water supply, sanitation and health are closely related. Improved hygiene (hand washing) and sanitation (latrines) have more impact than drinking water quality on health outcomes, specifically reductions in diarrhea, parasitic infections, morbidity and mortality, and increases in child growth. Thousands of locals in Dong Thap and Dien Bien provinces are benefiting from water supply, sanitation and hygiene interventions.
Habitat for Humanity Vietnam and its local partner have completed an eight-month project to improve the housing and sanitation facilities of vulnerable communities in the Mekong Delta province of Dong Thap. Nearly 4,000 individuals were benefited from the project with funding support from SC Johnson.
Located in Mekong Delta, nearly one in four people in Dong Thap still live below the poverty line despite having fertile land for agriculture. The province is also exposed to disasters such as severe flooding, saline intrusion, and storm surges. It is anticipated that 45% of the land in Dong Thap will be impacted by saltwater intrusion leading to crop damage and making it impossible for low-income households to make ends meet, let alone save for health and housing needs. The ongoing Covid-19 pandemic is exacerbating the existing gaps in the development of vulnerable communities.
In partnership with Thap Muoi District's Women Union, Habitat Vietnam worked with 35 families to improve their homes and the access to adequate household latrines. The training on WASH and distribution of hygiene kits were also facilitated in the community.
Through the project, over 1,200 preventive kits, including hygiene kits and personal protection equipment kits (PPE), have been distributed to front-line medical workers, school children and households.
In addition, two primary schools in Thanh Loi commune have significantly improved their sanitary and hygienic conditions, bringing a clean and healthy environment for 230 students through three newly-built and renovated school latrines with accessible design for people with disabilities. Both schools also have new handwashing facilities that help promote healthy hygienic habits for students to prevent the spread of diseases.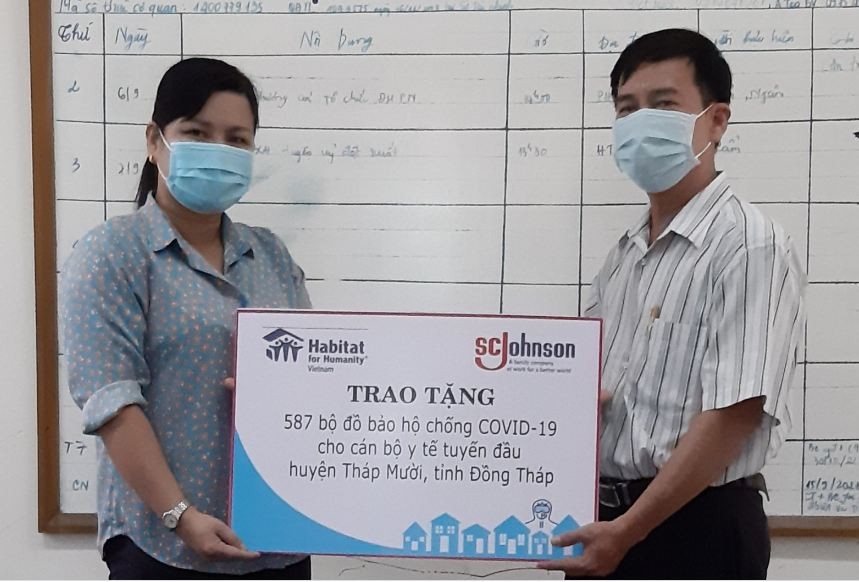 587 PPEs handed over to the Thap Muoi District's Health Center. Photo courtesy of Habitat for Humanity Vietnam
President of Thap Muoi District Women's Union, Tran Thi Ngoc Cam, shared, "Our province has been greatly impacted by the recent pandemic outbreak with overloaded capacity in the quarantine area. Thanks to the timely provision of PPE and hygiene kits, medical staff and people are better prepared in the fight against the pandemic."
The project's support on enhancing sanitation and living conditions of the people in Thap Muoi district, the community was able to achieve the national target program on building a new countryside in 2021. She added that it would be hard to complete the national target due to their limited resources, and was grateful to Habitat Vietnam and SC Johnson for their contribution to the community.
"Amid the pandemic, one of the most important ways to prevent the spread of disease is frequent handwashing with soap and water. But for vulnerable households in Dong Thap province, Vietnam, decent homes with adequate hygiene facilities for proper handwashing remain out of reach," said Bells Regino-Borja, national director of Habitat for Humanity Vietnam. "We are pleased to partner with SC Johnson through a project that improves health, safety and wellbeing of vulnerable households and community through adequate housing and sanitation and the provision of preventive kits. The partnership is committed to helping families, health workers, students and teachers gain protection against the virus and contribute to building back better."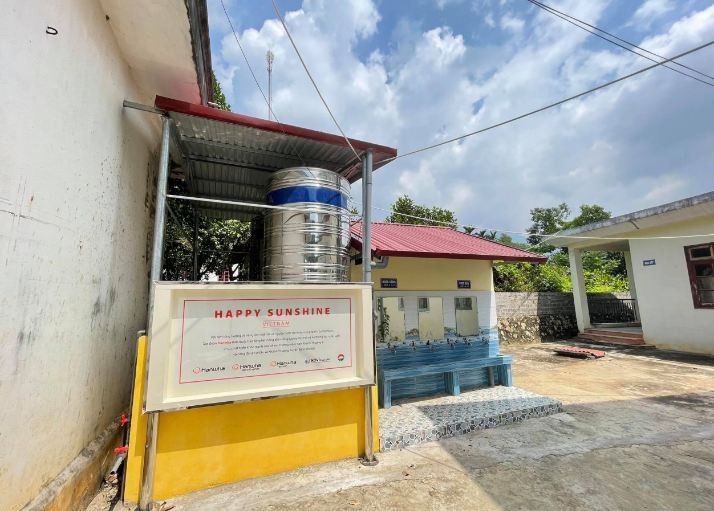 Solar power system and clean water filtration system at Khanh Thuong B kindergarten.
In this month, the Korea Vietnam Culture Communication Center (KCCC) has just handed over the solar power system and clean water filtration system to Khanh Thuong A Kindergarten, Khanh Thuong B Kindergarten and the community. population in Khanh Thuong commune, Ba Vi district, Hanoi.
The project, worth about VND 1.5 billion, was implemented under the sponsorship of Hanhwa Group. Accordingly, each school was supported to build and install a solar power system and a water purification system.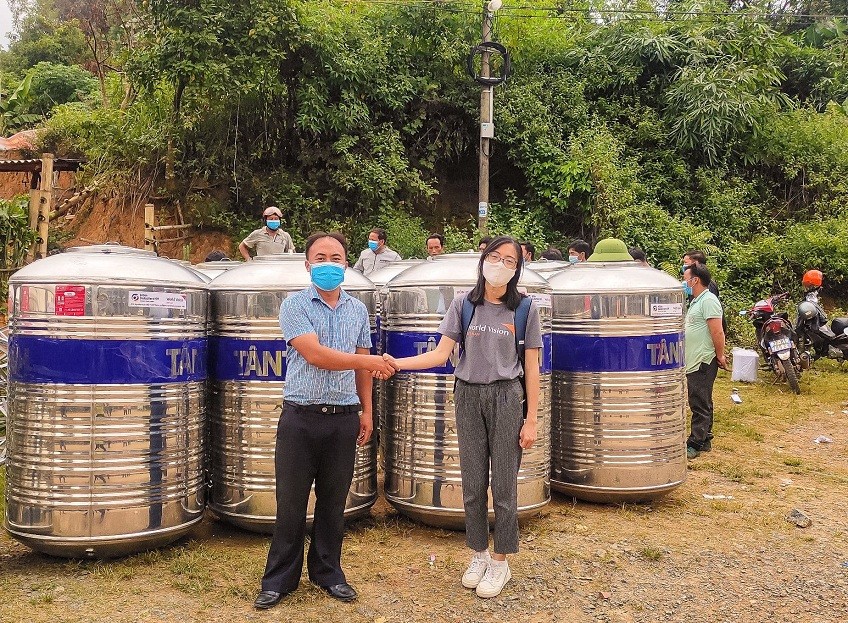 World Vision presents water tanks for residents. Photo courtesy of World Vision
Last September, World Vision Vietnam also joined hands with Tua Chua District Medical Center in Dien Bien Province to hand water tanks to 100 households in five project communes and towns. Among these 100 households, there are 91 poor and near-poor households.
Specifically, with a total value of more than US$ 7,549, each household received an INOX water tank with a capacity of 1,000 liters and installation accessories. At the handover ceremony, World Vision Vietnam has guided the benefiting families through installing a water tank, designing a hand-washing corner in the home, and equipping them with the necessary knowledge about water protection and safe water storage.
The aid will address the damage caused by floods, lack of clean and safe water and hygiene.
This activity is part of the German Relief Alliance-funded Dien Bien Ethnic Minorities Resilient to Disasters Project. The project's overall objective is to increase the Dien Bien Ethnic minorities' resilience to disasters through promoting the application of climate-smart livelihoods and water solutions and community-based disaster risk management. With a total value of US$ 202,774, the project is implemented in two years, from April 1, 2020, to March 31, 2022.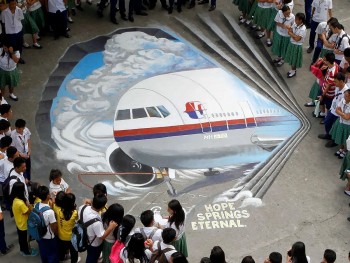 World
The world might never know what really happend when these planes went off the radar. Let's take a look at some of the unsolved mysteries of aircraft disappearances.