Non-Technical Survey Enhances Effectiveness of Mine Clearance Work
Non-technical survey (NTS) to help increase safety and awareness of local communities on unexploded ordnance in central Quang Binh province -- one of the provinces highly contaminated with unexploded ordnance (UXO) left over from the war in central Vietnam..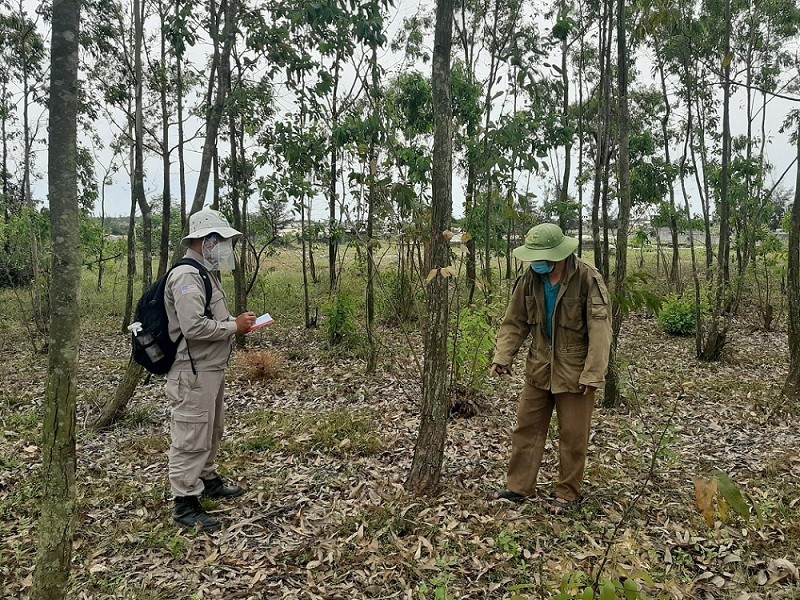 Tran Xuan Pho is showing NPA's NTS Surveyor Hoang Tuan Anh the location of the BLU 26 within his eucalyptus plantation. Source: NPA Vietnam
"I feel very relieved now when the unexploded ordnance is removed from my land," said Tran Xuan Pho, a 77-year-old farmer in Village 7, Trung Trach commune, Bo Trach district, Quang Binh province where the Norwegian People's Aid (NPA)'s non-technical survey team is working.
"I found the item seven months ago while working within my plantation, but did not have a clue who and how to report it," he said.
On April 21, while working to interviewing local farmers in Village 7, two NPA surveyors were informed by Pho about a "bombie" he found within his land area.
The pair immediately generated a spot task report and informed PeaceTrees Vietnam's team so that they could respond within the same afternoon.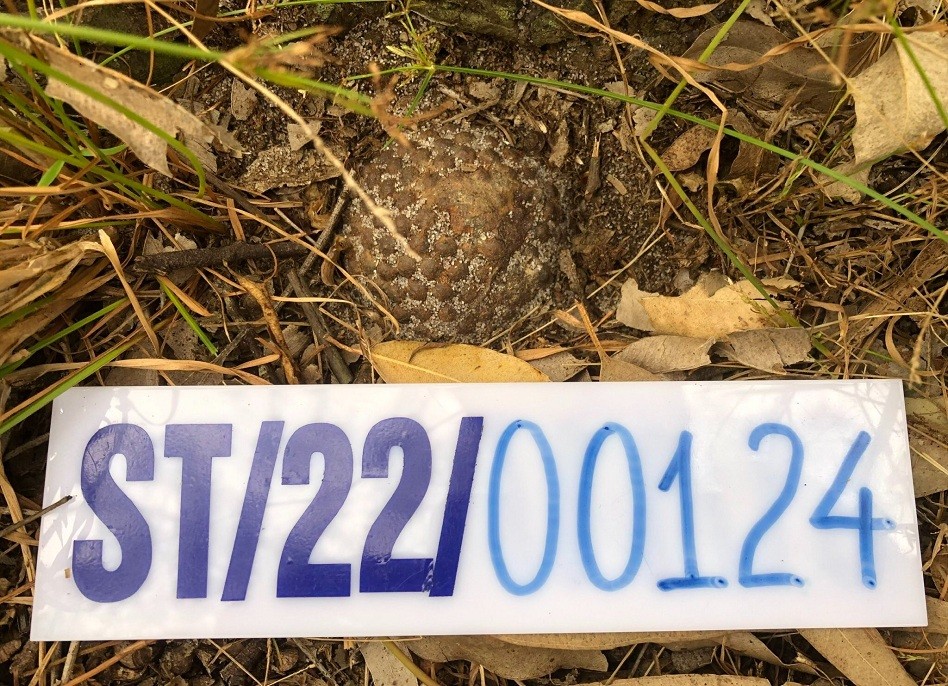 Close-up view of the BLU 26 which lays exposed on the surface within Mr. Pho's plantation.
During the visits, NPA provide local residents with hotline number cards and instruct them how to report to the hotline in case of any item found while at the same time distribute safety messages to help increase local communities' awareness on unexploded ordnance.
NPA is conducting non-technical survey household by interviewing local households to identify evidences of the presence of explosive remnants of war, also known as starting points, for Technical Survey (TS) follow-up.
The NPA teams collect information from local residents that lead to exact sites of dangerous ordnance or high-risk areas.
This "evidence-based" approach is then followed by sweeps of the area using explosive detection methodologies. A pattern or "footprint" is determined quickly and followed by cleanup of the ordnance found.
This approach has proved to be faster, more efficient and very cost-effective, and a reliable assurance of safety for local people.
As of April 21, NPA teams have completed the NTS in 86 villages across Quang Binh province, generating 68 TS tasks for follow-up technical survey.
All 135 items found during NPA's non-technical survey were handed over to Mines Advisory Group (MAG) or PeaceTrees Vietnam's teams for safe disposal.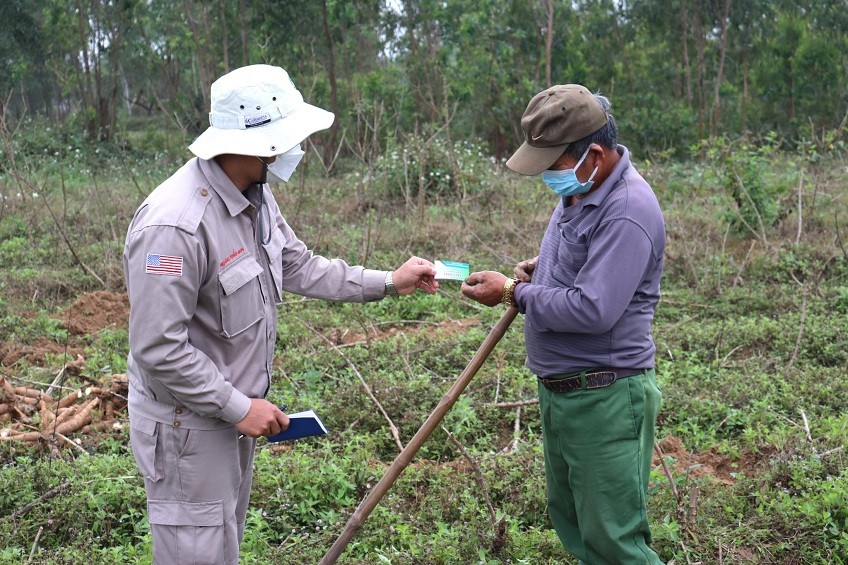 NPA NTS surveyors provide local residents with hotline number cards and instruct them on how to report to the provincial hotline in case of unexploded ordnance found. Source: NPA Vietnam
Non-Technical Survey is conducted under the Cluster Munitions Remnants Survey (CMRS) Project - an integral component of the joint project implemented by the consortium among Norwegian People's Aid Vietnam, Mines Advisory Group and PeaceTrees Vietnam with funding and support from the US Department of State.
Quang Binh is a region which was heavily bombed during the war in Vietnam — and is still known to be among the most contaminated provinces.
According to statistics released in 2009 by the Defence Ministry's Technology Centre for Bomb and Mine Disposal and the Vietnam Veterans of America Foundation, nearly 225,000ha of land across all communes, wards and townships in Quang Binh was contaminated with UXO, accounting for 27.9% of the province's area.
In particular, UXO polluted 96.9% of residential land, 95 percent of agricultural land, and 84.3% of land under perennial trees.
In the 2010-2020 period, total cost for activities under the National Mine Action Programme in the 2010-2020 period and mission orientation for 2021-2025 (Programme 504) reached over VND 12 trillion (USD 525.27 million), of which more than 10 trillion VND came from the domestic budget and more than VND 2 trillion from foreign non-refundable sources, reported VNA.
However, despite the efforts, Vietnam has completed just nearly 70% of the target in bomb and mine clearance, while the ratio of polluted land area in the central and Central Highlands localities such as Quang Tri, Quang Binh, Thua Thien-Hue, Quang Nam, Kon Tum and Gia Lai remains high.
Vietnam aims to eliminate accident caused by post-war bombs, mines and UXO in any corner of the country by 2025.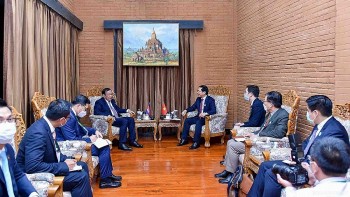 Economy
Foreign Minister Bui Thanh Son has bilateral meetings with FM of Cambodia, Thailand and Laos, seeking to promote relations and cooperation within the MLC framework for sustainable development in the region and beyond.