Operation Smile honored for bringing smiles to 10,000 Vietnamese children
For the past 30 years, Operation Smiles has supported thousands of surgeries for children with facial deformities, bringing smiles to 10,000 Vietnamese children.    
On November 14, the Vietnam Union of Friendship Organizations (VUFO) awarded Certificates of merit to Operation Smile (OS) to recognize their valuable contribution to bringing smiles to tens of thousand of Vietnamese children in the past 30 years.
Co-founder, CEO of OS, Dr.William Magee, his spouse Kathleen Magee and Vice President of Hilton Foundation Conrad Hilton were present at the ceremony
Speaking at the event, VUFO President Nguyen Phuong Nga expressed her deep gratitude to OS for acting as a bridge between Vietnam and the US during the past 30 years, especially when Vietnam was still under embargo and official exchanging channels were limited.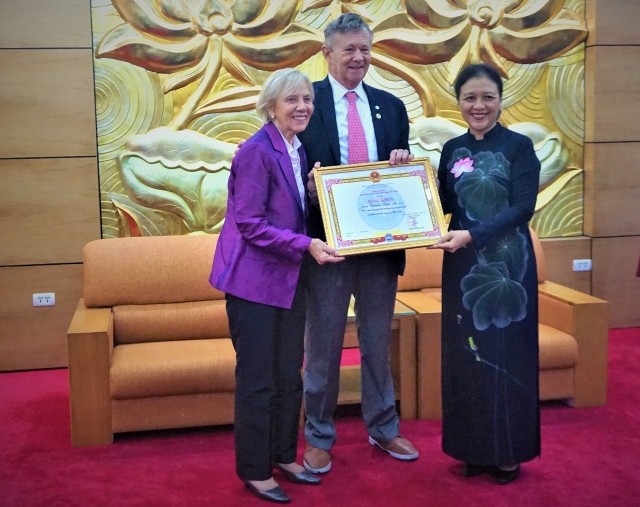 VUFO Chairwoman Nguyen Phuong Nga presents a Certificate of Merit to Dr. William Magee and his wife, Kathleen Magee. Photo: P.Y
"OS's activities were seen as the first step toward reconciliation and normalization of the relations between the two countries", Nga said.
"During three decades, OS has made tireless efforts to improve the life of thousands of people in Vietnam by giving them free health service. 10,000 clef lips and palate surgeries and 22,650 dental treatments have been conducted with OS's support...OS also trained thousands of health staff and build a strong volunteer group with over 200 Vietnamese doctors who have sufficient skills and qualification for OS's surgeries around the world" VUFO President added.
On this ocassion, VUFO President also extended heartful thank to the Hilton Foundation for the valuable support for OS since 1996.
Ambassador Nga affirmed, the Certificate of Merit to honor OS's great contribution for the sustainable development in Vietnam, and the promotion of solidarity, friendship and people cooperation between the people of Vietnam and the US. On this ocassion, VUFO President expressed her hope that OS will continue to stay with Vietnam and make further contribution to the country's sustainable development.
"VUFO commits to working closely with OS in particular, as well as other foreign non governmental organizations in general for their productive operation and further development of the people-to-people cooperation of Vietnam and the world", she noted.
Honored to receive the Certificate of Merit from VUFO, Dr. William Magee said he always wanted the best for the people of Vietnam.
To Dr. William Magee, the S-shaped country has a special position in his heart, especially since 10 years, his family welcomed a new member: a Vietnamese little girl adopted by Dr. Magee's son during a visit to Vietnam in 2009, on occasion of the 20th anniversary of Operation Smile Vietnam.
Sharing about OS's plans in Vietnam in the near future, Dr. Magee said that the organization will continue to help Vietnam in humanitarian operations, upgrading facilities and equipments, human resources capacity building etc. On this journey, OS wishes to continue receiving VUFO's support to implement its coming projects more effectively.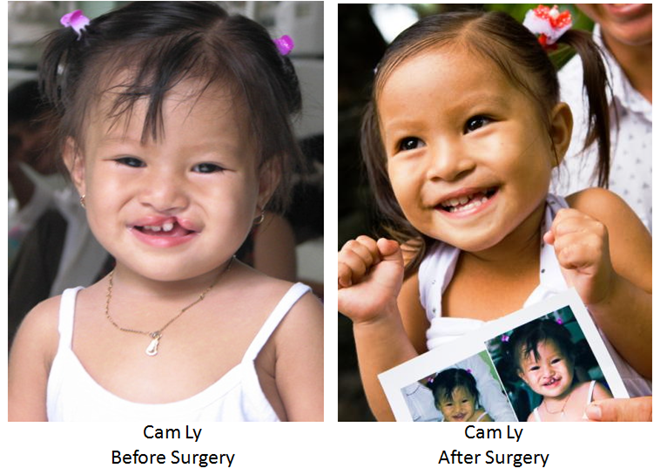 Cam Ly, a girl with facial deformity, before and after the palate surgery with support from Operation Smile. Photo: Operation Smile VN
Since its establishment in 1982, Operation Smile — through the help of dedicated medical volunteers — has provided 220,000 free surgical procedures for children and young adults. Particularly in Vietnam, Operation Smile has helped changing lives for approximately 60,000 under-privileged children.
Besides humanitarian surgery programs, Operation Smile also supports improving the quality of health through hundreds of training courses, scientific conferences and medical exchanges for doctors and specialists. In addition, Operation Smile also cooperated with the Vietnam Ministry of Health (MoH) to help create Safe Surgical Standards, which will be officially applied in more than 1,450 hospitals across the country.