Over 3,700 Farmers in Quang Tri Benefited from PROSPER Project
The PROSPER project, funded by the EU, assisted around 3,700 farmers who are household, cooperative and community forest owners in the central province of Quang Tri.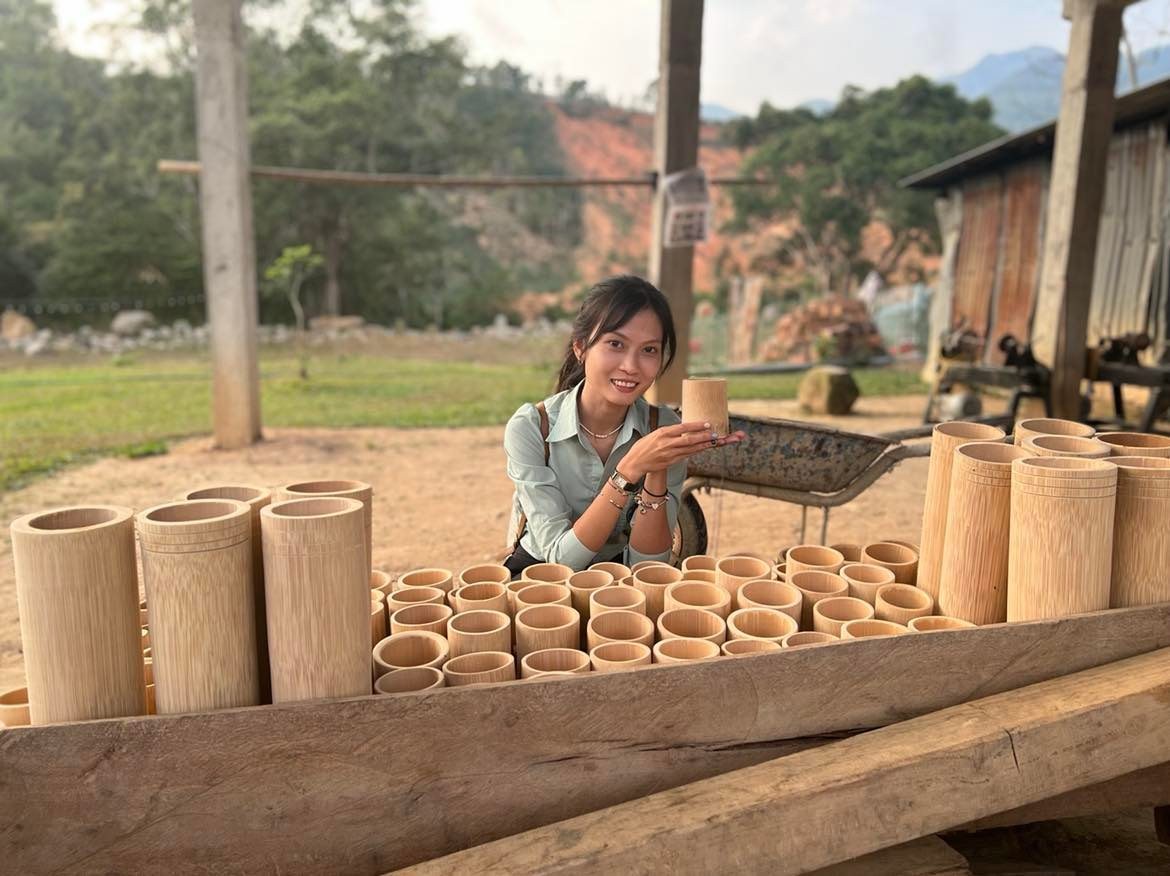 Products are made from bamboo of the Van Kieu ethnic group in Chenh Venh village, Huong Phung commune, Huong Hoa district. Source: Quang Tri newspaper
The Association of Smallholder Forest Certification Groups of Quang Tri (SFCG) and the Medical Committee Netherlands-Vietnam (MCNV) jointly held a closing workshop for the project "Promoting sustainable partnerships between CSOs and enterprises for sustainable forestry management in the context of climate change" (PROSPER project).
PROSPER project was co-funded by the European Union (EU) and MCNV with total value of EUR 800,000 (USD 898,000), February 2020 - February 2023 period, aiming to promote sustainable partnership between CSOs and enterprises for sustainable forest management in the context of climate change.
In Vietnam, sustainable forest management (SFM) and forest certification (FSC) are two among five areas of the global and national Action Plan of Reducing Emissions from Deforestation and forest Degradation (REDD+).
Sustainable management of natural resources in the context of climate change requires good governance and commitment of local communities to engaging in environmentally responsible plans for land and forest use.
Quang Tri has been a pioneering province in engaging smallholders in SFM and FSC. In 2014, the Quang Tri Smallholder Forest Certification Group (SFCG) Association became the first smallholder in Vietnam that was recognized as a legal entity and certified for FSC.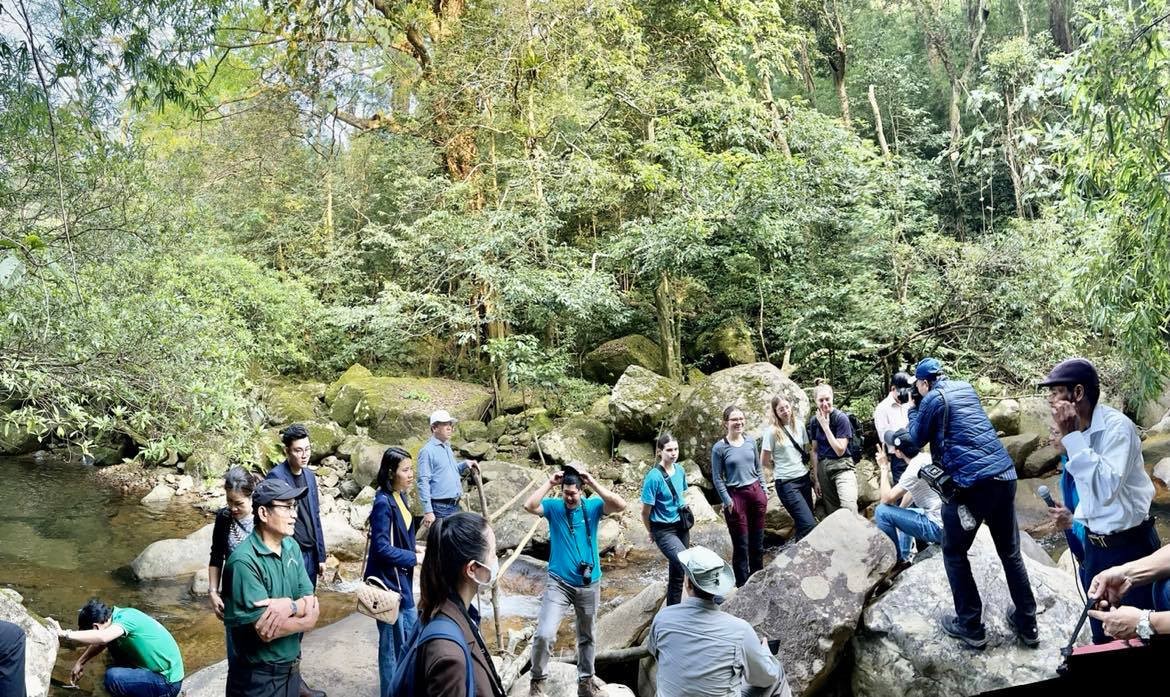 Tourists visit the FSC-certified natural forest in Huong Phung commune, Huong Hoa district. Source: Quang Tri newspaper
After three years of project implementation, the Quang Tri SFCG Association and its branches as representatives of forest owners, households and communities have been deeply involved in the emission reduction process and payment for forest environmental services (PFES).
With about 2,880 hectares of Acacia plantations certified for sustainable forest management by FSC, the Quang Tri SFCG Association and its sub-associations contribute to the annual emission reduction thanks to changes in silvicultural practices of forest owners.
For the first time in Vietnam, 2,145 hectares of natural forest of five community associations are accredited by the Forest Stewardship Council (FSC) for ecosystem services (FSC-ES), which contributes to an annual CO2 capture capacity of 7,000 tons/year.
The branches are accessing the voluntary payment source annually for 7,000 tons of CO2, with a payment of about EUR 10 for 1 ton of CO2, equivalent to about VND 1.5 billion/year.
The area of Acacia and natural forest plantations certified for sustainable management by FSC has facilitated more than 3,700 farmers from mountainous communities, groups of households and cooperatives to supply FSC-certified raw materials to the market including acacia wood and non-timber forest products such as raw bamboo, 'trau' seeds, honey locust seeds and dried bamboo shoots.
The PROSPER project has contributed to the forestry development strategy in Quang Tri, which is developing the material forest areas for trau seeds; producing biochar from FSC bamboo materials; voluntary payment opportunities for FSC-ES services.
At the same time, we are developing community-based eco-tourism and promoting the participation of forest owners and households/communities in sustainable forest management and emission reduction.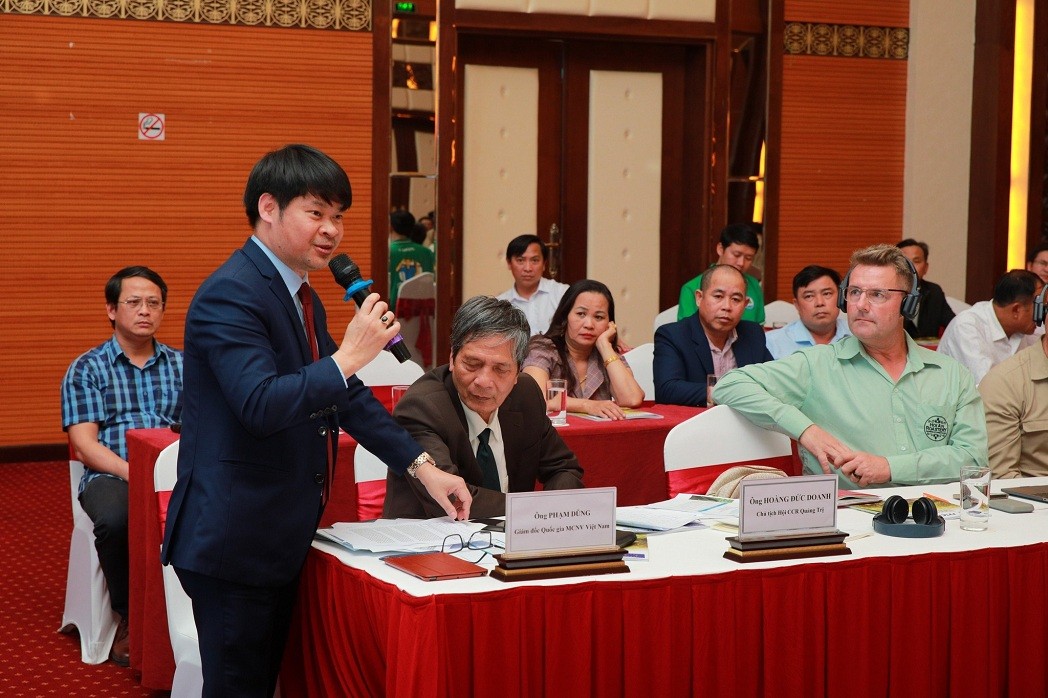 MCNV Vietnam Country Director, Pham Dung, speaks at the workshop. Source; MCNV Vietnam
In his opening speech, MCNV Vietnam Country Director, Pham Dung said that the PROSPER project represents an effort of MCNV in expanding the organization's assistance for Quang Tri, one of the organization's strategic partners, to the field of climate change response.
Dung highlighted PROSPER as a key project of MCNV, in the context of increasing replication of forest smallholders' FSC certification in various localities. This is a model which has been pioneered by Quang Tri, in order to effectively implement the Government's policy on land and forests allocation to the community for management.
Speaking at the workshop, Pham Trong Ho, vice chairman of Huong Hoa district's People's Committee, expressed his appreciation for MCNV's unwavering support for the people of Quang Tri in 55 years.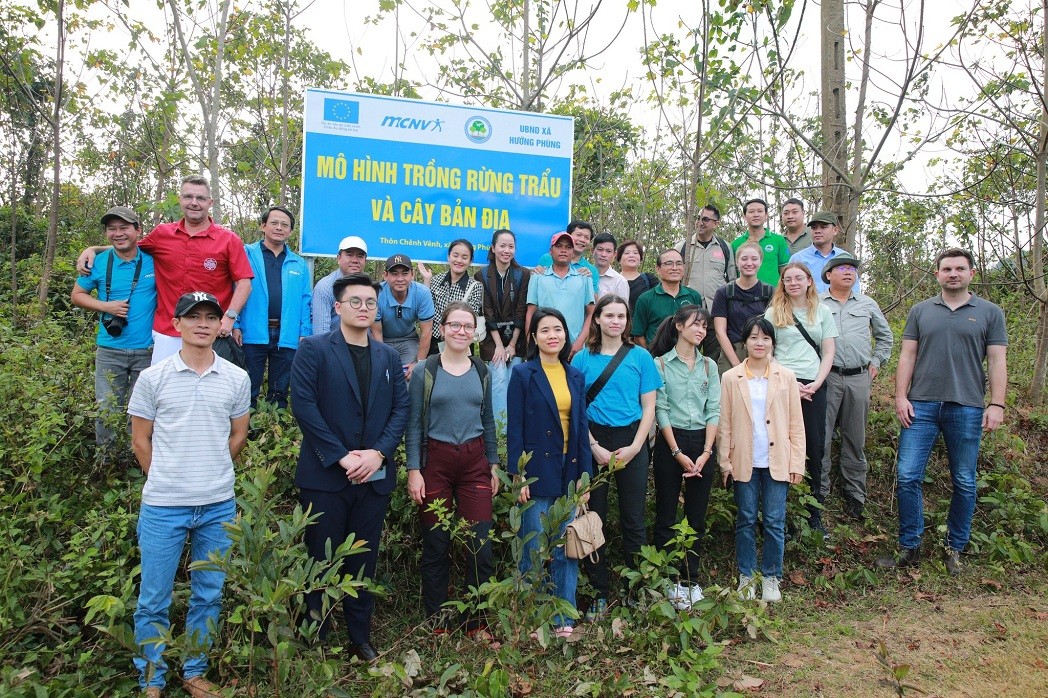 A field visit made before the closing workshop. Source; MCNV Vietnam
He emphasized that despite being implemented in a short period of time, PROSPER has generated breakthrough outcomes for Huong Hoa district, paving a new path in the field of community forest management, livelihood development for mountainous communities, development of planted forests along with protection forests and especially contributing to carbon emission reduction.
"We think that PROSPER has generated models that worth replicating via incorporating into national target programs, as well as mobilizing resources from development projects and enterprises working in the provinces", he said.