Over 600 canvas shoes donated to poor students in Son La
Recently, the US non-governmental organization Helen Keller International (HKI) has collaborated with Son La Provincial Red Cross Association to organize the donation of 679 TOMS canvas shoes to pupils at Co Ma Ethnic Minority school, Thuan Chau district, Son La province. 
HKI representatives donate shoes to pupils
Between 2019 and 2020, 36,000 pairs of shoes will be delivered to students in Son La, Lai Chau, Hoa Binh and many disadvantaged localities across the country. In particular, Son La will receive 8,430 pairs, Lai Chau 8.430 pairs, Hoa Binh 4,500 pairs. Vietnam Red Cross Center will be in charge of distributing the remaining 14,640 pairs to many difficult localities across the country.
The Co Ma Ethnic Minority school representatives thanked HKI for paying attention to the students. This is a very meaningful gift for highland children, he said.
VNF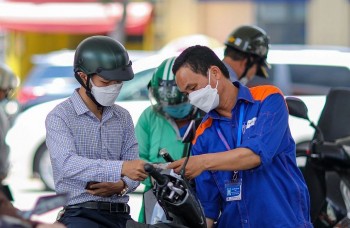 Economy
Vietnam Business & Weather Briefing (Oct 2): Binh Duong lures foreign investors with special care, the North and Central regions continue to have heavy rains, leading to the risk of flooding, flash floods, and landslides.