Overseas and local citizens join hands in successful implementation of Congress XIII Resolution
On the morning of February 17, Member of the Politburo, President of Vietnam Fatherland Front Central Committee Tran Thanh Man attended an army meeting and signed the 2021 emulation contract of the Central Committee of the Vietnamese Fatherland Front.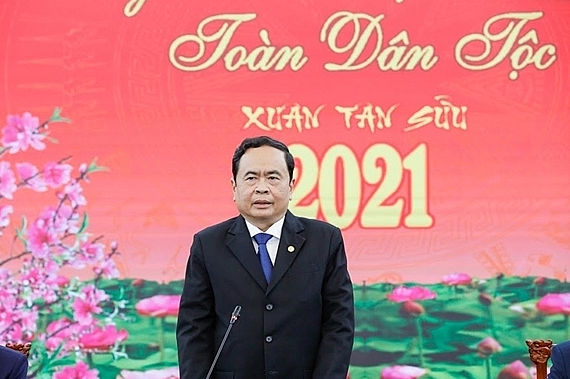 President of Vietnam Fatherland Front Central Committee Tran Thanh Man delivered a speech.
Accordingly, in the context that the country faces many difficulties because of the complicated developing COVID-19 pandemic, the Fronts at all levels continue to strongly focus on the local branches, better promoting the role of the Front's organizations and members in more than 100,000 residential areas nationwide; gather the strength of 100 million in-home and overseas Vietnamese, to join hand in successfully implementing the Resolution of the XIII Congress of the Party.
Besides, the Front continues to play a key role in the negotiation to coordinate and unify actions with member organizations, carry out patriotic emulation campaigns and movements; promote social supervision and social reviewing activities, participate more effectively in building a clean and strong Party and government, and prevent and combat corruption and wastefulness.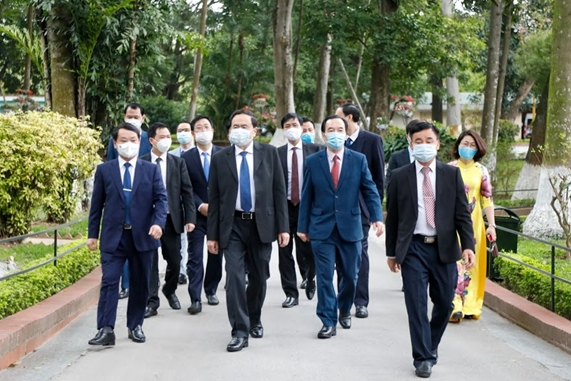 Mr. Tran Thanh Man and other delegates visited the Presidential Palace. (Photo: QDND)
In particular, in 2021, the participation in the election of deputies for the National Assembly and the People's Council is the most important key task of the Front system, ensuring the set-out schedule and requirements, contributing to the successful election of deputies to the XV National Assembly and People's Councils at all levels for the term 2021-2026.
Man asked to continue implementing effective measures to prevent the pandemic, avoid being subjective and ignorant to the progress of the pandemic. The Standing Committee of the Central Committee of Vietnam Fatherland Front will continue to allocate resources to support COVID-19 prevention and control to severely pandemic-hit provinces.
"The power of the whole system and the power of the people must be used in implementing the Front's activities, then, to actively coordinate in implementing the set-out plan and gain victories right from the first months and first quarters of 2021", emphasized Tran Thanh Man.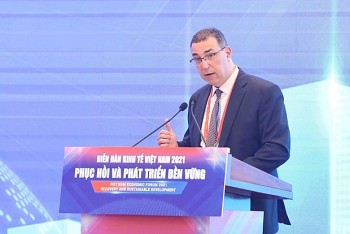 National
Vietnam News Today (December 6): Vietnam records 14,312 new Covid cases; Vietnam-Lao special relations continue to be nurtured; Vietnam's economy showing signs of recovery; Hanoi changes face-to-face learning plan at last minute.