Ho Van Lam, Chairman of the Thai-Vietnamese Business Association
Overseas Vietnamese Businesses are Bringing Vietnamese Goods to the World
Ho Van Lam, Chairman of the Thai-Vietnamese Business Association (BAOTV), owner of the VT Namnueng brand, had the chance to return to their native country to take part in the program "Connecting overseas Thai businessmen with the locality" on July 3–11 after being separated for more than two years due to the Covid-19 pandemic.
"An Abundant Harvest" MoU
According to Lam, the business trip, which took place from July 3 to 11, had a busy schedule that included stops in a number of provinces and cities from the South to the North (Da Nang, Quang Nam, Kien Giang, Ho Chi Minh City, Bac Giang, and Hanoi), which are very important to Thai expatriate businesses.
This is an excellent chance for Thai and Vietnamese companies to interact, exchange ideas, network, work together, and gain knowledge of the commercial investment scene.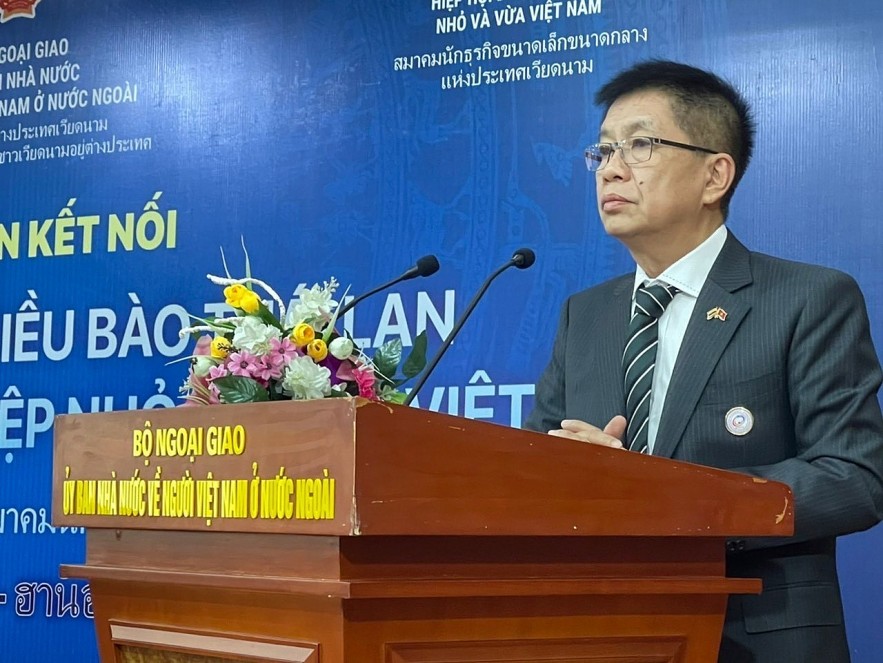 Ho Van Lam, Chairman of Thai-Vietnamese Business Association (BAOTV), owner of VT Namnueng brand present in 50 provinces and cities in Thailand. Photo: Xuan Hung.
Participating in the "Forum to connect Thai expatriate enterprises with localities" allows overseas Vietnamese to get closer to Vietnamese communities. This would indicate the desire of Thai expats to make a small contribution to the nation's integration, construction, and growth while also reinforcing their bonds of solidarity.
At the end of the program, the President of BAOTV eagerly stated that 20 Memorandums of Understanding (MoU) had been signed in the previous year between BAOTV and Vietnamese business associations, Thai expatriate businesses, and Vietnamese corporations. several industries, including apparel, hotel and tourism, high-tech agriculture, and regional specialties, etc.
Ho Van Lam stated that: "It is the first encouraging indicator that starts a new route of business groups and companies in the two countries cooperating. I hope that enterprises will work to bring Vietnamese items to Thailand and vice versa in the near future."
The Chairman of BAOTV also disclosed that Project 1797, the Prime Minister's initiative to mobilize overseas Vietnamese to present and sell items and create channels for the exportation of Vietnamese goods, would be put into action in the first half of the year. In the Udon Thani supermarket complex (Northeastern Thailand) known as VT Namneung Community, the Association has established a Center for Exhibition of High-Quality Vietnamese Products for the years 2020 to 2024.
BAOTV currently operates more than 500 businesses through 13 branches, "covering" all of Thailand's provinces. Numerous prosperous Thai-Vietnamese businessmen with fortunes ranging from a few tens to over 100 million USD are members of the organization. The Vietnamese and Thai populations living abroad will be introduced to Vietnamese items through this center.
Lam emphasized: "We are prepared to support Vietnamese companies in displaying their products for no charge. BAOTV currently has a separate business with a charter capital of VND 15 billion, with plans to grow it over time. We'll utilize this money to facilitate trade with Vietnam and import Vietnamese goods into Thailand."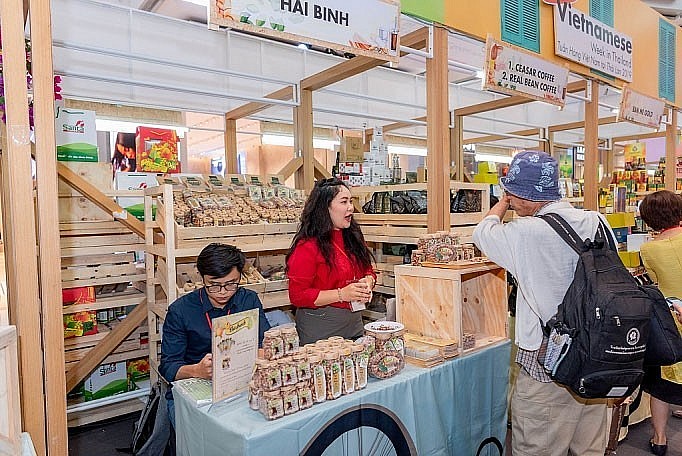 Vietnamese pavilion at Vietnamese goods fair in Thailand. Photo: Ministry of Industry and Trade.
Always look to the roots
Lam and his family visited Vietnam roughly three times a year prior to the Covid-19 pandemic.
He revealed: "Every time I visit, I am able to observe how my hometown has evolved over time in all spheres. The neighborly and national togetherness strikes me as the most impressive. gives me a homey feeling. Everyone exhorts me to do action to better my country, my home."
As a result, despite owning a large brand and being present in 50 provinces and cities throughout Thailand, Lam constantly looks to Vietnam and wonders how to introduce existing Vietnamese items into Thailand.
The Chairman of BAOTV understood that there was still a lot of room for Vietnamese exports to Thailand.
In addition to BAOTV's efforts, Lam stated that the Vietnamese Embassy in Thailand and relevant agencies will continue to assist this country in lowering technical impediments to exporting goods in the coming months. Partnership; improve air, maritime, and road connectivity between the two nations, particularly in Thailand's northeast, where a large number of expats reside.
The process of gaining Thailand's wider acceptance of Vietnamese product standards must also be accelerated. Marketing and research must also be strengthened, and packaging and food safety requirements must be given more attention.
Ho Van Lam also emphasized the importance of continuing to plan promotional events, trade promotions, tourism campaigns, and investment campaigns in Thailand.
Since then, Thai enterprises, businesses, and people - particularly Vietnamese immigrants—have had the chance to do business with Vietnamese companies.
The head of BAOTV stated: "The Vietnamese ethnic community is inseparable from the overseas Vietnamese community, and the Vietnamese community in Thailand is a significant resource. As a result, we, the overseas Vietnamese firms, may serve as the sole communicators of Vietnamese goods to the rest of the globe."
The program "Connecting abroad Thai businessmen with localities" was run by the State Committee for Overseas Vietnamese from July 3 to July 11 in six provinces, including Da Nang, Quang Nam, Kien Giang, Ho Chi Minh City, Bac Giang, and Hanoi.
This is the first program under the Committee's initiative to invite foreign business delegations back to Vietnam so they can network and conduct business there.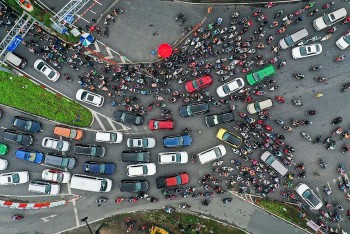 Economy
Vietnam Business & Weather Briefing (Oct 5): 25 Apple's partners have factories set up factories in Vietnam, UOB upgrades 2022 growth forecast for Vietnam to 8.2%