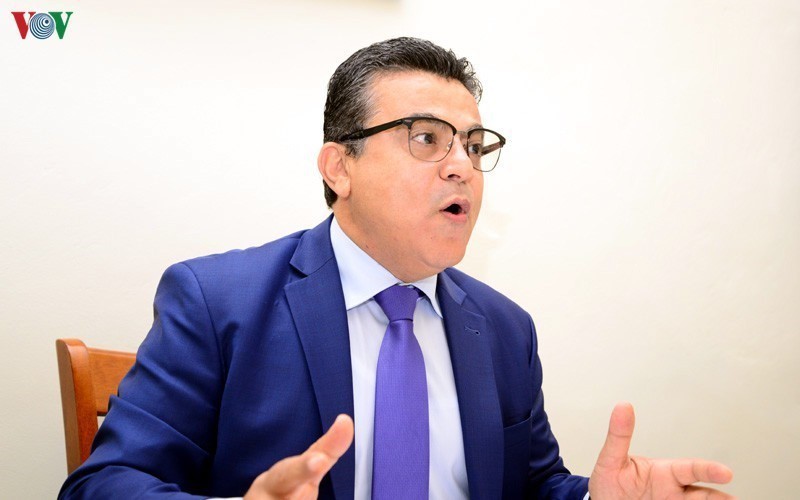 Palestinian Ambassador to Vietnam Saadi Salama. Photo: VOV
Freedom House on November 5, 2019 released a report on Internet freedom, which ranks Vietnam on the list of countries without freedom on the Net.
Rejecting the above evaluation, the Vietnamese Foreign Ministry Vice Spokesperson Ngo Toan Thang adduced more than 60 million Vietnamese Internet users (ranked 16th in the world) and about 50 million social network users.
In an interview with reporter of the Voice of Vietnam (VOV), Ambassador of Palestine to Vietnam Saadi Salama said that he found the Freedom House's report a ridiculous.
Having lived in Vietnam for nearly 20 years, Ambassador Saadi Salama said Vietnam is very open for integration, willing to become friends of all nations that love peace, respect international law and want to promote economic and trade relations.
The Ambassador also appreciated Vietnamese Government's efforts in enacting the Cyber Security Law. He said "The media in Vietnam always provide us necessary information, especially information about the country and people of Vietnam, or situation in the region and the world."
Ambassador Saadi Salama shared, now in Vietnam, it's easy for everyone to use Facebook, Youtube and other social networks. However, in his view, the contents that adversely affect our culture and social security should be prohibited.
The ambassador said that there are also cybersecurity laws in Palestine. He said that this is a need to protect the cultural values, traditional values and the distinctiveness of the Palestinians.
Overall, the Palestinian Ambassador assessed that Vietnam is among the countries provide the easiest access to information from the Internet. Freedom House' report is ridiculous, irrational and lacks of objectivity.
Nam Phong