Palestinian Ambassador to Vietnam: When a faraway land becomes home
(VNF) – With nearly 40 years of strong connection to Vietnam, Ambassador of Palestine to Vietnam, Saadi Salama, has almost forgot that he is a foreigner in the South East Asian country.
(VNF) – With nearly 40 years of strong connection to Vietnam, Ambassador of Palestine to Vietnam, Saadi Salama, has almost forgot that he is a foreigner in the South East Asian country.
Ambassador of Palestine to Vietnam, Saadi Salama, speaks in a friendship exchange event (source: The Palestinian Embassy in Vietnam)
From a faraway land
Salama's destined journey with Vietnam started in 1980, Saadi Salama, when he started to study in the University of Foreign Languages in Hanoi (the nowadays Hanoi University).
His connection with Vietnam actually began prior to the trip to the country.
Saadi Salama's home village was dubbed as anther Hanoi in Palestine due to the strong revolutionary movement there. Salama first heard about Vietnam—a resilient country which shares many similarities with his motherland in its struggle for national liberation, in the 1970-1975 period when he was a teenager.
He could feel the bond that connected the two nations in the trenches fighting for the common goal of national independence. Each victory gained by Vietnam during its war gave the young Palestinian man more respect and love for the country and its people.
After graduating from high school, Salama was given the opportunity to study in either Italy, Romania or Vietnam, and he immediately selected the Asian country.
Despite 38 years have passed since the day Salama set his first step on the S-shape country's land, memories of those early days still linger on.
Coming to the foreign country, the young Palestinian man had to get acquainted with its humid and wet weather . He missed homeland's food - "boiled rice"—in his words in Palestine, rice is seasoned with spices and cooked with broth rather than just cooked in water as in Vietnam. On his two first days in Vietnam, Saadi just had bread and butter. On the third day, he tried rice with braised pork sauce and vegetable soup.
He revealed one of his habits that no one knows: having cold rice with cold soup, which comes from his first days in Vietnam when he was among the last students to come to the canteen, by which time the rice and dishes had already turned cold.
He tasted his first bowl of pho (Vietnamese noodles) after two months in Vietnam, and since then it has become an indispensable dish on his menu. He typically enjoys pho at least once a week.
Vietnam, my home-away-from-home
Salama found his 'special other half', a Hanoian girl, when he was studying in Vietnam in the 1980s.
"At that time, Vietnamese students did not have much contact with foreign students, except Palestinians," he said.
"Then, I never imagined that I would marry a local girl here. I think I am lucky. Vietnamese women have the virtue of saving the best for their children," he added.
After 38 years living in Vietnam, Ambassador Saddi Salama is proud to be the father of four successful children sharing Palestinian and Vietnamese roots in their blood, the fruit of the Palestinian-Vietnamese happy marriage. He believes that his children are bridges connecting Vietnam not only to Palestine but also to other countries where they are studying and working.
Ambassador Salama buys peach blossoms to celebrate Lunar New Year 2018 (source: The Palestinian Embassy in Vietnam)
Salama confessed he fell in love with the land and people of Vietnam. The Vietnamese people had a special attraction and urged him "to learn about the culture, customs of a small but great country". He described himself as being 'Vietnamized', and that rarely felt like a foreigner when living in this familiar S-shaped country.
When asked about his life during Tet holidays, he said "I live in Vietnam, eat Vietnamese food, talk with Vietnamese people so I have to follow the proverb: when in Rome, do as the Romans do. Therefore, when Tet comes, I also have to go shopping like what the Vietnamese do. That was why his friends when coming to see him at Tet holidays said although they came to the ambassador's house but still fully enjoyed Tet atmosphere with peach branches, kumquat trees decorated in the house, rice cakes on the altar; pumpkin seeds and Vietnamese fruits jams to serve visitors.
The journey to master of Vietnamese language
4 years of study in the Vietnamese faculty of Hanoi University (1980 to 1984) helped Salama build a solid foundation in Vietnamese language.
Destiny brought him back to Vietnam as he was designated as Palestinian Ambassador to Vietnam in 2009 until the present day.
He is one among very few diplomats who not only speak Vietnamese fluently, but also can understand the accents of three regions, and apply Vietnamese proverbs, idioms and rhetorical devices flexibly to real-world context.
In 2010, the Palestinian Ambassador won the exceptional prize at the 2009-2010 international writing contest on Thang Long-Hanoi called " Hanoi -Your Destination," jointly held by the Hanoi Union of Friendship Organisations and the National Steering Committee for Thang Long-Hanoi thousand year anniversary.
In 2016, he impressed participants in a seminar on preserving the sterlingness of Vietnamese language on mass media, by fluently delivering a speech in Vietnamese.
Ambassador Salama speaks in a meeting for young entrepreneurs. (source: The Palestinian Embassy in Vietnam)
In 2017, he took part in the special Lunar New Year edition of the Vietnamese gameshow "Who wants to be a Millionaire?". In the show, the Ambassador accepted the challenge of Vietnamese audience at the studio who tried to test his knowledge of the Vietnamese culture and language.
Recently, on occasion of the Lunar New Year 2018, he appeared in an interview on VTV4 (a channel targetting Vietnamese overseas audience), sharing his feeling about Tet in the past and present.
According to the Ambassador, when he started learning Vietnamese, he realised that it was not easy. He figured out the first steps for Vietnamese language learners must lie in pronunciation and spelling skills and the ability to acquire homonyms.
He then tried to practice Vietnamese regularly and dig into the language through reading many Vietnamese books. What motivated him the most to learn the language was his love for Vietnam. Without that love, he would have just stayed in Vietnam for a short time and returned to his home country after finishing his studies.
For ambassador Saadi, learning Vietnamese is just not about acquiring a new foreign language but it is also a way to explore Vietnamese culture. The more he learns Vietnamese, the more similarities he finds between Vietnamese and Arabic. He found that many concepts in Vietnamese can be expressed precisely in Arabic, although they have no specific meaning in many other languages.
He was proud to be the first person to translate articles and books from Vietnamese to Arabic, including Dien Bien Phu: Five Miracles Never Seen Before in the History of War by Mai Trong Tuan, which attracted much attention from Arabic readers. He was upset that translation from Vietnamese to Arabic has not yet developed and he has not had much time to work on it.
According to Ambassador Salama, no matter whether he continues his diplomatic career or not, he will still work side by side with Vietnam, stating that it is an important way to foster Vietnam-Palestine relations. He declared that Vietnam was his second motherland, stressing that this was not just a formal saying but that it was from his heart./.
( VNF )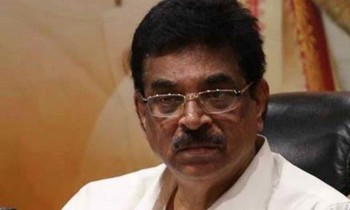 Economy
Mizoram Governor Hari Babu Kambhampati on Thursday said that a Super-Speciality Cancer Hospital and Research Centre would be set up in Aizawl