Peace Corps Volunteers Pledge Allegiance at Hanoi Swearing-In Ceremony
The 9 Peace Corps volunteers arrived in Hanoi on October 27, 2022, and underwent a rigorous 10 weeks of Pre-Service Training before being sworn in.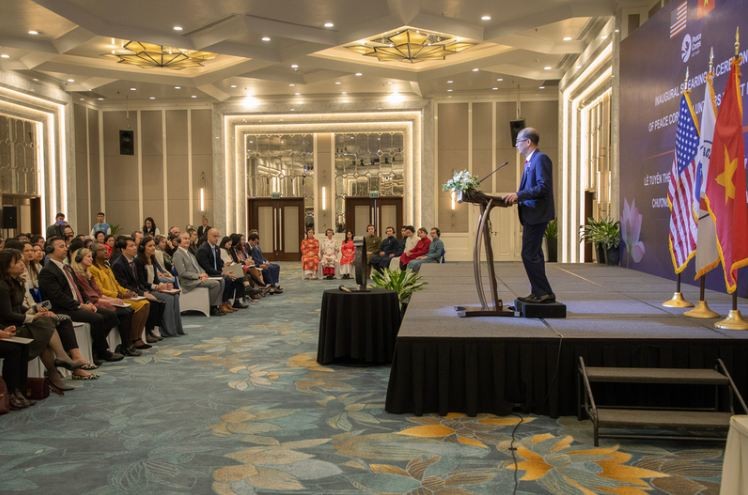 At the swearing-in of 9 Peace Corps volunteers in Vietnam. Photo: US embassy
The swearing-in ceremony for nine Peace Corps Volunteers took place on December 30 in Hanoi with the participation of Peace Corps Director Carol Spahn as part of her first official tour to Vietnam.
Representatives Vietnam's Government included Pham Quang Hung, Director General of International Cooperation Department, Ministry of Education and Training and Nguyen Tien Dung, Deputy Director General of International Cooperation Department, Ministry of Education and Training.
Meanwhile, the US Government representatives included Melissa A. Bishop Chargé d'Affaires of US Embassy in Hanoi; and administrators and teachers from the schools where the volunteers will co-teach participated in the historic ceremony.
Nguyen Tien Dung, Deputy Director General of International Cooperation Department, gave remarks and affirmed that the priority of Vietnamese education is English, so he welcomed the spirit and meaning of the Peace Corps in Vietnam.
"The cooperation is on a small scale, but it means a lot to Vietnamese education," Dung shared.
"As we approach the New Year, this swearing-in offers us the opportunity to take a moment from our busy lives to appreciate and recognize the power of human connection," said Peace Corps Director Carol Spahn. "As the 143rd partner country of the Peace Corps, Vietnam is a welcome addition to our global community, and I look forward to seeing how volunteers and teachers work together to inspire the next generation."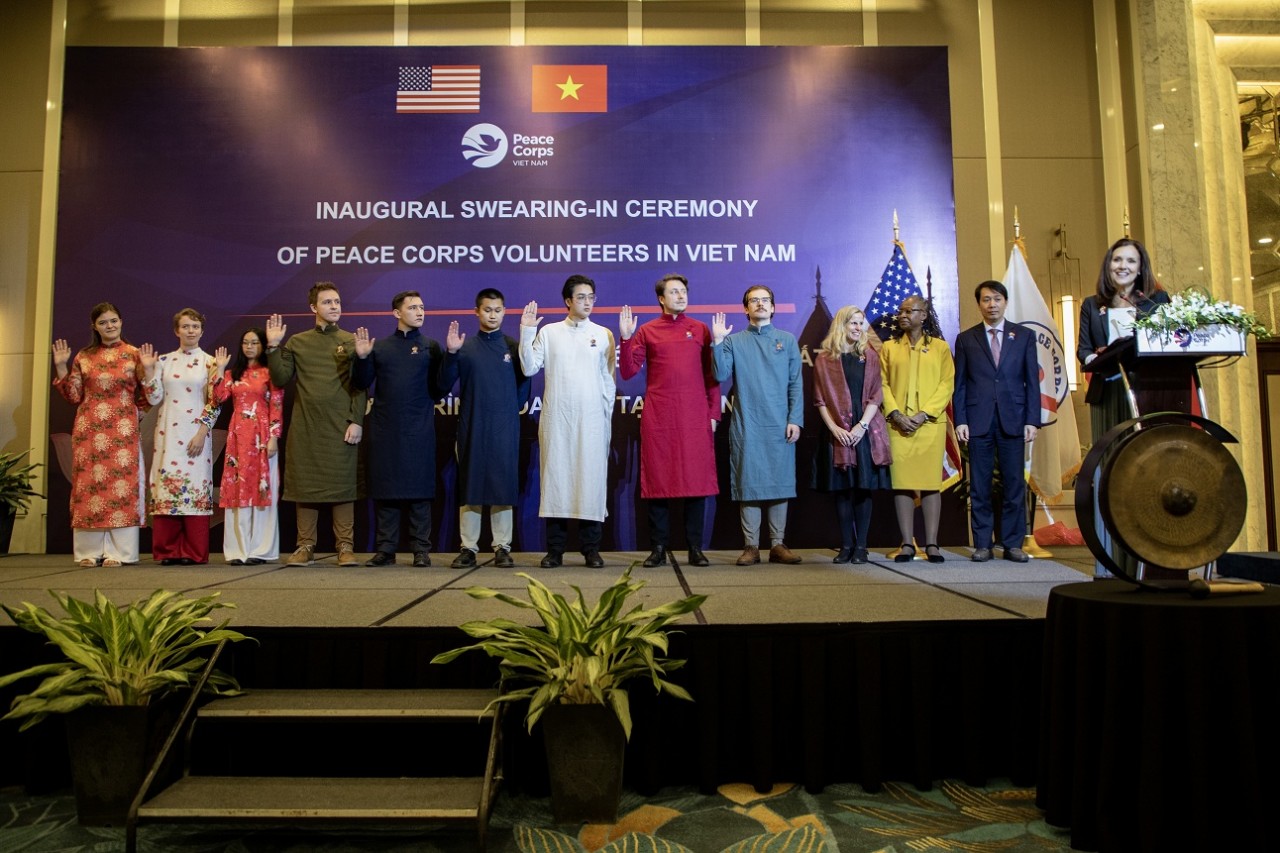 The newly sworn-in Peace Corps Namibia Group 9 Volunteers. Photo: US embassy
Nine volunteers debuted in traditional Vietnamese ao dai, showing "deep respect for Vietnamese language and culture", leaving a strong impression on ceremony attendees.
Volunteers serve two-year assignments, during which they live and work in Vietnamese communities, learn local languages, and integrate into the culture as they co-teach English classes alongside Vietnamese teachers.
Peace Corps' English education program in Vietnam, officially established with the signing of an implementing agreement in July 2020, is a collaborative partnership between Peace Corps and Vietnam's Ministry of Education and Training.
The arrival of this group of Volunteers marked a significant milestone in the Vietnam-US relations, building on decades of growing people-to-people ties and close partnership to promote English language learning.
It is among the important activities marking the 25th anniversary of Vietnam-US diplomatic ties.
The focus of the Peace Corps program in Vietnam is English education, as outlined in an Implementing Agreement signed in 2020 between the US and Vietnamese governments with Peace Corps and the Vietnam's Ministry of Education and Training (MOET).
Since arriving in Vietnam in October, the nine English education volunteers successfully completed a comprehensive cross-cultural, language, and technical training program which prepared them to understand and follow the policies and practices of the Vietnamese education system and to co-teach alongside Vietnamese teachers for two years.
Following the swearing-in ceremony, the volunteers will begin their work in secondary schools of Hanoi districts with Vietnamese counterparts and students.
They will join the nearly 900 other Peace Corps volunteers who are currently serving in 45 countries across Africa, Europe, the Mediterranean and Asia, and the Inter-Americas and the Pacific in support of government and community priorities.
Two representative of the first group of volunteers of the program gave an emotional and clear speech in Vietnamese, after taking the oath. "We will continue to learn languages and cultures. We are language teachers and is also a student in Vietnam."
Peace Corps is an independent agency under the Executive Branch of the US government which operates a volunteer program to provide host governments with assistance on their development priorities.
The Peace Corps sends Americans with a passion for service abroad on behalf of the US to work with communities and create lasting change, according to its website.
Volunteers work at the grassroots level to develop sustainable solutions that address challenges in education, health, economic development, agriculture, environment and youth development.
Since US President John F. Kennedy established the Peace Corps in 1961, more than 240,000 Americans of all ages have served in 142 countries worldwide.
Vietnam is the 143rd country to host Peace Corps volunteers.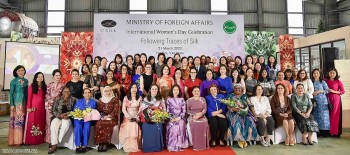 Friendship
Female ambassadors, representatives from diplomatic corps and international organizations, along with spouses of diplomats in Vietnam gathered together to find about more about silk weaving and silk products in Vietnam.