People With Disabilities Can Build A Better Future in Vietnam
Multiple sources of support implemented to improve the lives of Vietnam's most vulnerable groups.
On Dec. 2 in Hanoi, the Celebration of the International Day of People with Disabilities was held.
"Policies and activities to help people with disabilities (PWDs) in Vietnam have undergone a fundamental change, moving from humanitarian aid to charity with a development point of view, creating increasing motivation for PWDs. People with disabilities rise up.", said Deputy Minister of Labor - Invalids and Social Affairs Nguyen Van Ho. Approaches to PWDs issues underwent positive changes
According to the Ministry of Labor, War Invalids and Social Affairs (MOLISA), Vietnam currently has about 6.4 million PWDs, accounting for more than 7.06% of the population aged 2 years and older, of which severe and extremely severe PWDs accounted for about 28.9%.
About 10% of PWDs belong to poor households, most of them live in rural areas, have many difficulties in life, especially UXO survivors. Vietnam is one of the countries with a relatively high proportion of PWDs compared to the total population in the Asia-Pacific region.
Every year, the Government provides social allowances and distributes health insurance cards to about 1.1 million PWDs. In which, many cases of PWDs with difficult conditions were sent to rehabilitation centers and social protection facilities across the country.
On average, each year, about 20,000 PWDs are supported with vocational training, hundreds of thousands of disabled students are exempted from tuition fees, learning support and assistive devices (wheelchairs, strollers,...).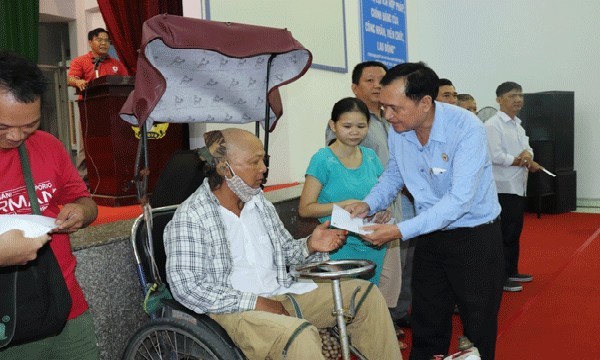 PWDs need to be at the heart of sustainable development strategies. Photo; Vietnam Times
Thus far, 100% of provinces and cities directly under the Central Government have built rehabilitation networks. The education system is being developed to helping children with disabilities to go to school, and the number of PWDs getting vocational training and employment is increasing. Organizations of people with disabilities are increasingly expanding in most localities.
Chairwoman of the Hanoi Association of People with Disabilities Duong Thi Van, said that the awareness about disability inclusion in Vietnam has changed for the better over the years. Approaches to PWDs issues are changed from charity model to social model, based on the rights of PWDs, people joins hands to remove barriers for PWDs and PWDs themselves actively remove guilt, self-esteem, and overcome prejudices.
However, during the COVID-19 pandemic, there are still many PWDs who face difficulties and obstacles in daily life, needing the cooperation and contribution of others, said Van.
"People with disabilities have the opportunity to expand their leadership capacity and build a better future in Vietnam," affirmed Mr. Patrick Haverman, Deputy Resident Representative of the United Nations Development Program (UNDP) Vietnam.
According to Patrick Haverman, this year, the United Nations celebrates the theme of: "Leadership and participation of PWDs towards an inclusive, accessible and sustainable post-COVID-19 world". It outlines the increasing challenges facing people with disabilities during the COVID-19 pandemic and aims to ensure leadership and meaningful participation for people with disabilities in the future, more inclusively, with access to more favorable, and more sustainable, for all, once the virus is under control.
Haverman also quoted United Nations Secretary-General Antonio Guterres "PWDs are one of the groups hardest affected by the COVID-19 pandemic. We must make sure we do not exacerbate inequality and risks to PWDs during the COVID-19 pandemic".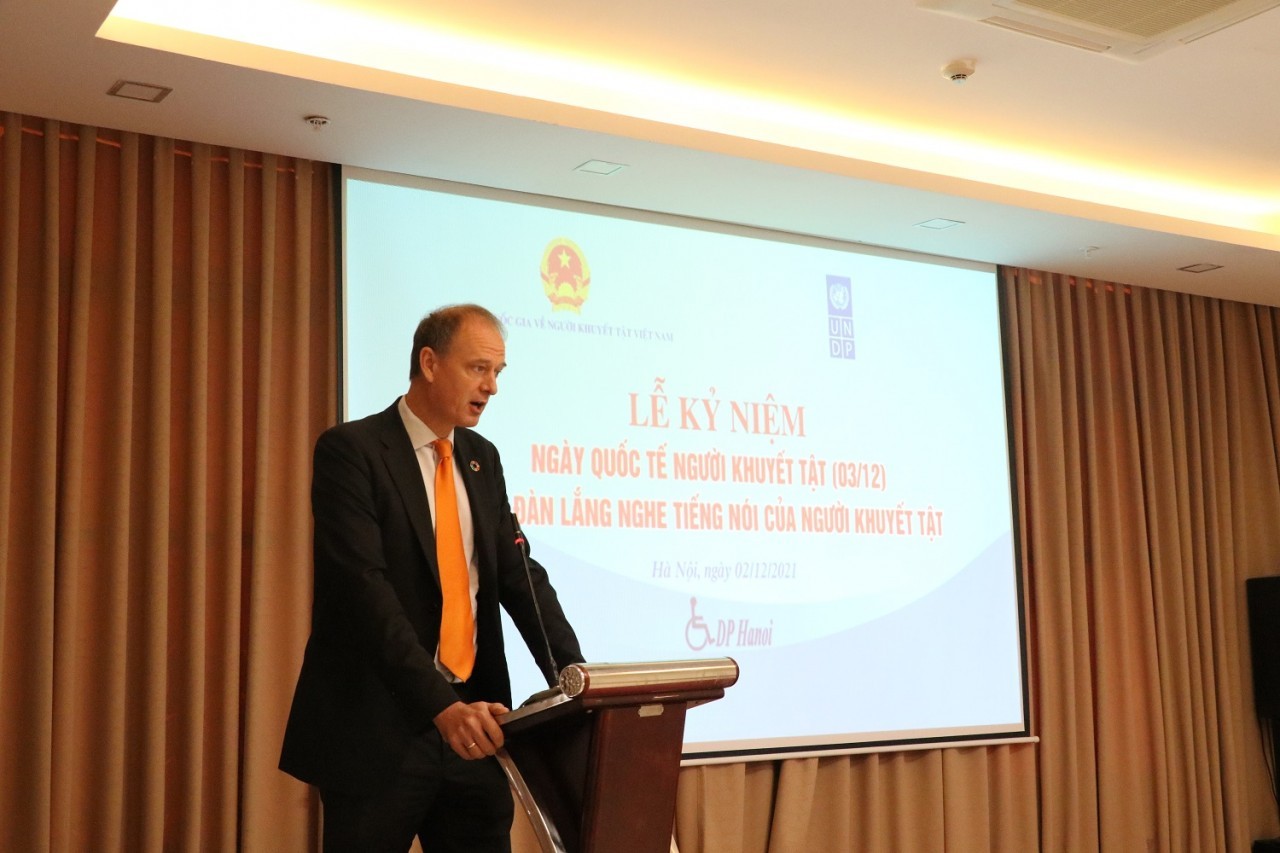 Patrick Haverman stressed that Vietnam has shown comprehensive leadership in controlling the pandemic. Photo: Vietnam Times
Listening to the voices of people with disabilities from policy making
In the fight against COVID-19 and recovery from the pandemic, Vietnam has the opportunity to expand its leadership and build a better future by strengthening disability protection and providing equal opportunities for PWDs to help the country's post-pandemic period.
The UNDP representative also said that the voice of PWDs should be heard right from the beginning of the process of developing a new law or policy. The Law on PWDs and other related policies will be revised soon, so this is an important time for disability organizations to be involved in the entire decision-making process.
Disability organizations will help ensure representation and diversity of views from PWDs to maximize policy coverage, to realize the rights of this groups, including disadvantaged groups and located in the inter-regional sectors such as women and children with disabilities, PWDs who are ethnic minorities.
This group not only need to be involved in formulating policies, but also their needs are to be integrated into national development policies.
This is demonstrated through disability-specific data, CRPD-compliant budgeting and programming, inclusive governance of disability policy, and accountability.
Only when their voices are heard, and when the rights of the most vulnerable people are realized, can we achieve the goal of "Leave No One Behind".
"UNDP is committed to working with the Government, development partners and civil society organizations to strengthen support forr PWDs in Vietnam in addressing the multi-dimensional challenges they face in the context of COVID-19, consider PWDs as important partners in efforts towards sustainable development in Vietnam, not just beneficiaries. We strongly support this group to realize their full potential to effectively contribute to the country's socio-economic recovery and growth," emphasized Haverman.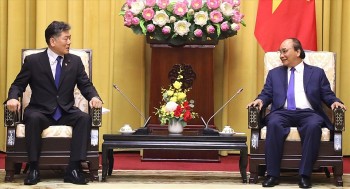 National
The State President spoke highly of the legal and judicial cooperation between Vietnam and Japan in recent times