"Millions of Welfare Bags" Presented to Disadvantaged People Affected by Covid-19
"The prolonged pandemic caused my daily work absolutely stopped, life was very difficult, even no enough 100,000 VND (US$4,6) buying necessities and medicine. Recently, I have just been handed the "Welfare bag" by volunteers, I was extremely touched" said Msr. Vo Ngoc Lanh, a woman in Tay Ninh Province.
According to the Central Committee of the Ho Chi Minh Communist Youth Union, after more than 4 months of launching (from August 20 to now), the program named "Millions of welfare bags" which aims to support and help people, youth and children with disabilities affected by the Covid-19 pandemic has obtained positive results.
Accordingly, with the cooperation of organizations, businesses and individuals, the program has mobilized and presented 1 million "Welfare bags" directly to people in difficulties, the poor, disadvantaged people, lonely elderly people, workers who lost their jobs, freelancers, students with difficult circumstances... Specifically, there are 875,774 "Welfare bags" among that of food and other 124,226 medicine ones with a value of nearly VND 237.6 billion (US$ 10,4 million).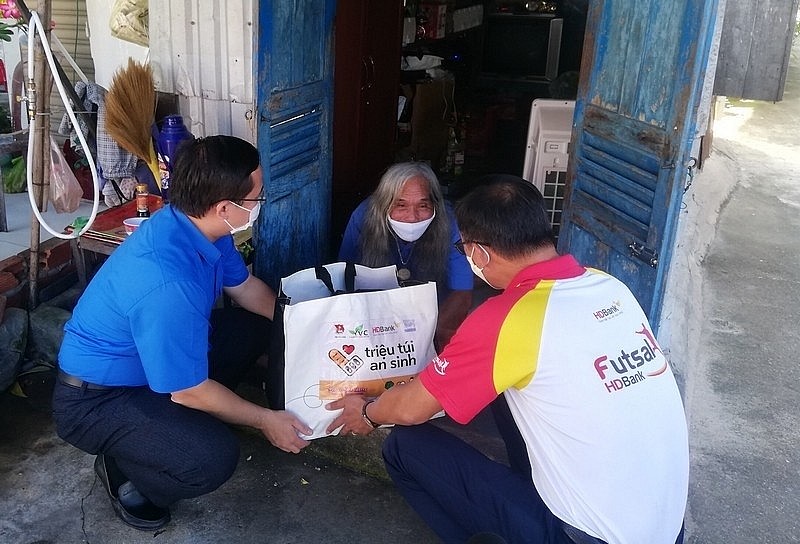 Welfare bags are delivered to the poor in Binh Thuan province.
The program has promoted the role of the Youth Union and Associations as well as the creative and innovative spirit of the them at all levels, youth union members appreciated by leaders of the Party, State and Party committees and politicians at both centre and local levels, local authorities and people for the practicality, urgency and timeliness in the context of the complicated situation of the Covid-19 pandemic.
Moreover, at a time when many localities in the country, especially the southern provinces and cities, have to implement social distancing and restrict travelling, but with a spirit of pioneer without fear of difficulties and hardships, 89,612 union members, and young volunteers directly participated in the program to transport, arrange, pack and give the "Welfare Bags" to people at their home.
Ms. Nguyen Thi Nhi (Ho Chi Minh City) was choked with emotion: "I don't know what to say than to sincerely thank the program. I used to be a worker. During the period of social distancing, I was unemployed for more than 2 months. Thanks to the program's timely support, I and many workers did not have to defy everything to return to my hometown and overcome the most difficult time."
It is known that following the above success, the program "Millions of welfare bags" calls on all levels of Youth Unions, Associations, union members, young people, organizations, businesses, benefactors, clubs, teams, volunteer groups continue to accompany and support for more and more "Welfare Bags" handed to people in difficulties as the Lunar New Year coming.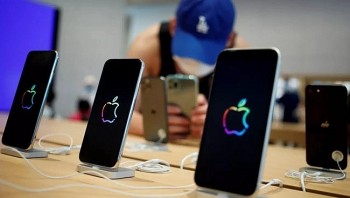 World
India exported iPhones worth $1 billion from May to September 2022, according to a Bloomberg report, but a closer look at the data shows the country is a long way from rivalling China's iPhone manufacturing chops