Pfizer Pledges to Speed up COVID-19 Vaccine Delivery to Vietnam
Prime Minister Pham Minh Chinh on August 20 suggested that Pfizer hasten the delivery of its COVID-19 vaccine under a signed contract to Vietnam, and the request was accepted by the manufacturer.
PM Pham Minh Chinh suggestes that Pfizer speed up its COVID-19 vaccine delivery to Vietnam during his phone call with Pfizer Chairman and CEO Albert Bourla.
During the late phone call with Pfizer Chairman and CEO Albert Bourla, Chinh highly appreciated Pfizer's role and contributions to global healthcare services, including producing its vaccine against the SARS-CoV-2 virus.
He thanked the firm for its practical contributions to the development of the health sector in Vietnam as well as for its active cooperation in delivering the COVID-19 vaccine to the country under the 31 million dose supply contract already signed by the two sides.
Recently, Chinh said the Government of Vietnam has also approved the purchase of nearly 20 million more doses of the vaccine from the firm.
According to the PM, the Government of Vietnam is speeding up its vaccine strategy and its nationwide vaccination campaign in order to achieve the goal of vaccinating 70% of the population by early 2022.
To this end, Chinh suggested that Pfizer step up the delivery of its vaccine to Vietnam to ensure the contract will be successfully executed this year, with more doses to be supplied in August and September. In addition, he said, the firm should also soon hand over its vaccine for people under 18 years of age.
At the same time, the PM wanted Pfizer to support the government in borrowing and ceding unused vaccines from other countries to Vietnam. He proposed establishing new forms of cooperation such as technology transfer on vaccines and especially drugs to treat COVID-19.
PM Pham Minh Chinh pushes for a long-term, strategic cooperation between Vietnam and Pfizer.
In addition, Chinh expressed his desire to promote long-term and strategic cooperation between Vietnam and Pfizer in the fields of pharmaceuticals, research and development, technology transfer, and health capacity improvement for Vietnam.
The Government of Vietnam places the top priority on maintaining social security and taking care of the people's health, he said.
Pfizer Chairman and CEO Albert Bourla praised Vietnam's efforts in responding to the pandemic and protecting people's health, believing that Vietnam would soon control the disease.
Bourla shared difficulties Pfizer has encountered in vaccine rollouts amid the rapid spread of mutated strains of the coronavirus globally, but pledged to seek ways to speed up the delivery of vaccine to Vietnam in August, September and the fourth quarter of this year.
Pfizer is ready to help and support Vietnam in receiving transfers and other forms of vaccine delivery from other countries, as well as to lobby the US Government for vaccine delivery to Vietnam, he said.
The Pfizer CEO welcomed Chinh's proposals and said his firm is willing to cooperate with Vietnam in the long run.
Earlier on August 19, PM Chinh also phoned AstraZeneca Chairman & CEO Pascal Soriot, asking his firm to ramp up its vaccine delivery to Vietnam.
Data from the Ministry of Health show Vietnam has so far received more than 22 million doses of the COVID-19 vaccines, including more than 14 million doses of AstraZeneca vaccine, more than 5 million doses of Moderna, more than 1.2 million doses of Pfizer, 12,000 doses of Sputnik-V and 2.5 million doses of Sinopharm.
More than 17 million doses of the vaccines have been administered, with more than 1.5 million people getting their second shot.
Vietnam has to date recorded 323,268 coronavirus cases, ranking 72nd out of 222 countries and territories worldwide in infection numbers.
Of the total, 319,209 locally acquired infections have been detected since the virus recurred nearly four months ago.
VOV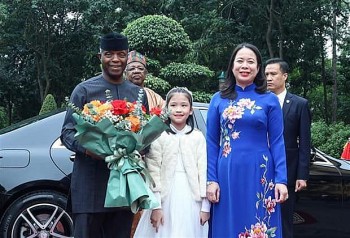 National
The two countries have strived to raise their bilateral trade to over USD 500 million and become important trade partners of each other in respective regions.