Vietnam News Today (Aug. 4): Deputy Minister Attends ASEAN Defence Senior Officials' Meeting Plus
Vietnam News Today (Aug. 4): Deputy minister attends ASEAN Defence Senior Officials' Meeting Plus ; Hanoi launches diverse activities to develop night-time tourism; More foreign visitors eye vacations in HCM City: Agoda; Positive signs anticipated for Vietnamese economy in H2.
Vietnam News Today (Aug. 4) notable headlines
Deputy minister attends ASEAN Defence Senior Officials' Meeting Plus
Hanoi launches diverse activities to develop night-time tourism
More foreign visitors eye vacations in HCM City: Agoda
Positive signs anticipated for Vietnamese economy in H2
Made-in-Vietnam ASF vaccines to be exported to Philippines, Indonesia
Vietnamese pangasius exports to Germany, Singapore, UK see robust growth
Top Vietnamese legislator's visit to Indonesia of strategic significance
Important milestone brings Vietnam-Iran relations to new heights
Vietnam, Philippines promote sea and ocean cooperation, timely handle sea issues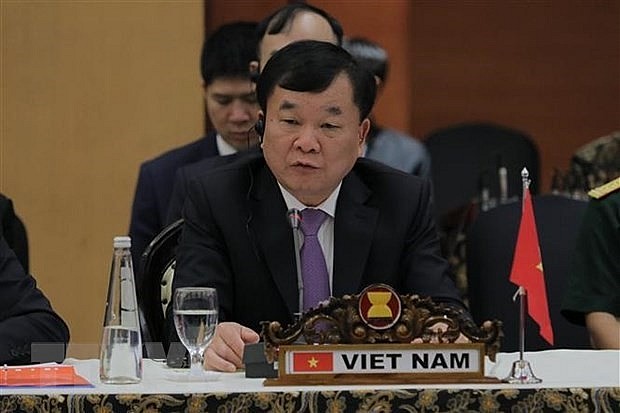 Deputy Minister of National Defence Lieut. Sen. Gen. Hoang Xuan Chien speaks at the meeting (Photo: VNA)
Deputy minister attends ASEAN Defence Senior Officials' Meeting Plus
A Vietnamese delegation led by Deputy Minister of National Defence Lieut. Sen. Gen. Hoang Xuan Chien attended the ASEAN Defence Senior Officials' Meeting Plus (ADSOM+) in Jakarta, Indonesia on August 3, with 10 ASEAN member states and 8 dialogue partner countries taking part.
In his keynote speech, Deputy Minister Chien said the region and the world are facing a series of security challenges, both traditional and non-traditional, notably those concerning maritime security. These challenges are occurring in many places and cause severe consequences that go beyond the capacity of a single nation to handle, thus requiring the international community to join hands to address them.
About maritime security, he stressed that the East Sea is a vital maritime route for global and regional trade so that peace, stability and security in the region are of utmost importance, cited VNA.
Vietnam always follows the principle of settling disputes and differences in the East Sea through peaceful means, based on respect for independence, sovereignty, and legitimate interests of nations, and compliance with international law, he said.
He underlined the significance of strengthening collective efforts to ensure the maintenance of international law and principles in international relations, including the 1982 United Nations Convention on the Law of the Sea (UNCLOS) and the full implementation of the Declaration on the Conduct of Parties in the East Sea (DOC). He also emphasised the need to promptly conclude negotiations and sign an effective and substantive Code of Conduct in the East Sea (COC) in line with international law.
According to him, ASEAN's defence cooperation with its partners has been growing and becoming stronger. He heightened the importance of building trust, goodwill, transparency and working together to address common challenges in order to build a robust ASEAN community and uphold ASEAN's central role.
On the sidelines of the ADSOM and ADSOM+ , Chien held bilateral meetings with heads of delegations of the host country Indonesia, Japan and Australia. He also met bilaterally with heads of delegations of China, Russia, India, Cambodia, Thailand and Malaysia. These meetings aimed to discuss and promote the implementation of important defence-related matters, especially high-level exchange activities, policy dialogues, and defence strategy.
The discussions covered various topics, including important events related to defence and security, such as multilateral and bilateral forums and conferences. The bilateral meetings and engagements played a significant role in enhancing political trust, goodwill and cooperation between Vietnam and its partners in an effective and practical manner.
Hanoi launches diverse activities to develop night-time tourism
The Hanoi Department of Tourism is in the process of launching a string of activities aimed at developing night-time tourism products in the capital, heard a seminar held on August 2 in Hanoi.
Upon addressing the event, Phung Quang Thang, chairman of the Hanoi Tourism Association, emphasized that night-time tourism products and services must be associated with local cultural elements and criteria of diversity, uniqueness, sustainability, quality, and high-added value.
Thang added that travel companies are therefore required to co-ordinate alongside monuments and museums in a bid to provide visitors with unique experience whilst also developing culinary tours around the capital's Old Quarter.
He revealed that some units such as Hoa Lo Prison Relic, Thang Long Imperial Citadel, and the Vietnam Literature Museum are renovating tourism products as they seek to launch night-time tourism products, according to VOV.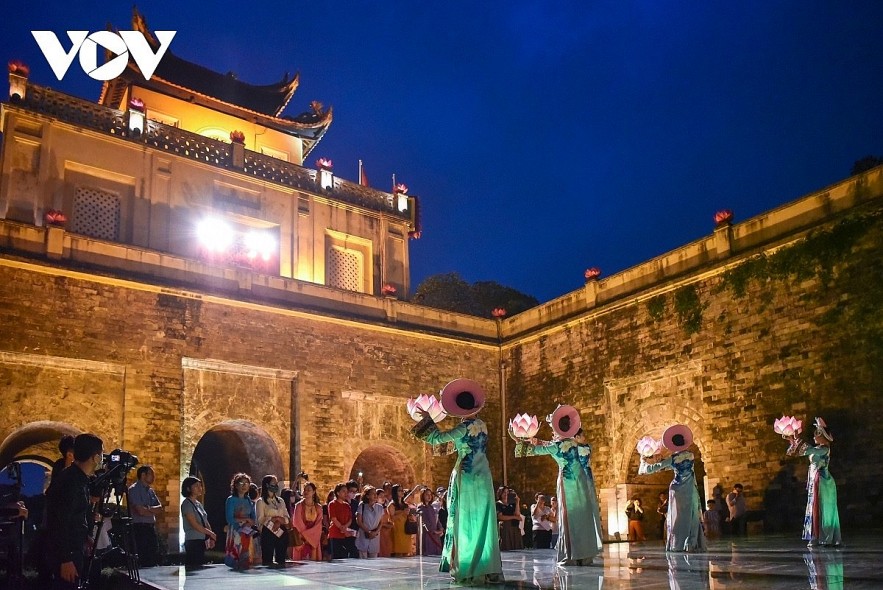 A night-time tourism product at the Imperial Citadel of Thang Long.
However, Hanoi still needs more night tours for foreigners, Thang said, adding that the Old Quarter is also required to design its own tours moving forward.
Water puppet theaters are recommended to offer more storytelling plays for foreign tourists, instead of just traditional folk tales, he noted.
Dang Huong Giang, director of the Hanoi Department of Tourism, said that night tourism products in Hanoi should be designed to promote the value of cultural identity and heritages of the capital.
She revealed that from now until the end of the year, the capital city is set to launch a number of outstanding night tourism products in a bid to serve tourists.
More foreign visitors eye vacations in HCM City: Agoda
The search for destinations in Vietnam has increased sharply after a new visa policy was approved by the National Assembly (NA), according to Agoda, a digital travel platform.
The number of searches from foreign visitors planning for a long holiday in Vietnam, including Ho Chi Minh City, rose by 33% within two weeks after the approval of the policy which extends the validity of tourist e-visas from 30 days to 90 days, and lengthen the duration of visa-free stays from 15 to 45 days for visitors from certain countries.
According to Agoda, the number of accommodation searches by visitors from France increased by 72%, followed by the Netherlands, New Zealand, Germany and the US by 45%, 41%, 40% and 38%, respectively.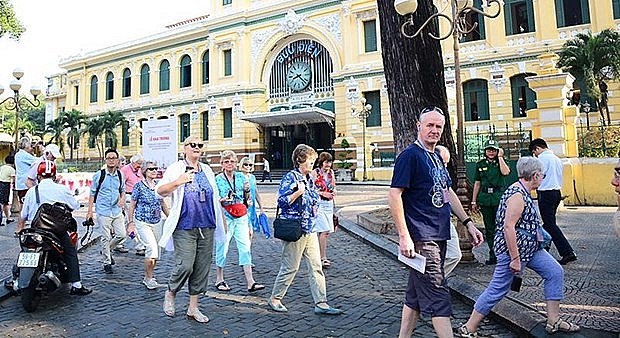 Illustrative image. (Photo: tphcm.chinhphu.vn)
In terms of total searches of Vietnam's destinations, the US took the lead, surpassing Australia, Canada and Germany.
Agoda's data analysis focused on long-haul travelers from North America, the EU, Australia and New Zealand, who have faced stricter visa restrictions compared to their counterparts in Southeast Asia and the broader Asia Pacific region. These travelers often endure longer and costlier return flights, making them more inclined to seek extended vacations compared to those within a shorter flight radius.
Following the visa policy change, India rose from 8th place to become the 2nd largest international market for hotel bookings in Vietnam, only behind the Republic of Korea.
Statistics from HCM City's Department of Tourism showed that foreign arrivals to the city reached 2.3 million in the first seven months of this year, equivalent to 47.2% of the 2023 plan. In July alone, the city welcomed 419,100 international travelers, up 45.7% against the same period last year.
Currently, many travel companies in HCM City have provided information on visa policy changes to partners in key markets such as Europe, the US and Australia.
Positive signs anticipated for Vietnamese economy in H2
International organizations and media outlets have continued to make a positive assessment of Vietnamese economic recovery and the nation's outlook in the second half of the year.
Despite recording a slow growth amid global economic headwinds, the nation is performing better than most and remains an attractive destination for foreign direct investment (FDI) in the manufacturing sector, according to the International Monetary Fund (IMF) and Singapore-based DBS Bank as cited by Fibre2Fashion.
In an assessment of the nation's economic situation in the first half of this year, both said that a gradual easing of monetary policies, reducing taxes, and expanding public spending has helped to mitigate the impact of headwinds.
The IMF noted that Vietnamese economic growth would recover in H2, while inflation is likely to remain under control below the State Bank of Vietnam's 4.5% target.
Furthermore, Standards Chartered anticipates that the national economy will grow by 7% in H2. The country's economic stability and openness represent key drivers for its promising mid-term outlook, a continued recovery of tourist arrivals will therefore help to strengthen the services balance. In addition, maintaining investment inflows might need an enhanced global environment and concerted efforts from the Vietnamese Government, the bank said.
Sputnik News of Russia cited DBS Bank as saying that with the FDI registered in H1 increasing by about 30% on-year, despite enduring many challenges, the country remains an attractive FDI destination thanks to the shift recorded in supply chains, many free trade agreements, a medium-term growth outlook of 6% to 7%, and a developing electronics ecosystem.
It noted the surge in FDI inflows into the manufacturing sector this year reflects foreign investors' sustained confidence in the nation's long-term potential, reported VOV.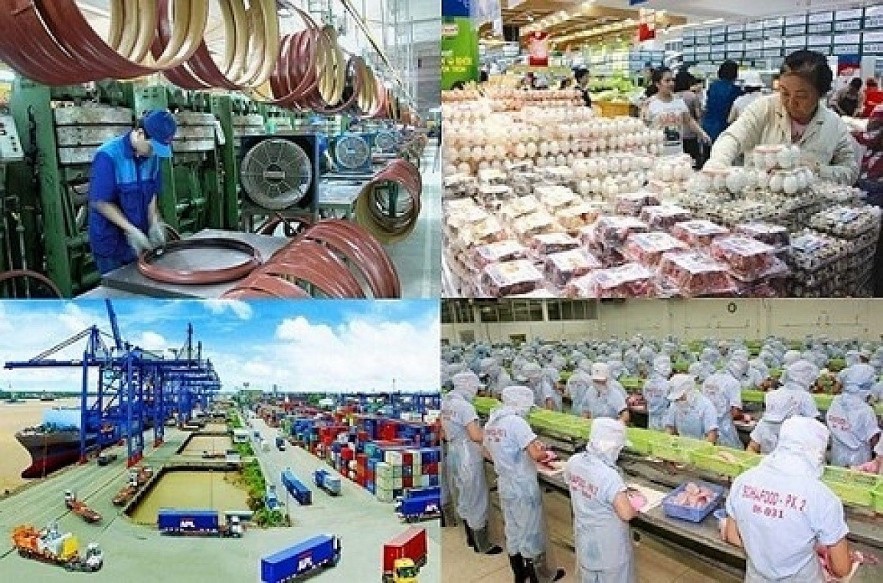 Photo: VOV
According to Asia Business Outlook of India, Vietnam is one of the fastest-growing digital economies in Southeast Asia. Against this backdrop, strong governmental support such as competitive tax incentives coupled with the skilled Vietnamese labour market have played a strong role in enabling the country to serve as an offshore manufacturing hub. This comes amid businesses seeking to diversify and strengthen their supply chains.
Vietnam is a country on the rise, boasting a growing economy, stable political environment, and a relatively young workforce, thereby making it an attractive destination for businesses looking to expand their operations in Asia.
"As Vietnam continues to develop and grow, we can expect to see an increase in foreign investment and opportunities for businesses looking to tap into this dynamic and exciting market," an article on Asia Business Outlook wrote.
Technode Global cited Tracxn Technologies Ltd. as saying in a recent statement that the Vietnamese tech startup ecosystem has emerged as the third-highest funded startup ecosystem in all of Southeast Asia.
The nation's startup ecosystem therefore has significant potential for growth, thanks to the Government's support measures such as tax exemptions for information technology (IT) companies and land rent concessions.
The Government's commitment to establishing a cashless economy will therefore contribute to the development of the FinTech ecosystem in the region, Tracxn added.
Made-in-Vietnam ASF vaccines to be exported to Philippines, Indonesia
Vietnam will export 2 million doses of vaccines against African swine fever (ASF) to the Philippines and Indonesia between August and October this year, according to Nguyen Van Long, director of the Department of Animal Health under the Ministry of Agriculture and Rural Development (MARD).
Previously, the Philippines imported 300,000 doses of the vaccines, Long said.
The Vietnamese ASF vaccine producers are collaborating with local authorities to deploy vaccination campaigns for pig herds, he said, adding that households, farms, and businesses have been using the ASF vaccines for their pigs.
According to Long, the export of the made-in-Vietnam ASF vaccines to many countries with good feedback will help Vietnam expand its export markets for this product.
After the administration of 600,000 doses of ASF vaccines on pigs in over 40 provinces and cities nationwide under the supervision of the Department of Animal Health showed positive outcomes, the MARD has allowed the use of the vaccines on a larger scale in many localities, cited VNA.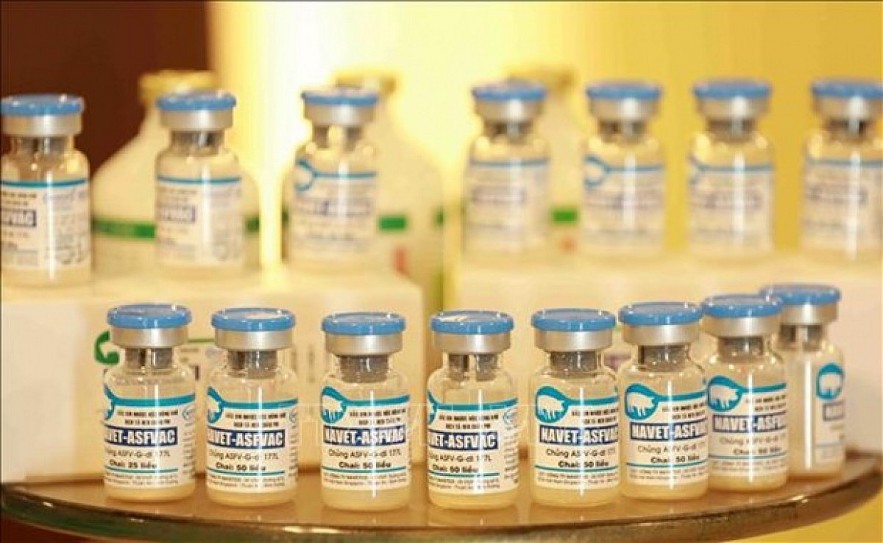 Made-in-Vietnam African swine fever vaccines to be exported to Philippines, Indonesia.
Enterprises must proactively monitor and take responsibility for the quality of the vaccines they supply to the market, Long said.
In response to requests from some countries, Vietnam has provided support for and sent experts to those countries to collaborate in organising vaccination campaigns.
The NAVET-ASFVAC vaccine, produced by NAVETCO Central Veterinary Medicine Joint Stock Company, has been administered to pigs in the Dominican Republic, yielding positive results. The Dominican side appreciated the support from the MARD as well as Vietnamese specialised units and enterprises, expressing the desire to continue receiving assistance and then purchase the vaccines for use in the country.
Meanwhile, the AVAC ASF LIVE vaccine, made by AVAC Vietnam JSC, has been administered to pig herds and carefully evaluated in the Philippines. The authorities of the Southeast Asian nation have confirmed that this vaccine is safe and effective, with 100% of the vaccinated pigs developing an anti-body immune response.
Vietnam has become the first country to successfully develop and produce two vaccines against ASF, a disease that first appeared in Africa in 1921 with a mortality rate of up to 100%.