Photo/material exhibition on Truong Sa, Hoang Sa archipelagoes in Germany
( VNF )
From October 2nd-4th, a photo and material exhibition on Truong Sa, Hoang Sa archipelagoes of Vietnam was held at the Jahrhunderthalle cultural center, Bochum city, Germany.
The exhibition was held by Mr. Nguyen Van Cuong, an overseas Vietnamese in Berlin in the framework of the "40 years of integration and development" and the 40th anniversary of diplomatic relation establishment between Vietnam and Germany held by the Overseas Vietnamese Association in the German Federation.
This was the second exhibition on Truong Sa and Hoang Sa archipelagos held by Mr. Cuong in Germany after the first time held in late July in Berlin.
The exhibition attracted attention of many Vietnamese people in Germany and German, international friends.
The displayed photos had been carefully selected by Mr. Cuong from photos he took during his visit to Truong Sa archipelago in May and materials collected in Vietnam. It was displayed in themes: ancient maps, materials and bibliographies confirming sovereignty of Vietnam over Truong Sa and Hoang Sa archipelagoes; daily life of people and soldiers on Truong Sa island; illegal artificial building activities of China in the East Sea; and activities and movements of overseas Vietnamese people in Germany towards the homeland.
The exhibition also displayed photo books, maps and recordings confirming Vietnam's sovereignty over Truong Sa and Hoang Sa archipelagoes.
Prof. Dr. Juergen Kretschmann, Principal of Technical University of Bochum, said he was impressed by the scale and elaborateness of the photo exhibition.
With regard to disputes over the East Sea, he said that the concerned parties should handle disputes in a peaceful manner, respecting international law and no threat to use force.
The exhibition contributed to introduce truthful images about life, struggle of soldiers to overseas Vietnamese in Germany.
It also helped overseas Vietnamese, German and international friends have conditions to access precious materials and maps confirming Vietnam's undisputed sovereignty over Truong Sa and Hoang Sa archipelagoes./.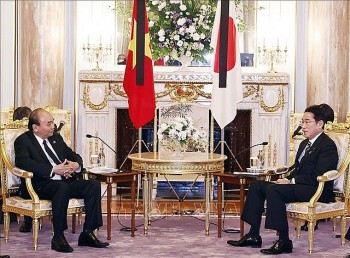 Friendship
Vietnam always treasures the extensive strategic partnership with Japan and views Japan as an important and long-term strategic partner, President Nguyen Xuan Phuc told Japanese Prime Minister Kishida Fumio in Tokyo on September 26.