Phu Quoc among World's 25 Best Islands: US Magazine
Phu Quoc, Vietnam's largest island off the southern province of Kien Giang, has been selected one of 25 best islands in the world by readers of a US magazine.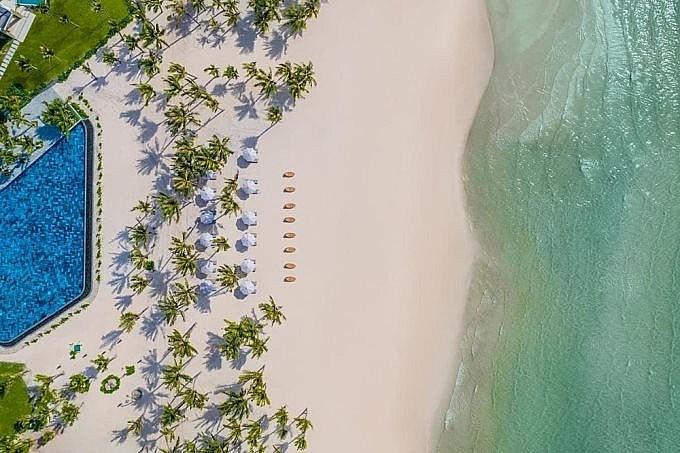 Phu Quoc is Vietnam's largest island off the southern province of Kien Giang. Photo: An Giang Online
Travel + Leisure says readers' enthusiasm for Phu Quoc has earned it a place on this list thanks to its white-sand beaches and delectable food.
The island is renowned for its production of fish sauce and peppercorns, as well as its coral reefs and dense tropical forest.
For this year's World Best Awards survey, Travel + Leisure asked its readers to weigh in on travel experiences around the globe to choose the world's best islands based on activities, sights, natural attractions, beaches, food and friendliness.
Ischia island in Italy topped the list, followed by the Maldives and Bali in Indonesia.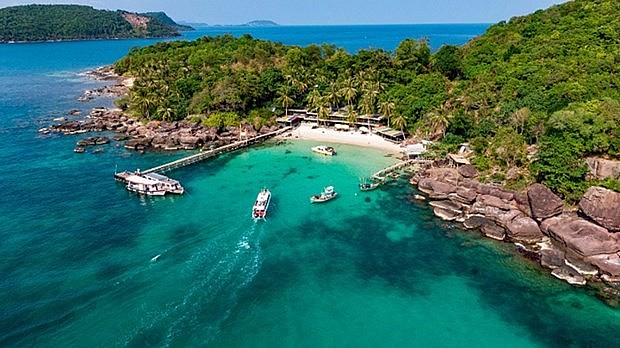 Phu Quoc - the perl island of Vietnam. Photo: VNA
Phu Quoc has gained popularity after the government allowed 30-day visa free entry in 2014.
In 2019, before Covid-19 hit the country, the island received over five million visitors, including 541,600 foreigners, VietnamPlus said.
Phu Quoc has seen strong recovery since the country lifted most Covid-19 restrictions. It received 1.4 million tourists in the first half of this year, or over 70% of its full-year target.
Pear island of Vietnam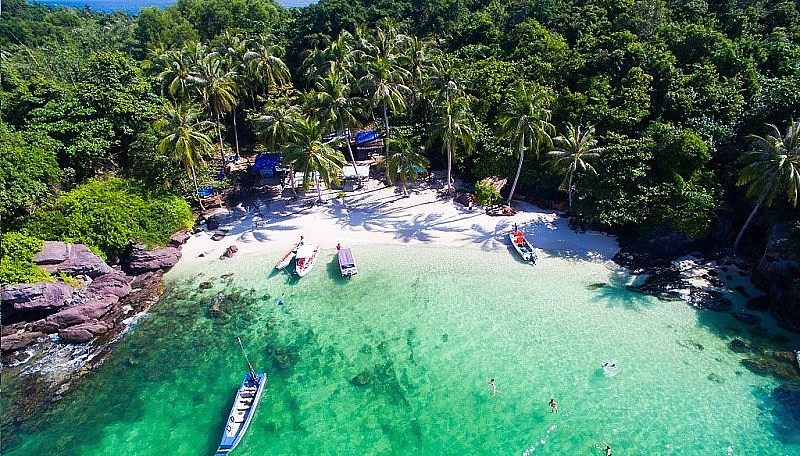 The island is a sunny paradise with green tropical trees. Photo: thiennhienmoitruong.vn
Located in the Gulf of Thailand, Phu Quoc is known as the pearl island on the southwest coast of Vietnam. It is a sunny paradise with green tropical trees.
If you love a deserted sea and want to immerse yourself in clear water and untouched nature, Phu Quoc is a great choice.
With a 150km-long coastline, Phu Quoc has many beautiful beaches from the north to the south.
They are ideal beaches for swimming, yachting, fishing, squid fishing, scuba diving to see coral, and water sports.
Along with rich marine and island resources, Phu Quoc also has a diverse forest ecosystem, mainly in Phu Quoc National Park, which has a total area of over 31,422 hectares.
The marine ecosystem of Phu Quoc is also very diverse with coral reefs of different shapes and sizes. It has nearly 100 species of hard corals, nearly 20 species of soft corals and 62 species of seaweed.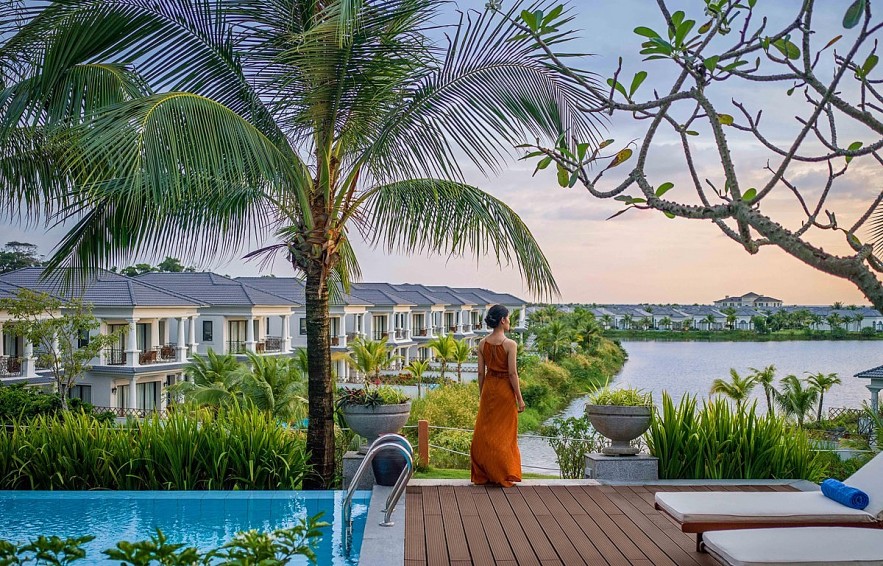 Phu Quoc has gained popularity after the government allowed 30-day visa free entry in 2014. Photo: VNA
In addition, tourists can also relax and experience the Phu Quoc United Center complex, which includes five-star rooms and villas, the sports – entertainment – playground at Vinpearl Golf, VinWonders theme park, Vinpearl Safari semi-wildlife care and conservation park, Corona Casino and "the city that never sleeps" Grand World Phu Quoc in close proximity.
Visitors can visit many historical sites such as Dinh Cau shrine, Phu Quoc prison, the base of Hero Nguyen Trung Truc, and Truc Lam Ho Quoc Zen Monastery.
On this island, there are also some famous trade villages such as Ham Ninh fishing village, fish sauce making village, dog breeding, pearl farming, myrtle wine making, and pepper farming.
Coming to Phu Quoc island, visitors can not only go swimming and diving to admire the splendid coral reefs, join unique sports and entertainment activities, but also taste delicious local seafood specialties. To fully experience the taste of Phu Quoc, there are three seafood dishes that visitors definitely cannot miss: flower crab of Ham Ninh Village, Sardinella salad, and echinus./.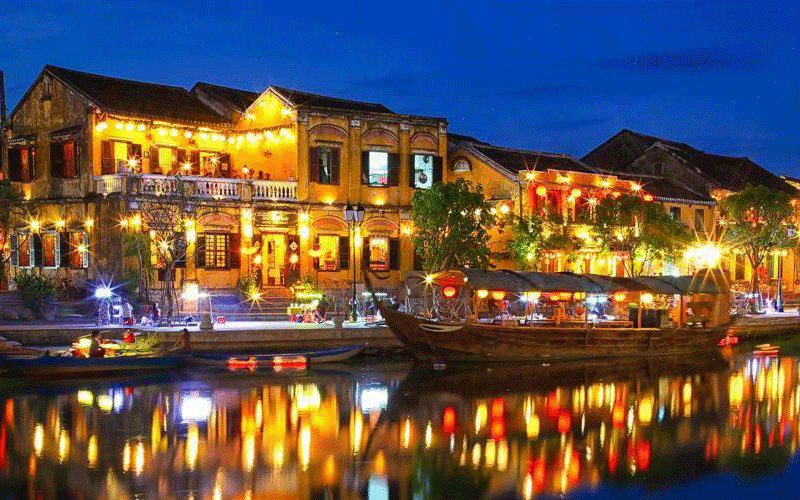 Ancient Hoi An town. Photo: VOV
Apart from Phu Quoc, Travel + Leisure has also named the ancient Hoi An town in Vietnam's central province of Quang Nam in the global listing of 25 best cities.
Readers ranked the cities based on factors such as the quality of hotels and restaurants, cultural heritage, attractions, cuisine, and Covid-19 protocols.
Oaxaca in Mexico was voted the best city with a score of 92.96. San Miguel de Allende in Mexico came second followed by Ubud in Indonesia.
Hoi An used to be a busy international commercial port from the 16th to 19th centuries, attracting merchant ships from China and Japan. It is a World Heritage site recognised by UNESCO.
Phu Quoc Awakens, Americans are Arriving

As Vietnam's international tourism slowly resumes, American expats reflect on the state of the post-Covid world from the quiet shores of an awakening Phu Quoc.