PM Nguyen Xuan Phuc hosts Israeli diplomat in Hanoi
Prime Minister Nguyen Xuan Phuc voiced his hope that Israel will assist Vietnam in innovation and start-up facilitation during a reception for Israeli Ambassador Nadav Eshcar in Hanoi on October 7.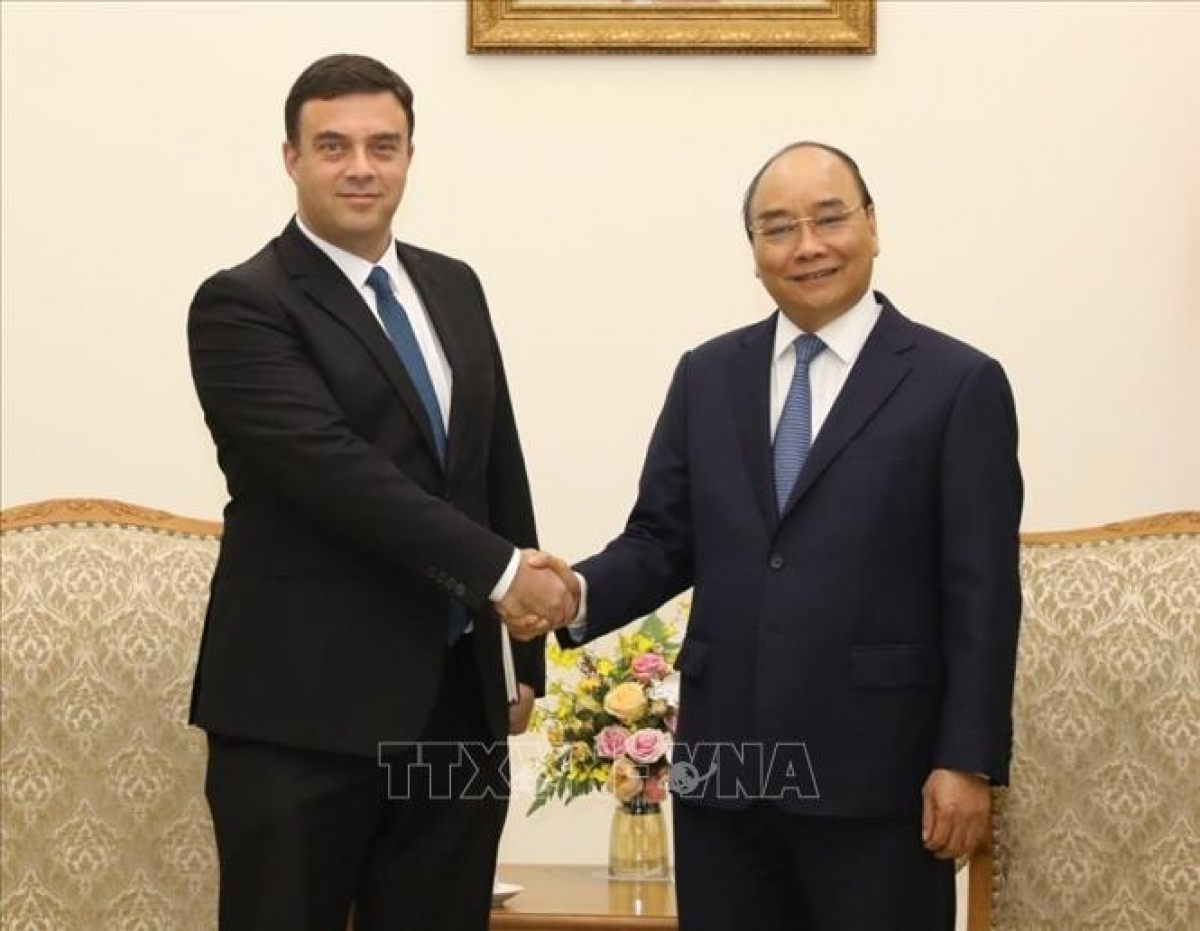 Prime Minister Nguyen Xuan Phuc (R) welcomes Israeli Ambassador Nadav Eshcar (Photo: VNA)
The Vietnamese Government leader told his guest that Vietnam sticks importance to the cooperation with Israel, while showing his elation at the great strides in bilateral relations, particularly in trade, agriculture, science-technology and security-defence, making Israel one of the important partners of Vietnam in the Middle East.
He also greatly valued the ambassador's contributions to the multifaceted ties between the two nations.
Phuc said he is impressed with Israel's development, especially in terms of economy, agriculture and science-technology, which has helped turn the West Asian country with limited natural resources into a strong economy with developed science-technology in the world.
The Israeli diplomat, in turn, said Vietnam has done a good job of COVID-19 prevention and control and it is a role model in this regard, noting that his country admires and desires to learn from the Southeast Asian nation's experience as it is seeing a second outbreak of the coronavirus.
Both nations boast huge potential for stepping cooperation in agriculture, technology and water management since Israel is experienced in applying modern technology in drought response and agriculture.
He suggested the two countries should enhance connections in other areas like cybersecurity and aviation technology, adding that both sides will soon take final steps to sign a bilateral free trade agreement and open a direct air route between Hanoi and Tel Aviv as a means of promoting bilateral exchange, trade and investment.
Echoing the ambassador's view, the host leader said there remains plenty of room for broader cooperation between the two countries.
Phuc recommended that when possible, Vietnam and Israel should organise delegation exchanges and cooperation mechanisms such as meetings of the joint committee and political consultations between their foreign ministries.
They need to work harder to elevate bilateral trade by two-three times by 2025, boost trade promotion activities, encourage Israeli businesses to participate in exhibitions and fairs held in Vietnam, and assist Vietnamese firms to carry out promotion activities in Israel, he emphasized.
In addition, they should also speed up the negotiations on the bilateral free trade agreement, the PM said, asking Israel to help Vietnam in the fields of innovation and start-up while welcoming its enterprises' investment in these fields.
Vietnam prioritises developing agriculture in the time to come, especially hi-tech application in this sector, Phuc said and hailed recent cooperation activities in sharing experience in water resource management and use, which he said is a field Israel has strength in and Vietnam has demand for and they need to maintain partnership in this regard.
Phuc also applauded the outcomes of the countries' agricultural internship programme and asked Israel receive more agricultural interns from Vietnam. As many as 635 Vietnamese have come to Israel under this programme in 2020, he added.
The host leader voiced his support for the early signing of a protocol amending the air transport agreement between the two governments and the opening of a direct air route, which he believes will make bilateral investment, trade and exchange more vibrant.
PM Phuc also called on both sides to accelerate negotiations on a bilateral agreement on labour cooperation and foster ties in education-training among their academies and universities by exchanging lecturers and students and granting scholarships for each other's students.
On this occasion, PM Phuc congratulated Israel on its signing of an agreement to normalise relations with the UAE, and expressing his hope that this will contribute to peace and stability in the Middle East.
VOV