PM calls for advanced solutions and long-term vision for Mekong Delta to deal with climate change
Prime Minister Nguyen Xuan Phuc called for a long-term vision to cope with drought and salt intrusion during the Mekong Delta's dry season, which normally lasts from November to May.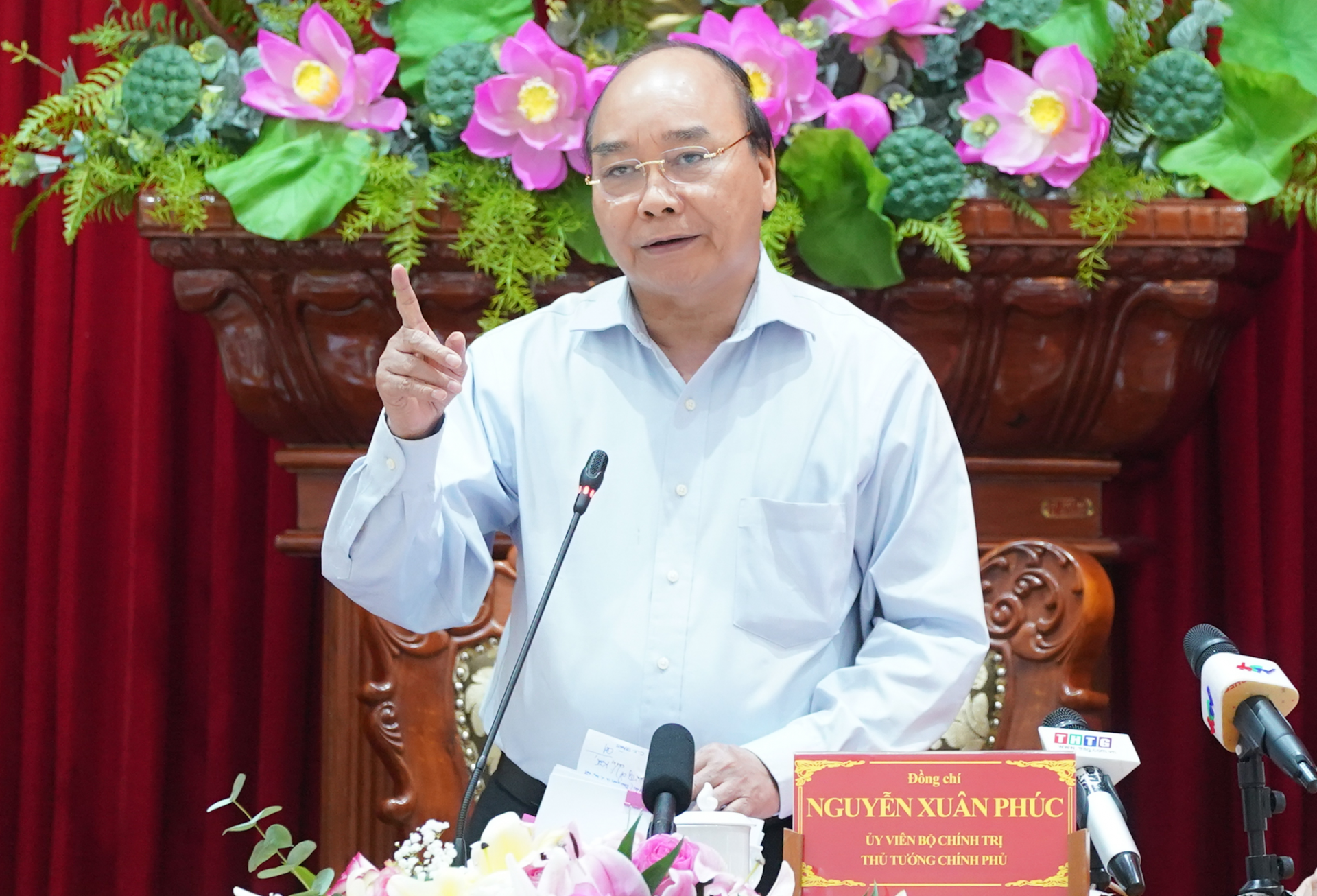 Prime Minister Nguyen Xuan Phuc chairs working session with local leaders of 13 Mekong delta localities on September 23, 2020. Photo: VGP
Addressing a conference in My Tho City, Tien Giang province, on Wednesday, the Prime Minister told regional leaders that early measures in place will minimize losses and ensure safe water for livelihood.
The Government chief emphasized the point at his working session with local leaders of the region on September 23.
He said, "We should promote production restructuring and harvesting schedule. Vietnam's food exports could top the world this year and pave the way for further expansion of farming acreage, especially when Vietnamese rice exports to the EU enjoy a zero percent tariff. But given the drought impacts, we should think twice about the crop areas for Winter-Spring crops. Next solution could be storage of fresh water during the current rainy season for household use, drainage clean-up and irrigation system upgrade"
The Prime Minister also asked for application of advanced technology available in the world to minimize the impacts of drought and salt intrusion.
He tasked the Ministry of Planning and Investment to promptly finalize and submit a master planning scheme for Mekong Delta development in the fourth quarter this year.
PM Phuc urged the localities to make every effort to ensure water supply for daily life and production in the country's most important agricultural region that produce more than 50% of the country's rice output and 70% of fruits and aquatic products, reported VGP.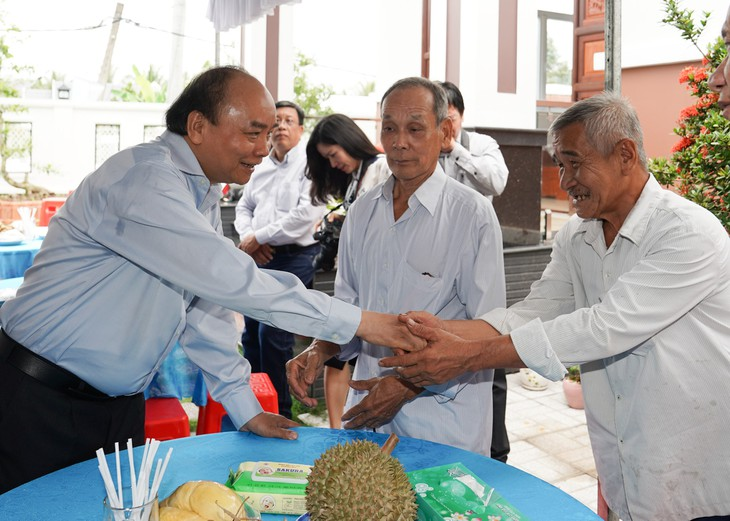 Prime Minister Nguyen Xuan Phuc shakes hands with farmers. (Photo: VGP)
The region's residents should be well-informed about water level developments to do farming, Phuc stressed.
He asked the Ministry of Agriculture and Rural Development to step up the implementation of major irrigation and water supply projects.
The ministry was also urged to instruct the region to continue shifting agricultural production structure in a bid to mitigate impacts of drought and salinization following the reduction of rice area by 100,000 hectares last Winter-Spring crop.
It has been reported that theMekong delta faced record salinization in the 2015-2016 and 2019-2020 dry seasons, seriously affecting local production and daily life.
The region is forecast to experience a high level of drought and saltwater intrusion in the upcoming 2020-2021 dry season, with about 5.3-6.1% of its total rice area and 14-23% of its fruit-growing area affected.
In addition, some 70,600 local households will also face water shortages.