Positive signal in the fight against COVID-19
Following less than two weeks of operation, the COVID-19 Resuscitation Hospital in Ho Chi Minh City has seen its first achievements as 17 critically ill patients cheated "Death" and were discharged.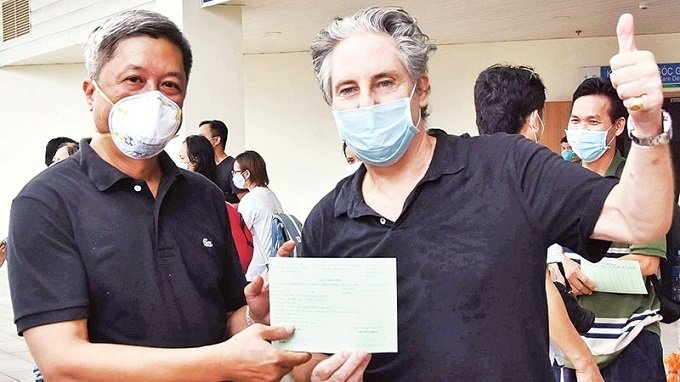 Piers Birtwistle (right) is happy on the day he was discharged from the hospital. (Photo: NDO)
This is a good sign in COVID-19 prevention and control as Ho Chi Minh City is gradually transitioning to the stage of minimising the number of deaths due to the epidemic.
July 26 was a really special day for doctors and nurses at the COVID-19 Resuscitation Hospital in Ho Chi Minh City as 17 critically ill COVID-19 patients received hospital discharge papers following treatment. Piers Birtwistle, one of the patients discharged from the hospital this time, could not hide his joy and happiness while expressing his thanks to Vietnam, especially the doctors and nurses who have treated and cared for him so enthusiastically.
Going back in time, amidst the complicated developments of the pandemic, the Ho Chi Minh City Steering Committee for COVID-19 Prevention and Control decided to put a 1,000-bed hospital into operation, now called the COVID-19 Resuscitation Hospital. The hospital was established at the inpatient treatment area of the Oncology Hospital No.2 in Thu Duc City. The most advantageous point of the COVID-19 Resuscitation Hospital is the modern infrastructure, which can support the breathing of up to 1,000 patients at a time, using oxygen, non-invasive mechanical ventilation HFNC and invasive mechanical ventilation.
According to doctor Nguyen Tri Thuc, Director of Cho Ray Hospital cum Director of the COVID-19 Resuscitation Hospital, the hospital has recently received about 400 patients, of which 83 severe and critical individuals were milder in terms of their condition and were transferred to lower-level hospitals for further treatment, with 17 discharged. These 17 were initially severe, critically ill cases with different characteristics and conditions. With the efforts made by the medical workers during the early stages of the hospital's operation, the patients were taken care of and recovered completely. After they had been sampled twice and received negative results, they were eligible to be discharged from hospital and continue to be monitored at home as prescribed. Proudly, since the operation of COVID-19 Resuscitation Hospital, the medical staff here have worked twice or three times as much as usual due to the increase in the number of seriously ill patients. Amidst this difficult situation, the hospital's medical workers have united to form a block, making great efforts to protect patients' lives and limit the number of deaths to as low as possible.
Witnessing the happy moment of the first patients being given their discharge papers, Assoc. Prof, Dr. Nguyen Truong Son, Deputy Minister of Health, head of the ministry's special standing division in Ho Chi Minh City noted that this was a special event for patients and the hospital. In just a short time, the reception and treatment of severe and critical COVID-19 infections has seen initially positive results. Today's results were firstly thanks to the efforts made by the whole Party Committee, authorities and people in the City as well as the support of the Government and Ministry of Health in developing overall solutions early in relation to the initial human resources equipment and medical supplies for this modern medical facility. In addition, the enthusiastic and responsible participation of colleagues and medical staff from central-level hospitals, those in Ho Chi Minh City and the assistance of medical units from other provinces and cities have helped build very professional teams with the highest level of professionalism to fight with "Death" and save the lives of critically ill patients.
Deputy Minister Son also said that the treatment for COVID-19 patients, especially those who are critically ill, has seen changes over recent times with the updates in medical studies and recommendations from the World Organisation Health (WHO) as well as further experience from Vietnam's situation. The Delta variation of SARS-CoV-2 virus has spread very quickly. Its complications have made it difficult for doctors. An asymptomatic patient may become seriously ill within a few hours, so their care is very important, especially in hospitals on the first and second level. Therefore, oxygen ventilators are present in all facilities receiving and treating COVID-19 patients and high-flow nasal oxygen systems and modern ventilators are always ready for patients to prevent the patient from respiratory failure. On the other hand, some drugs that were previously used in the later stages are now recommended for patients earlier in the process such as anticoagulants. Other drugs on antibiotics and antifungals as well as continuous dialysis systems and resuscitation support systems were put into use with haste.
Dr. Nguyen Tri Thuc said the hospital has been expanded to 460 beds this week. Next week, the hospital will be expanded to 700 beds, so more equipment and machines such as ventilators, dialysis machines, ECMO and especially human resources are needed. Despite several difficulties and shortages, the hospital has deployed a message system to inform the patients' relatives of their condition and prognosis. This is a very legitimate demand, thereby helping the patients' relatives feel less worried.
Nhandan