Tokyo Olympics: Moments of Celebration To Turn Into Microspreader Events?
Japan logged 10,699 new Covid-19 cases Thursday, topping 10,000 for the first time a day after the country logged 9,576.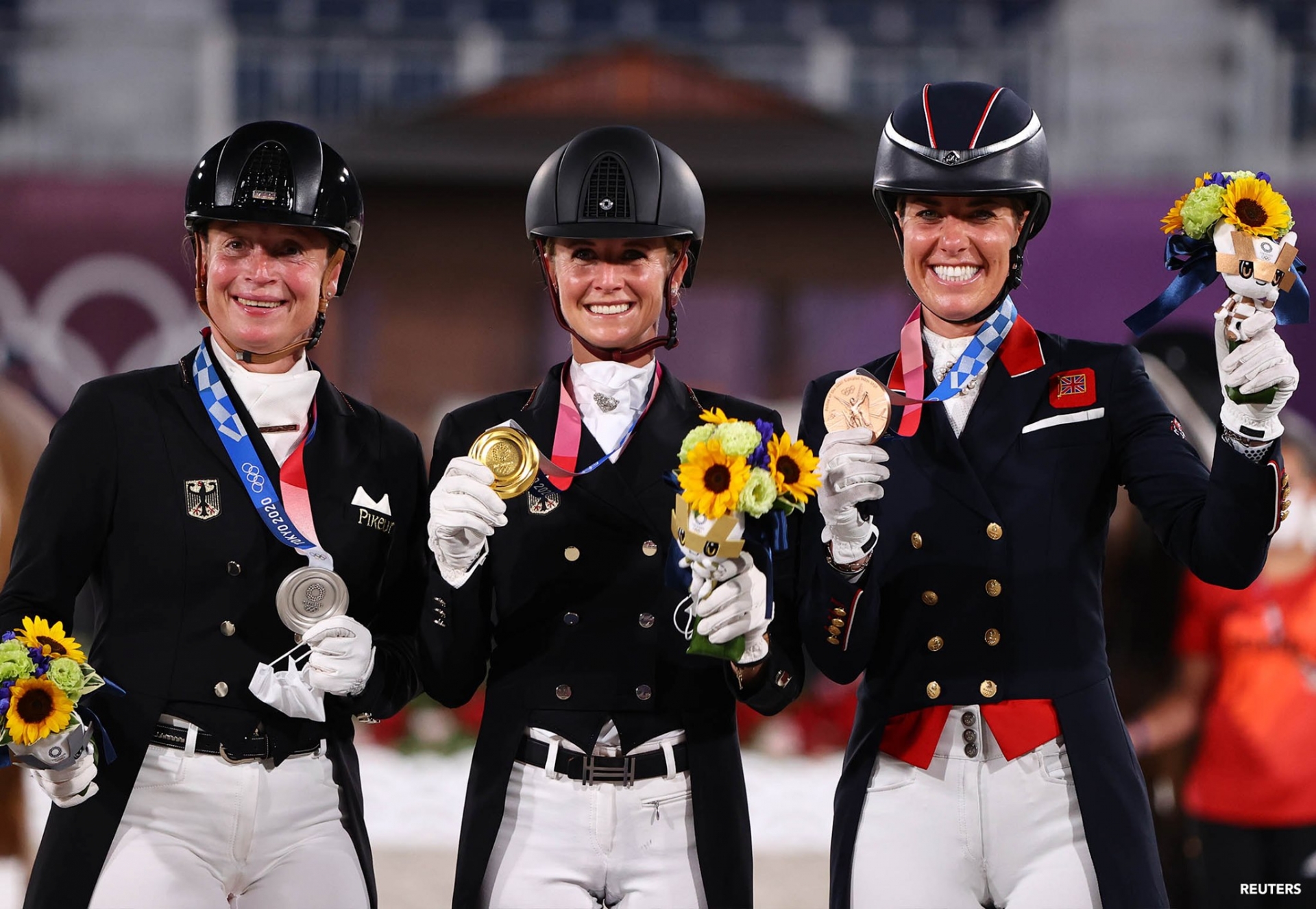 Jessica von Bredow-Werndl of Germany, Isabell Werth of Germany and Charlotte Dujardin of Britain pose with their gold, silver and bronze medal in equestrian without wearing a protective face. Source: Reuters
Tokyo supplied a large share of that total, with the capital confirming 3,865 new Covid-19 cases, setting a record for the third straight day, with Tokyo Summer Olympics have reported one of the highest daily increases since they started keeping records on July 1.
Since Wednesday, 24 people linked to the Games have tested positive — including three athletes. That brings the total of Olympic-related officials to catch the virus to 193 people, including 20 athletes, according NPR.
Organizers of the Tokyo Olympics are downplaying the danger. "We've been trying to minimize the impact to the local medical system. And in that respect, we've been absolutely right on track to deliver the safe and secure games for both perspectives," said Takaya Masa, a spokesman for Tokyo 2020.
On Thursday, government top medical adviser warned Japan faces its most serious situation since the Covid-19 pandemic began, urging the government to send a "clearer, stronger message" about growing risks, including to the medical system.
"The biggest crisis is that society does not share a sense of risk," top medical adviser Shigeru Omi told a parliamentary panel. "The numbers (for Tokyo) surpassed 3,000 and this may have some announcement effect. Without missing this chance, I want the government to send a stronger, clearer message."
The National Institute of Infectious Diseases has estimated that the delta variant is now responsible for about 70% of infections in the metropolitan area, reported The Japan Times.
However, Covid rules are often going out of the window on the medals stand at the Tokyo Olympics. Organizers and public health officials fear that these moments of celebration have the potential to turn into microspreader events, read The New York Times.
This week alone a maskless American taekwondo fighter gave her Russian opponent a hug after they collected their medals, a beaming Austrian cyclist and a burly British swimmer joined arms with beaten rivals. And, on Wednesday, Fiji's winning rugby sevens team belted out a song from the top step and then took a smiling (and largely mask-free) group photo with the teams from New Zealand and Argentina.
"This isn't a nice to have," International Olympic Committee spokesman Mark Adams, said of the virus safety measures in place for the Games. "This is an absolute priority."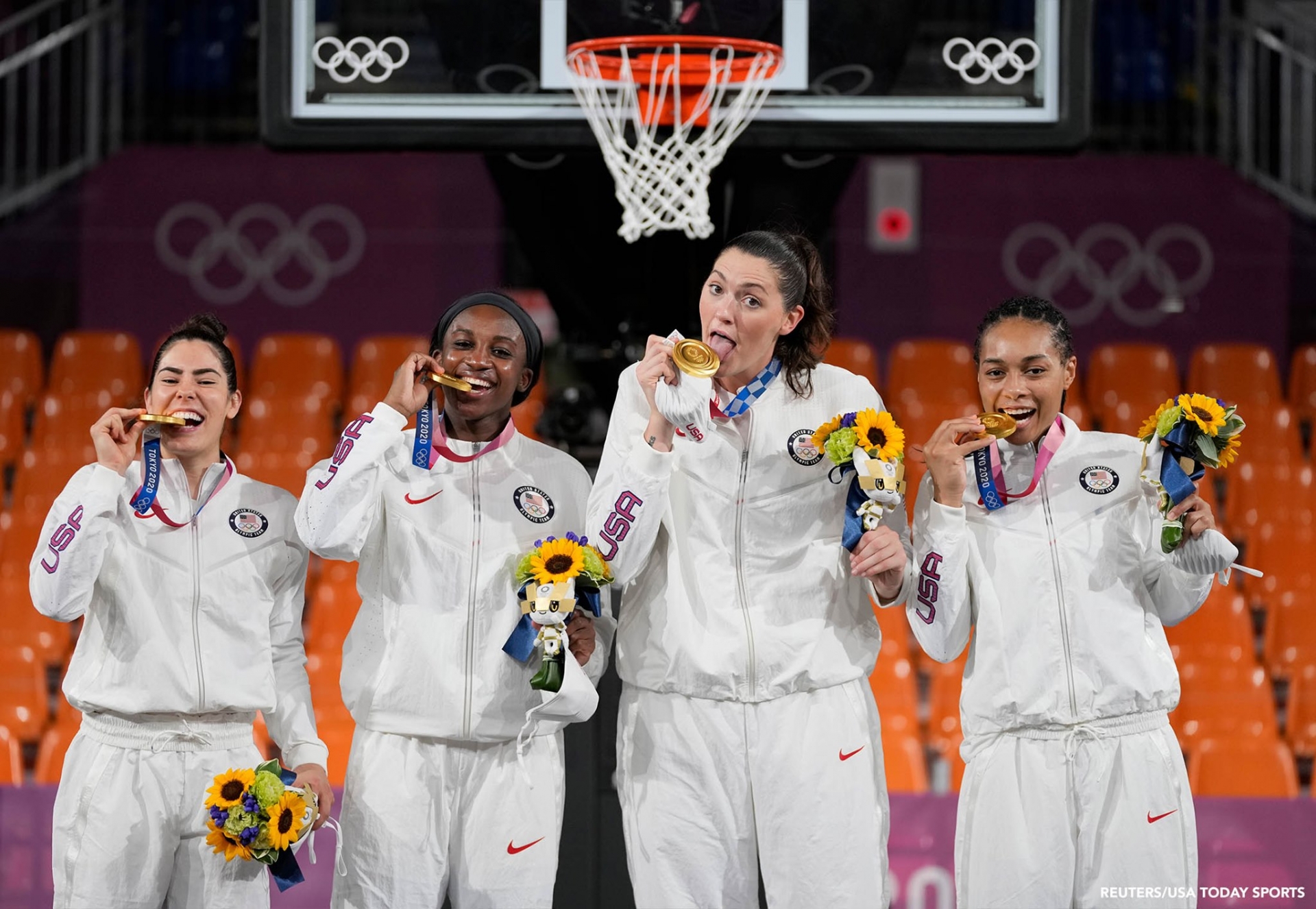 Gold medalists, from the U.S. women's team, 3x3 basketball. Source: Reuters/USA Today Sports
But after the first weekend saw a parade of athletes ignoring the mask rules after receiving their medals, the I.O.C. revised its protocols to try to find a middle ground between personal joy and public health.
Acknowledging that for athletes the traditional medals stand photo was "a unique moment in their sporting career," the I.O.C. said it would allow "a physically distanced image on the podium without their masks on for 30 seconds, and a group photo with masks on the gold-medal step." Monitors would watch the clock, Olympic officials said.
Within hours, though, even those looser rules were being forgotten.
On Sunday night Anastasija Zolotic became the first American woman to win a gold medal in taekwondo.
Althought, Zolotic, clambered onto a podium to receive her prize, wearing a mask, almost as soon as she had it, she peeled off her mask and took her medal to her mouth, pretending to take a bite out of it.
Zolotic's mask would not go on again. Not during the United States anthem. Not during her celebratory walk around the arena for photographs. Not even when she and her Russian opponent, Tatiana Minina, engaged in a short discussion and threw themselves into a friendly mask-free embrace.
As the evening progressed, the scene was repeated time after time, just as it was on Monday, when countless athletes at sites throughout Tokyo ignored the podium rules.
It remains unclear what organizers can do to ensure compliance. Adams demurred when asked if the I.O.C. planned to issue penalties to repeat offenders, saying only that there would be talks with teams and individuals who violated the rules. Athletes had previously been threatened with temporary exclusion or even disqualification if they disobeyed the coronavirus regulations.
The Summer Olympics are being held without spectators in Tokyo as the city remains under a state of emergency.