President Works With Enterprises, United Nations Bodies During Trip to US
President Nguyen Xuan Phuc held meetings with United Nations General Assembly, Food Systems Summit, investors, and enterprises on his ongoing trip to the United States.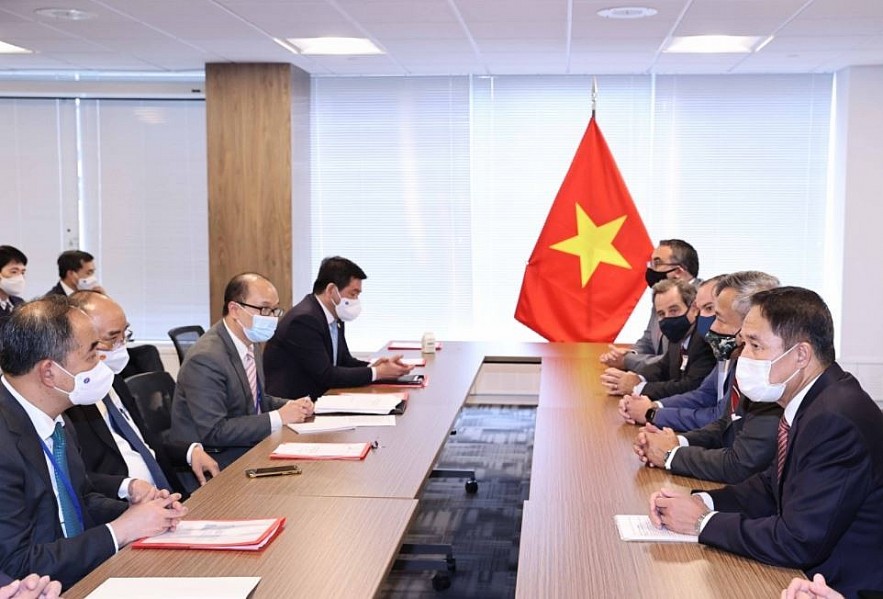 President Nguyen Xuan Phuc receives partners of Delta Offshore - Bac Lieu Energy. (Photo: VOV)
Meeting with business representatives and investors to encourage further investment
The Vietnamese State leader met with representatives of the US-ASEAN Business Council (USABC), the American Chamber of Commerce (Amcham), the US Chamber of Commerce (USCC), and several US companies and multinational groups in New York on September 22 (local time). The firms included McLarty, Philip Morris, AES, Thermo Fisher, Asia Group, Northwestern Medicine, Excelerate Energy, GE, and McDermott, Delta Offshore Energy, and Boeing.
President Nguyen Xuan Phuc has hailed the role of business associations in the United States for promoting US firms' investment in the Vietnamese market in recent years, during a meeting with business representatives and investors, VOV reported.
President Phuc applauded their activities in the nation, as well as their contributions to the Vietnamese energy sector's growth. He suggested the firms continue to work as a bridge between the two nations and urged the US Government to further promote practical and long-term cooperation with the nation. President Nguyen Xuan Phuc thanked the firms' support during the pandemic, encouraging them to further working with Vietnamese partners to help the nation engage in regional and global supply chains.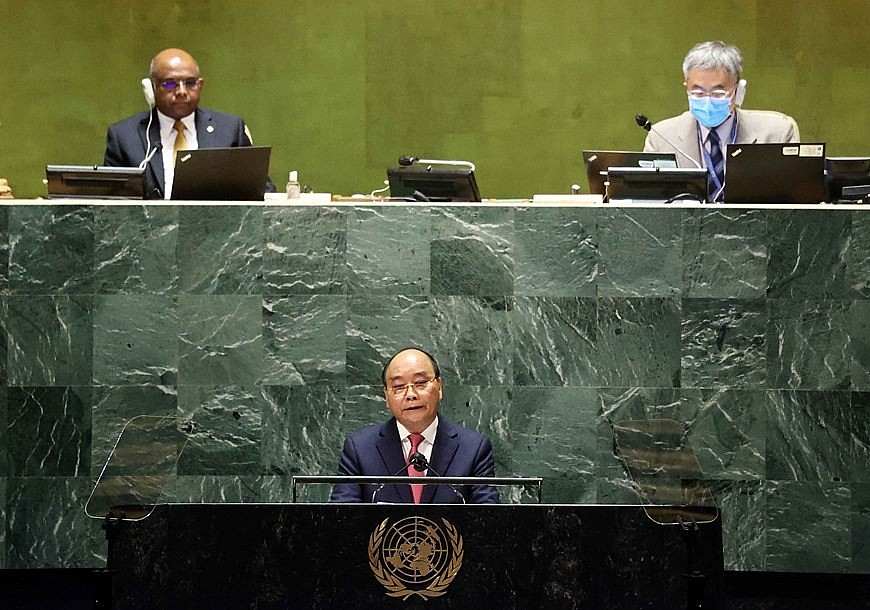 President Nguyen Xuan Phuc speaks at the general debate of the 76th session of the United Nations General Assembly. (Photo: VNA)
Affirming Vietnam's willingness to cooperate with countries to fight pandemics at UNGA debate
Vietnam will work with countries and people around the world to prevail over the pandemic and build a world of peace, prosperity, and happiness for all, President Nguyen Xuan Phuc said at the general debate of the 76th session of the United Nations General Assembly (UNGA) in New York on September 22 (local time), according to VNA.
In his speech, President Phuc put forth specific proposals to promote multilateral cooperation with the UN as the center and taking international law as the foundation to jointly cope with complex global challenges such as wars, conflicts, resource disputes, climate change, and the pandemic, which are negatively impacting peace, security, and development in the world.
The President said the most urgent issue right now is to control the pandemic through international cooperation. He noted that priority allocation of vaccines should be given to nations with a low vaccination rate while developing countries should be enabled to engage in vaccine production and supply chains.
The leader informed that Vietnam was working closely with fellow ASEAN members to promote ASEAN centrality in the maintenance of peace, security, and prosperity in the region. He called on parties involved to refrain from unilateral actions that may further complicate the situation, resolve disputes and differences through peaceful means in line with the UN Charter and international law, particularly the 1982 United Nations Convention on the Law of the Sea (UNCLOS). It is also necessary to fully observe the Declaration of Conduct (DOC) by parties in the South China Sea, and soon achieve a substantial and effective Code of Conduct (COC) in line with international law, including UNCLOS 1982.
President Phuc also highlighted Vietnam's aspiration for a strong and prosperous country, a law-governed state of the people, for the people and by the people, and an ability to invoke patriotism, perseverance, great national solidarity, and innovation of the entire nation.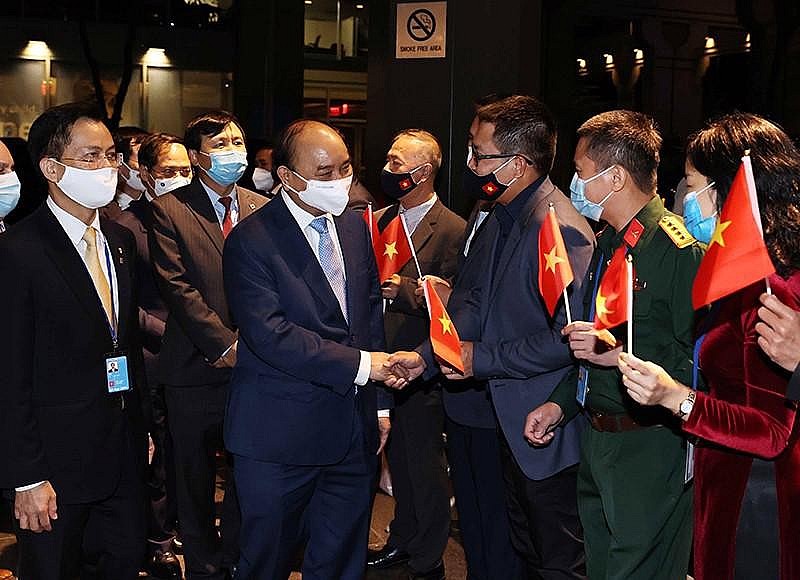 Vietnamese mission welcomed President Nguyen Xuan Phuc. (Photo: VNA)
Stating Vietnam's hope to become a food innovation hub in the region in UN Food Systems Summit
Vietnam hopes to become a food innovation hub in the region, President Nguyen Xuan Phuc said in his message sent to the United Nations (UN) Food Systems Summit held in New York on September 23 (local time). He stressed that food security lays the groundwork for Vietnam's efforts in eradicating poverty, improving the people's living standards, promoting the "transparent, responsible and sustainable" development of Vietnamese agriculture. In that spirit, the Vietnamese State leader made several proposals to ensure food security in the context of climate change and the pandemic.
The Vietnamese President highlighted the necessity to pursue a "multi-value" agricultural development model, encompassing socio-economic-cultural issues, landscapes, and the environment. He called for investment in agricultural infrastructure conducive to agricultural production and rural economic development, noting that private sectors should be encouraged to make responsible investments. , and we should also better expand public-private partnership models.
He suggested formulating and frequently updating a National Nutrition-Balanced Plan as the basis for production and distribution, adding that it is also essential that we step up education and information dissemination to create a healthy food system, appropriate and nutrition-balanced diets, and green and responsible consumption trends while preventing wastefulness.
President Phuc also said digitalization needs to be accompanied by policy and institutional reforms that revolve around farmers and consumers. It is also necessary to form sustainable agricultural value chains, focusing on food safety and the standardization of procedures and qualities.
At the same time, to sustainably develop the food systems, it is essential to expand international cooperation in conducting studies and forecasts, and building early warning systems for natural disasters and diseases; and to ensure the sustainable management of land and water resources, biodiversity, cross-border water, and marine resources, he said. The President affirmed that Vietnam stands ready to participate in cooperation arrangements led by the UN. "If we all work together, nothing is impossible, including the realization of the SDGs – 2030," concluded the Vietnamese leader.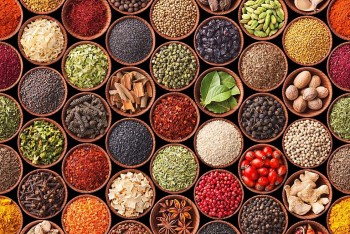 Vietnamese Herbal Tea
Antioxidants have been known since the 1990s and have been useful in fighting cancer, atherosclerosis, and many other chronic diseases.