Prime Minister Nguyen Xuan Phuc to officially visit Myanmar
Prime Minister Nguyen Xuan Phuc, his spouse and a high-ranking delegation of Vietnam will pay an official visit to Myanmar from December 16-18.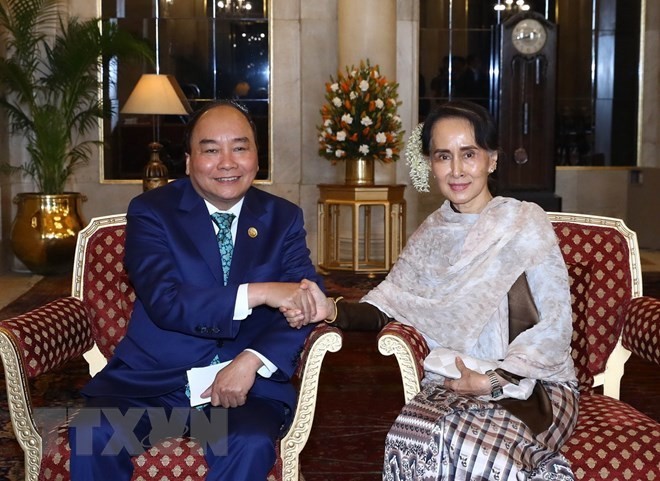 Myanmar State Counsellor Aung San Suu Kyi (R) and Vietnamese Prime Minister Nguyen Xuan Phuc met on the sidelines of ASEAN-India Commemorative Summit in January, 2018. Photo: VNA
The visit will be made at the invitation of Myanmar President U Win Myint.
Vietnam and Myanmar set up diplomatic ties on May 28, 1975. However, the bilateral relationship was formed earlier. In 1947, when fighting French colonialists, Vietnam opened an information agency in Myanmar's Yangon, which was elevated to a Governmental representative office in 1948. Myanmar's Prime Minister U Nu visited Vietnam in 1954, while Vietnamese President Ho Chi Minh visited Myanmar in 1958.
Despite its own difficulties, Myanmar whole-heartedly supported Vietnam during the struggle for national independence and reunification.
The two countries elevated their ties to a comprehensive cooperative partnership during a State visit to Myanmar by General Secretary of the Communist Party of Vietnam Nguyen Phu Trong in August 2017.
Economic, trade and investment ties have been maintained in agriculture, fisheries, finance-banking, aviation, telecommunications, oil and gas exploration and exploitation, mining, power device production and automobile manufacturing and assembly.
Trade between Myanmar and Vietnam reached 860 million USD in 2018, making it the 9th largest trade partner of Myanmar. Vietnam and Myanmar are targeting USD1 billion in trade in the coming time./.