Prime Minister Works with the RoK's Embassy and Enterprises in Vietnam
Prime Minister Pham Minh Chinh chaired a dialogue with the RoK's Ambassador and representatives of Korean associations and businesses in Vietnam.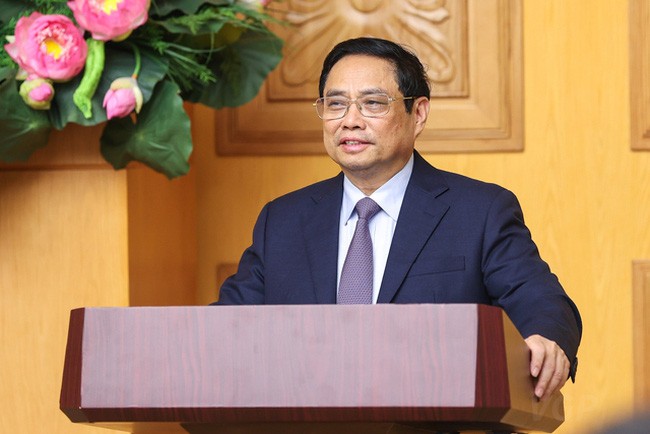 Prime Minister Pham Minh Chinh. Photo: VGP
Ministries, agencies and localities have been asked to seek solutions to diversify products and boost exports to the Republic of Korea (RoK), especially via Korean companies in Vietnam, according to VNA.
It was part of the announcement made by the Government Office on August 19 about the Prime Minister's conclusions on his working session with the RoK Embassy and Korean enterprises in Vietnam.
The announcement stated that after hearing opinions from the Korean Ambassador to Vietnam, representatives of Korean firms in Vietnam and leaders of ministries, agencies and localities, as well as suggestions by the RoK Embassy and Korean firms in Vietnam, the PM assigned ministries, agencies and localities to promptly deal with difficulties and problems that could be solved immediately under their authority.
For complex and unsolved issues, they must promptly outline orientations in the spirit of harmonising interests and sharing difficulties and submit them to the Ministry of Planning and Investment (MPI) before August 30 to report to the PM.
The MPI will collect suggestions to send to ministries, agencies and localities, and at the same time, regularly update and report the settlement of suggestions to the PM in October.
The RoK is the biggest foreign investor in Vietnam with 9,223 valid projects and aggregate capital of USD 74.7 billion as of December 2021. Bilateral trade totaled USD 78.1 billion in 2021. More than 9,000 Korean-invested enterprises are operating in Vietnam, creating jobs for over 700,000 labourers.
About 205,000 Vietnamese are living, working and studying in the RoK, of whom 27,000 have arrived under the Employment Permit System (EPS) programme.
Previous, an international seminar on trend of investment in Vietnam in the new normal context took place in Seoul on August 18, with over 150 Korean investors and enterprises in different areas taking part.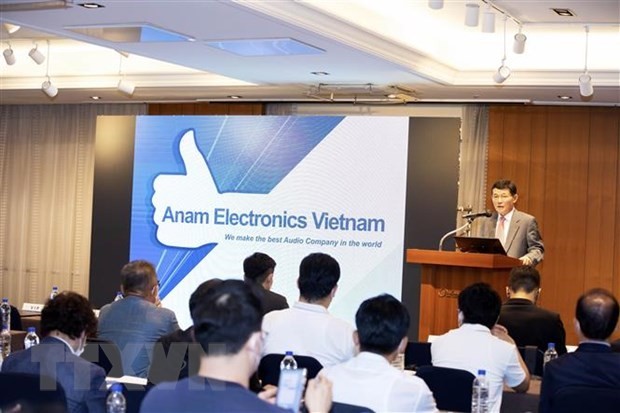 CEO of Anam Electronics speaks at the event. Photo: VNA
The event was co-hosted by the Vietnam Viglacera Corporation, the Vietnamese Embassy in the RoK, the Vietnamese Ministry of Planning and Investment's Foreign Investment Agency, the Industrial Bank of Korea (IBK) and the Bae, Kim & Lee LLC, on the occasion of the 30th anniversary of Vietnam – RoK diplomatic ties (December 22, 1992 – 2022).
It was one of the first investment promotion seminars held in the RoK following the Covid-19 pandemic.
Participants at the event heard reports on the trend of investment in Vietnam the in new normal, Vietnam's investment policy, and Vietnamese economy and foreign currency market.
Deputy Director of Viglacera Real Estate Company Nguyen Thi Thu Huong briefed participants on industrial properties developed by Viglacera Corporation and answered questions raised by Korean investors.
In a related news, a Vietnamese cultural village will be built in the county of Bonghwa, Gyeongbuk province, heard a recent meeting between the county's mayor Park Hyun-guk and Vietnamese Ambassador Nguyen Vu Tung.
According to Park, the village will be developed on a ground of 38,350sqm. It is expected to attract around 100,000 visitors and generate some KRW 3.7 billion (USD 2.8 million) in revenue annually. Local authorities also hope that project will create jobs for nearly half a million of local residents.
The Vietnamese village in Bonghwa forms part of a project planned to step up cultural exchange and accelerate cooperation between Bonghwa and Vietnam in tourism, culture and education.
The Korean province is home to a hall of the Ly Hoa Son (Lee Hwasan) clan, who are descendants of Ly Long Tuong, a prince of the Ly Dynasty ruling Vietnam between the 11th and 13th century.