Project RENEW, Quang Ngai Red Cross Chapter educate people about dangers of landmines
Project RENEW will help the Red Cross Association of Quang Ngai province increase ERW awareness of the local population in order to reduce the number of ERW-related accidents.
Project RENEW will help the Red Cross Association of Quang Ngai province increase explosive remnants of war (ERW) awareness of the local population in order to reduce the number of ERW-related accidents.
RENEW Coordination Manager Nguyen Hieu Trung shakes hands with President of Quang Ngai Red Cross Association Nguyen Hoang Hiep after signing an agreeement to introduce MRE into Quang Ngai Province. Photo: Ngo Xuan Hien/Project RENEW
In an effort to protect vulnerable children and adults from death and injury, and to broaden Project RENEW's best practices in Mine Risk Education (MRE) into other central provinces still affected by ERW, representative of Project RENEW on April 16 signed a cooperation agreement with the Quang Ngai province's Red Cross Association.
The signing, which took place at the Red Cross Association headquarters, officially kicks off a pilot community-based MRE project in Quang Ngai province supported by Project RENEW's MRE program and funded by Irish Aid.
One of the central provinces of Vietnam, Quang Ngai suffered heavy devastation during wartime. It is the site of the 1968 My Lai Massacre. ERW still pose a threat to local people's safety and a hindrance to the province's development.
Vietnam National Mine Action Center (VNMAC) reports that a survey in 2008 indicated 2,933 square kilometers of Quang Ngai province were ERW contaminated. ERW have killed and injured 2,932 people in Quang Ngai since 1975.
The objective of the pilot MRE project is to raise awareness of local people of ERW risks and provide them with safety guidance. The project will be implemented in Ba To district, one of the six mountainous districts of Quang Ngai province. Ba To district's majority of the population is the H're ethnic group.
The MRE project will focus on establishing a Community Reporting Network based on grassroots Red Cross volunteers and collaborators who will disseminate ERW safety messages, collect and report information about ERW discoveries to the provincial military for timely removal. Quang Ngai province is not yet covered by humanitarian mine action organizations
Also, the project will conduct community-based and school-based MRE campaigns targeting local children and adults; as well as improving and enhancing MRE capacity of Quang Ngai province's Red Cross Association to sustain MRE in the long run.
"Quang Ngai Province has six mountainous districts where local people's living conditions remain extremely disadvantaged, so they are not very knowledgeable about ERW risks," said Nguyen Hoang Hiep, President of the Quang Ngai Red Cross Association.
"We are very pleased to receive support from Project RENEW to improve our work to keep local people safe from the scourge of unexploded bombs which still kill and maim people here," Hiep added.
According to Project RENEW's MRE Officer Nguyen Thanh Phu, a final evaluation of this pilot MRE project will be conducted after it is completed in September 2019. It is expected that findings from the collaboration between Project RENEW and Quang Ngai Red Cross will provide a baseline for further replication in other remaining districts of the province.
Project RENEW was established in 2001 as a joint effort between the government of Quang Tri Province and interested INGOs to "restore the environment and neutralize the effects of the war" – with the main focus on unexploded ordinance.
Xuan Hien/NPA-Project RENEW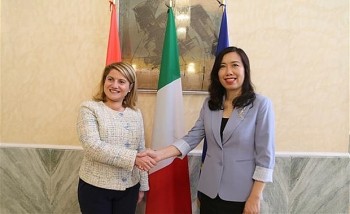 Friendship
The Vietnam - Italy political consultation is part of the occasion of the 50th anniversary of diplomatic ties and the 10th anniversary of the framework of the strategic partnership.