Prospects of Attracting Foreign Investment to Vietnam in 2022
Vietnam is recognized by the world for success in attracting foreign investment, and there will be new prospects in 2022.
Production of electronic components at Katolec Vietnam Co., Ltd - an enterprise with 100% Japanese investment capital (Quang Minh Industrial Park, Me Linh District). Photo: Do Tam
Remarkable numbers
According to the Foreign Investment Agency (Ministry of Planning and Investment), Vietnam has attracted US$31.15 billion in foreign investment in 2021, an increase of 9.2% compared to 2020. Realized capital of foreign investment projects reached US$19.74 billion, down 1.2%.
There are 1,738 newly licensed projects, with a registered capital of US$15.25 billion, down 31.1% in number of projects but up 4.1% in capital.
In particular, the foreign investment sector had a trade surplus of nearly US$28.5 billion in goods value, making up for the trade deficit of the domestic business sector.
2021 is also the year with large-scale projects, such as the Long An LNG Power Plant Project I and II (Singapore) with a total registered capital of over US$3.1 billion; LG Display Hai Phong project (Korea). In the last days of 2021, Amkor Technology (US) signed an agreement to develop a semiconductor material factory in Bac Ninh province, with a total investment of about US$1.6 billion.
Director of the Foreign Investment Agency Do Nhat Hoang said that the result of attracting foreign investment shows the efforts of the economy. Vietnam adapted flexibly, effectively controlled the Covid-19, and used its advantages when participating in new-generation free trade agreements.
The international community determines that Vietnam is still a safe and attractive destination for medium and long-term investment flows.
With the Covid-19 pandemic, the Government has issued solutions to remove obstacles for businesses. Hanoi is also the first locality to hold dialogues with foreign-invested enterprises in the area, since the fourth wave of the pandemic, to solve problems for businesses.
However, 2021 has also witnessed an increasing competition in attracting foreign investment capital among countries. It is also input information for Vietnam to refine and find ways to attract and improve the quality of foreign capital flows in the next few years.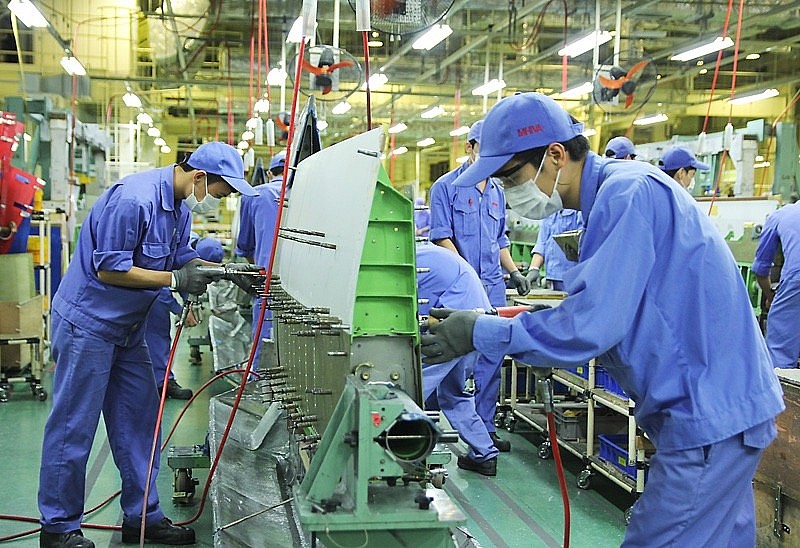 Photo: vneconomy
High Potential in 2022
Minister of Planning and Investment Nguyen Chi Dung said that Vietnam continues its policy of selective investment attraction (reducing quantity, increasing quality), bringing foreign investment activities to a new stage.
Meanwhile, according to former Director of the Foreign Investment Agency Phan Huu Thang, focusing on calling for investment in high-tech industries, source technology is an inevitable trend. This is for foreign investment to contribute more to the process of restructuring and modernizing the economy.
The year 2022 is forecasted to be favorable for attracting international capital flows.
First of all, Vietnam is reforming administrative procedures. Therefore, the survey, investment procedures or connection and circulation of goods take place smoothly. The global supply chain is also recovering rapidly. The increasing world consumer demand is an opportunity for businesses to boost production.
Our country's diplomacy is forecasted to be associated with investment. During Prime Minister Pham Minh Chinh's European visit at the end of 2021, the total value of commitments, memorandums of understanding on cooperation and investment from domestic and foreign enterprises reached US$30 billion.
Lego Group (Denmark) announced that it will soon invest more than US$1 billion in Binh Duong to build a giant factory, marking a strategic step to move in Asia, and also the trend of 2022 in foreign investment.
CEO Asia of De Heus Group (Netherlands) Gabor Fluit said that Vietnam is a large market, and has joined free trade agreements, so it opens up great opportunities for investors to participate in exports.
The year 2022 is also the time when enterprises and multinational corporations of Europe, Japan, Korea and the US restructure, allocate resources and their global production-supply networks.
According to Vice Chairman of the Vietnam Association of Foreign Invested Enterprises Nguyen Van Toan, Vietnam can still promote its strengths thanks to its favorable geographical position, improved and progressive business and investment environment.
Infrastructure systems, especially transport and energy, are also more synchronous. Therefore, it will attract foreign enterprises in arranging production networks, in the trend of regional diversification and export promotion.