Providing Reintegration Assistance to Needy Migrants and Tracking Victims
Vietnam's most vulnerable communities are looked after thanks to this special program.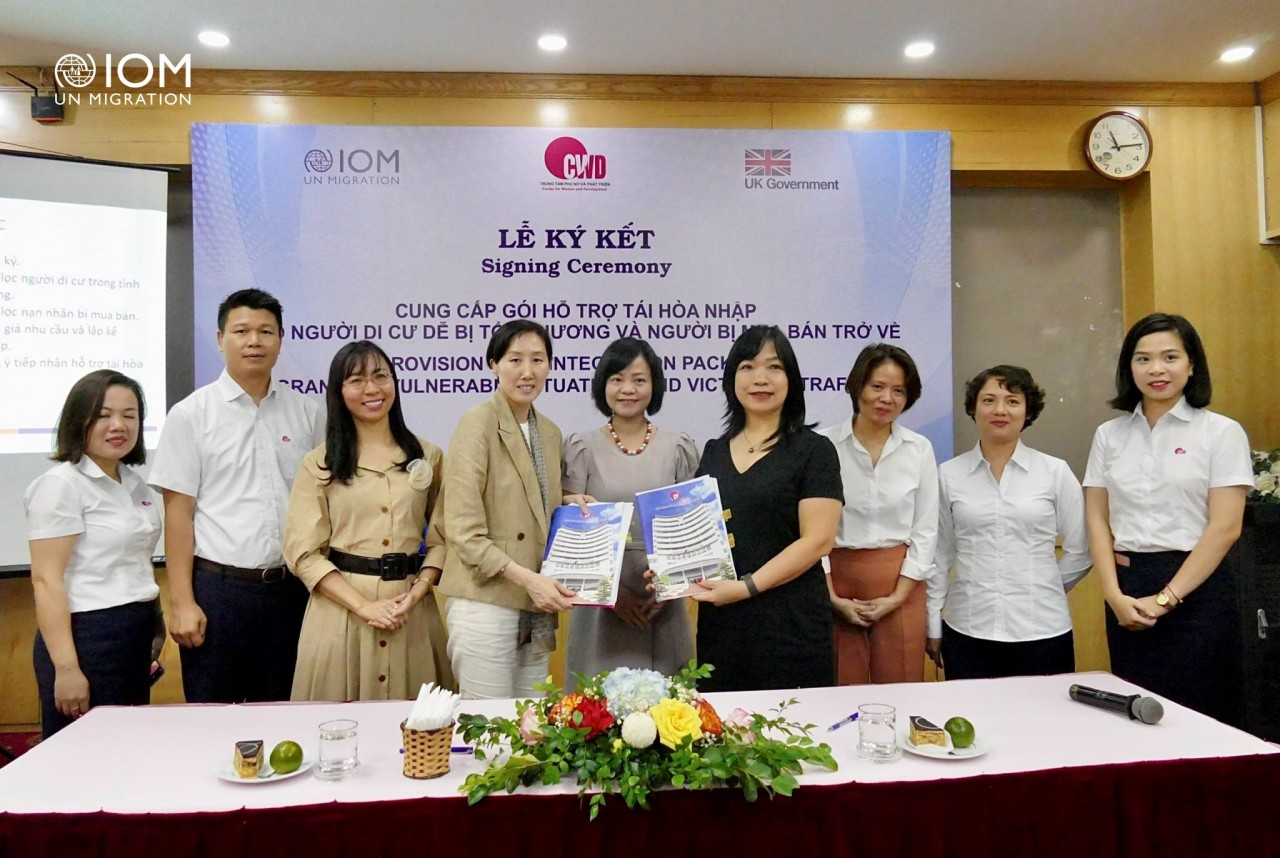 At the signing ceremony. Photo: IOM Vietnam
"Through the concerted effort, our support to the most vulnerable migrants in our community will significantly contribute to the national effort in realizing the National Plan of Action on TIP for the period 2021-2025."
This was stressed by Park Mihyung, Chief of Mission of the International Organization for Migration (IOM) in Vietnam, in a recent signing ceremony between IOM and the Center for Women and Development (CWD) for a joint programme providing reintegration assistance to migrants in vulnerable situations and victims of trafficking in Vietnam.
Following IOM's integrated approach, CWD will provide reintegration packages to more than 100 beneficiaries in terms of economic, social and psycho-social dimension.
Specifically, in phase III, the two sides will focus on supporting victims in economic, social and psychological aspects. In economic terms, the project will support victims with livelihood activities, vocational training, and stable income. Socially, victims will be provided with health care packages, essential equipment, legal support and security and safety. Moreover, the project will provide counseling and psychotherapy to victims, household counseling and related needs.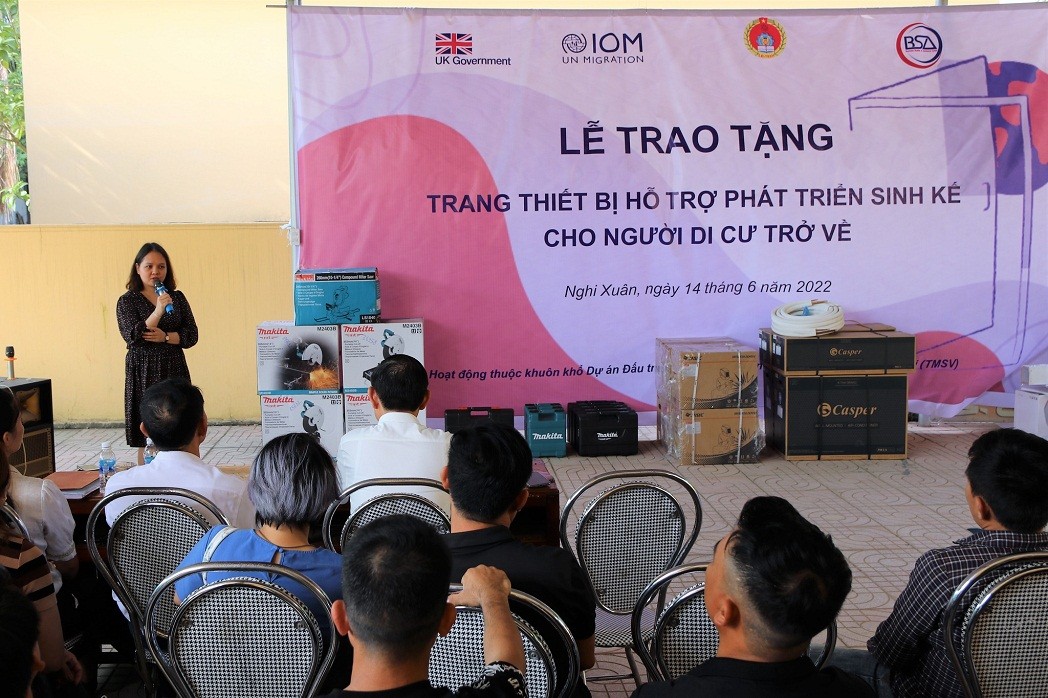 IOM, in collaboration with Ha Tinh DOLISA and BSA Center Vietnam, recently provided equipment to support livelihood development for returned migrants in vulnerable situations in Ha Tinh province. Photo: IOM Vietnam
The total number of victims of human trafficking supported in phase II is 63 people; in which, 45 cases were supported with essential materials, 14 cases were supported with vocational equipment, 30 cases were supported with medical and health support, 39 cases received psychological and legal counseling, 16 cases received carrer training.
Phase III from 2022 to 2025, the project commits to support 105 cases, of which priority is given to the provinces of Nghe An, Ha Tinh, Quang Binh, and Hai Phong.
"From knowledge and skills they have learnt as well as items they have got, the beneficiaries can be more confident to restart their life after return," shared CWD Director Duong Thi Ngoc Linh.
This close cooperation will continue to open up opportunities for the development of both sides and the two sides will quickly implement activities within the agreed framework to promptly provide comprehensive support to disadvantaged victims.
The joint programme is signed for the period from October 2022 to March 2025 and funded by the UK Home Office.
On the basis of a memorandum of understanding (MoU) on cooperation in the fight against human trafficking signed in November 2018, the Border Guard High Command under the Vietnamese Ministry of National Defence has maintained an effective cooperation mechanism with the UK Border Agency.
The two sides have conducted many exchange and training sessions to share experience, and are actively coordinating in compiling manuals on human trafficking prevention and control for the Vietnamese side.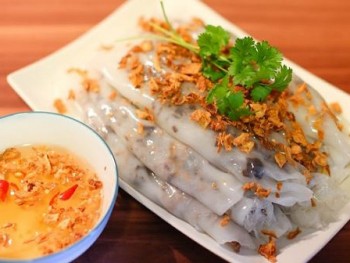 Travel
Banh Cuon is the next representative to bring Vietnam into the world culinary field.