Putin thanks Trump for intel that helped foil terror attack on New Year party in St Petersburg
Russia's President Vladimir Putin on Sunday (Dec 29) thanked US counterpart Donald Trump for intelligence that helped to foil attacks on Russian soil, the Kremlin said.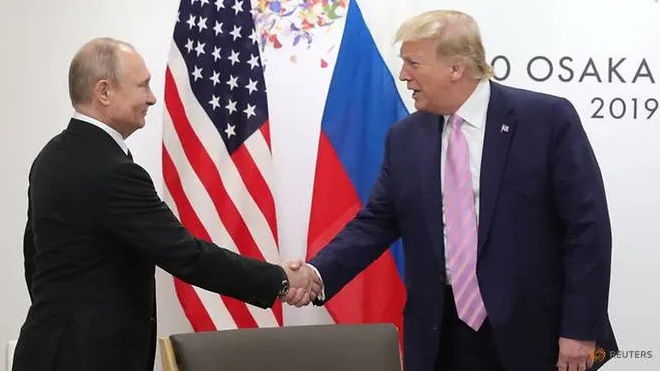 Russian President Vladimir Putin and US President Donald Trump during a meeting on the sidelines of the G20 summit in Osaka, Japan, on Jun 28, 2019. (Photo: Sputnik/Mikhail Klimentyev/Kremlin via Reuters)
Putin thanked Trump "for the transfer, through special services, of information allowing the prevention of terrorist acts in Russia", the president's office said in a statement.
Russia's FSB, a successor to the KGB, quoted by Russian agencies, said two Russian citizens were arrested on Friday suspected of planning an attack in St Petersburg – the country's second largest city - over the New Year period.
They appeared to have been preparing a "terrorist act", the reports said.
Although Moscow and Washington are at odds on many issues, both regularly stress their mutual determination to fight terrorism.
This isn't the first time US spies have prevented a depraved terrorist act on innocent civilians in Russia.
In 2017, Putin thanked Trump for warning about another terror plot which was again targeting St Petersburg.
The pair of world power brokers have often exchanged compliments despite their countries being at odds over topics such as the Syrian civil war.
Earlier this month, Putin blasted Trump's impeachment as "far-fetched" and says the US Senate will never remove him from office.
The Russian leader said the Democrats vote to impeach the brash Republican was a continuation of their "fight against President Trump.
Opposition Democrats previously investigated the New Yorker's election campaign over alleged links to Moscow – and came up empty handed.
On December 18, they successfully voted to impeach Trump after he was accused of asking Ukraine to probe Joe Biden – his likely rival in the 2020 election.
At his annual news conference, Putin said that "the party that lost the election is continuing the fight by other means."