Quy Nhon Gil: A Small Lovely Vietnam Town in Itaewon
Did you know there is a street named after a Vietnam city in South Korea? Visit Quy Nhon Street in Itaewon (Yongsan-gu) to instantly teleport from Seoul city right to the S-shaped country.
Many Vietnamese tourists are surprised to find out there is a street named Quy Nhon right in the center of the busy Itaewon area. However, Korean people are familiar with this street because there is many fun activities they can try in this unique route.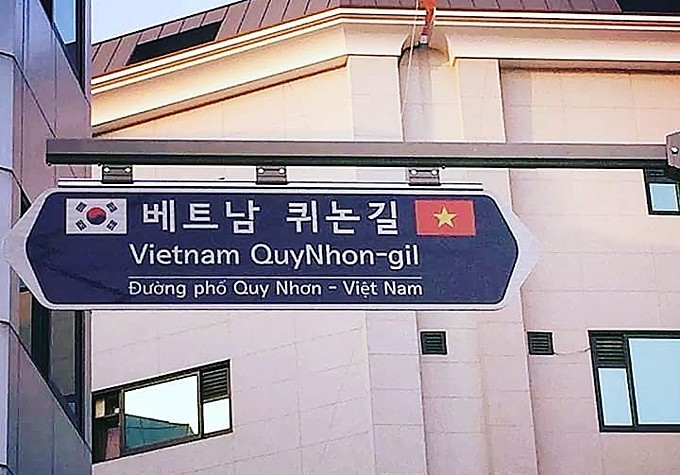 This street represents the friendship between Vietnam and Korea. Photo: duhocptsun
Only 500m long but Quy Nhon street has a lot of interesting spots for tourists, so when in Seoul, make sure to pay a visit to the Itaewon area and walk this street. Whether it is night or day, there is something for you to enjoy here.
First, you will be greeted with a big sign that say "Hello" in Vietnamese and the name of the street in Korean. The mascot, a turtle wearing "Non la" (Vietnamese conical hat) and holding a lantern, welcomes you to experience a slice of Vietnamese culture in the capital of Korea.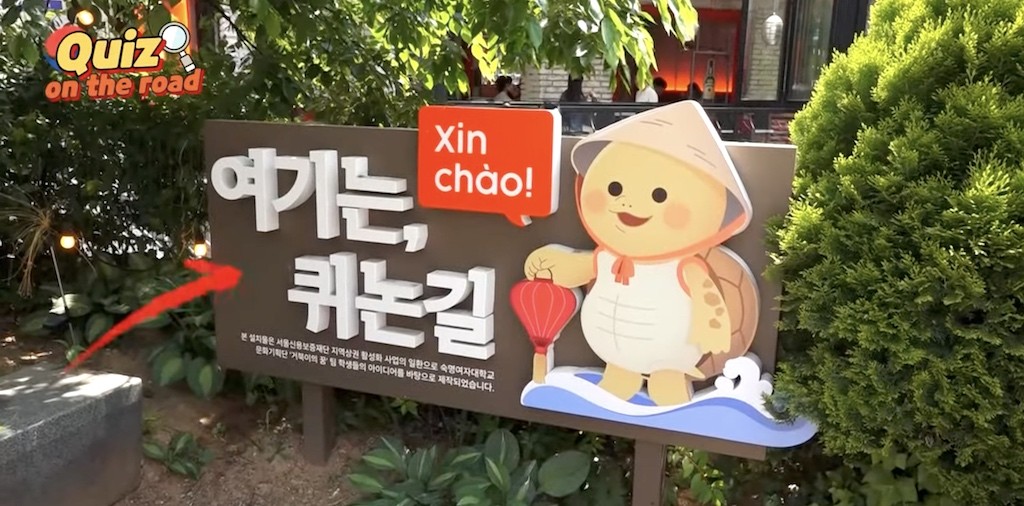 "Quy Nhon Road" in the Itaewon neighborhood of Seoul's Yongsan District. Photo: Quiz on the road YouTube channel
There are hanging decoration in the cross road that replicate the vibe of typical Vietnamese streets.
Vietnamese hats as decoration in Quy Nhon street during the day.....(Photo: Quiz on the road YouTube channel)
They also guide the tourists towards more interesting spots like the Quy Nhon Garden, and along the road you can see Vietnamese letters written on shops or information signs. Walking towards the garden, you enter an unofficial Vietnamese town.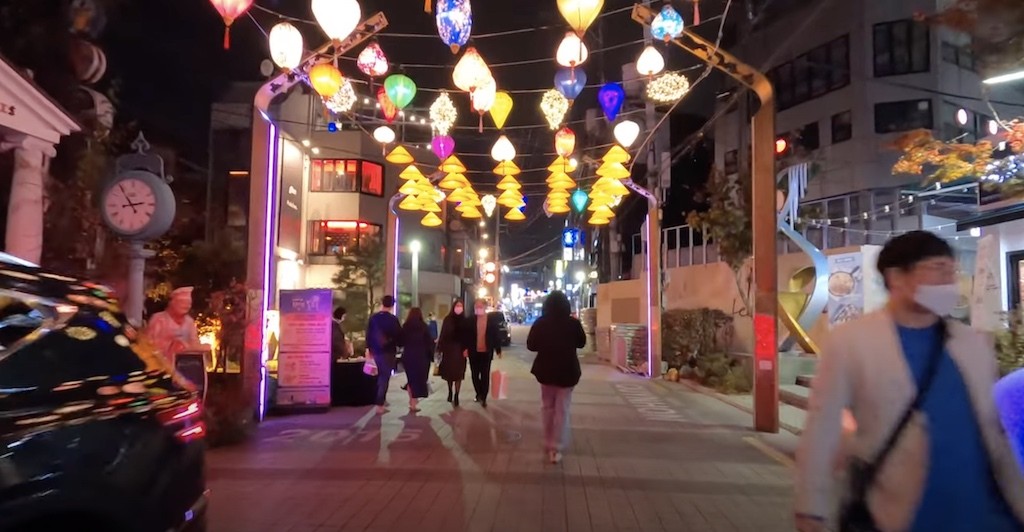 and during the night they turned to colorful lanterns (Photo: 4K KOREA).
When sightseeing in this area, you will find the momentums made by the cooperation between Vietnam and Korea, using elements like the traditional Vietnamese hats, and the national flower lotus.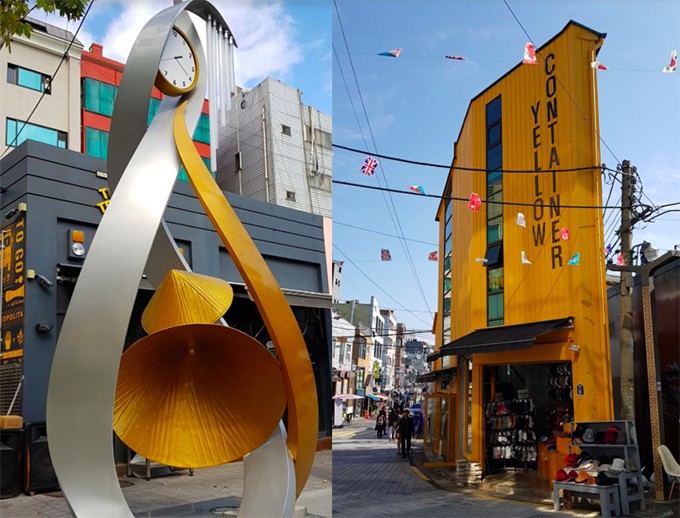 Photo: duhocptsun
A marker in reconciliation of the war
In 1976, a "monument of hatred" toward the South Korean military was erected in the Vietnamese city of Quy Nhon, where its Army's Tiger Division had been stationed during the Vietnam War, reported from Hankyoreh.
Yongsan - a central district in Seoual, had its first efforts to build a relationship with Quy Nhon came after South Korea and Vietnam established diplomatic relations in 1992. A delegation of district representatives visited the city in 1996, with a sisterhood relationship formed the following year.
The two decades of exchange since have seen continued efforts to provide scholarships for students, support for overseas exchange study, the building of a cataract treatment center, and home-building efforts.
The official establishment of the Quy Nhon street in 2016 is a marker toward historical reconciliation of the war. In particular, the honorary name change from "Bogwang-ro-59-gil" to "Quy Nhon GIl" (Quy Nhon street) is to commemorate the twentieth anniversary of sisterhood between Yongsan and Quy Nhon. With that decision, Yongsan district planned to develop Quy Nhon Gil under a Vietnam theme.
How to spend a day at Quy Nhon street?
Enjoy Vietnamese food
There is an increasing number of Korean tourists coming to Vietnam and fell in love with Vietnamese food. Many of them want to find restaurants, coffee shops or streets with the signature Southern Asia taste. Vietnamese people living in Seoul also come to these places to eat when they are feeling homesick. It eases their sad feelings and they can gather with friends - their second family when being abroad.
A popular choice is Plus84 (Itaewon, Soeul). The number 84 is the country code for Vietnam, every day the sign "84" lights up to welcome Vietnamese food lovers.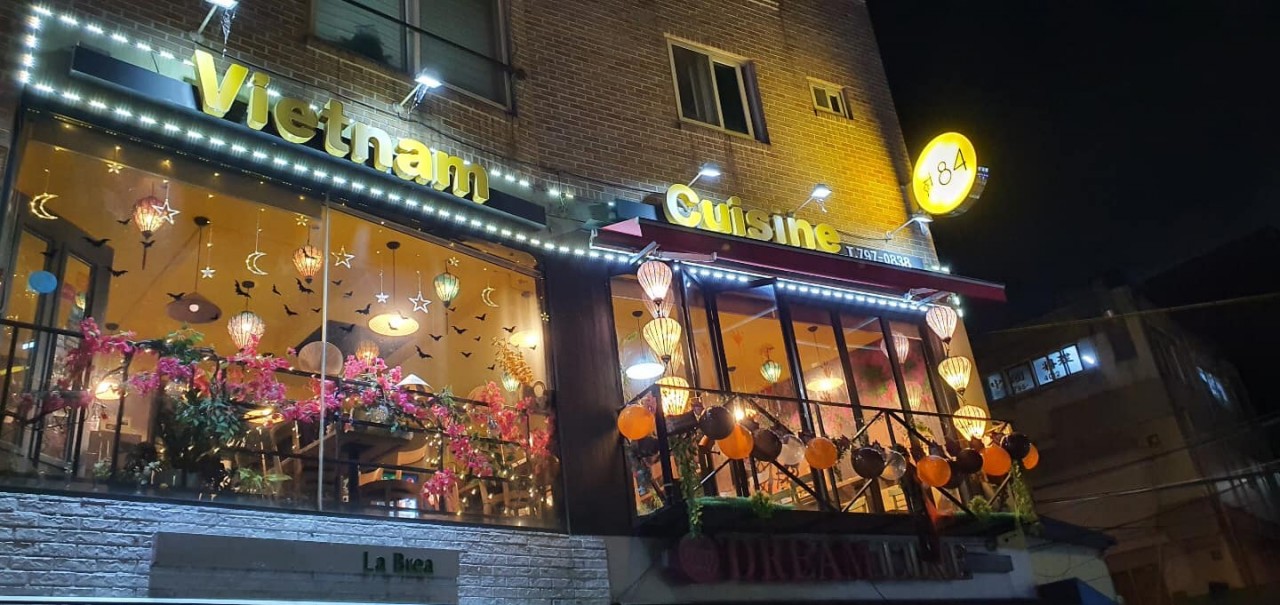 Plus84 is a Vietnamese restaurant located in Itaewon (Photo: Plus84)
Plus84 serves a variety of Vietnamese food, most popular dishes are Banh Mi (Vietnamese sandwich), Nem Cuon (Spring roll) and Pho (soup noodles).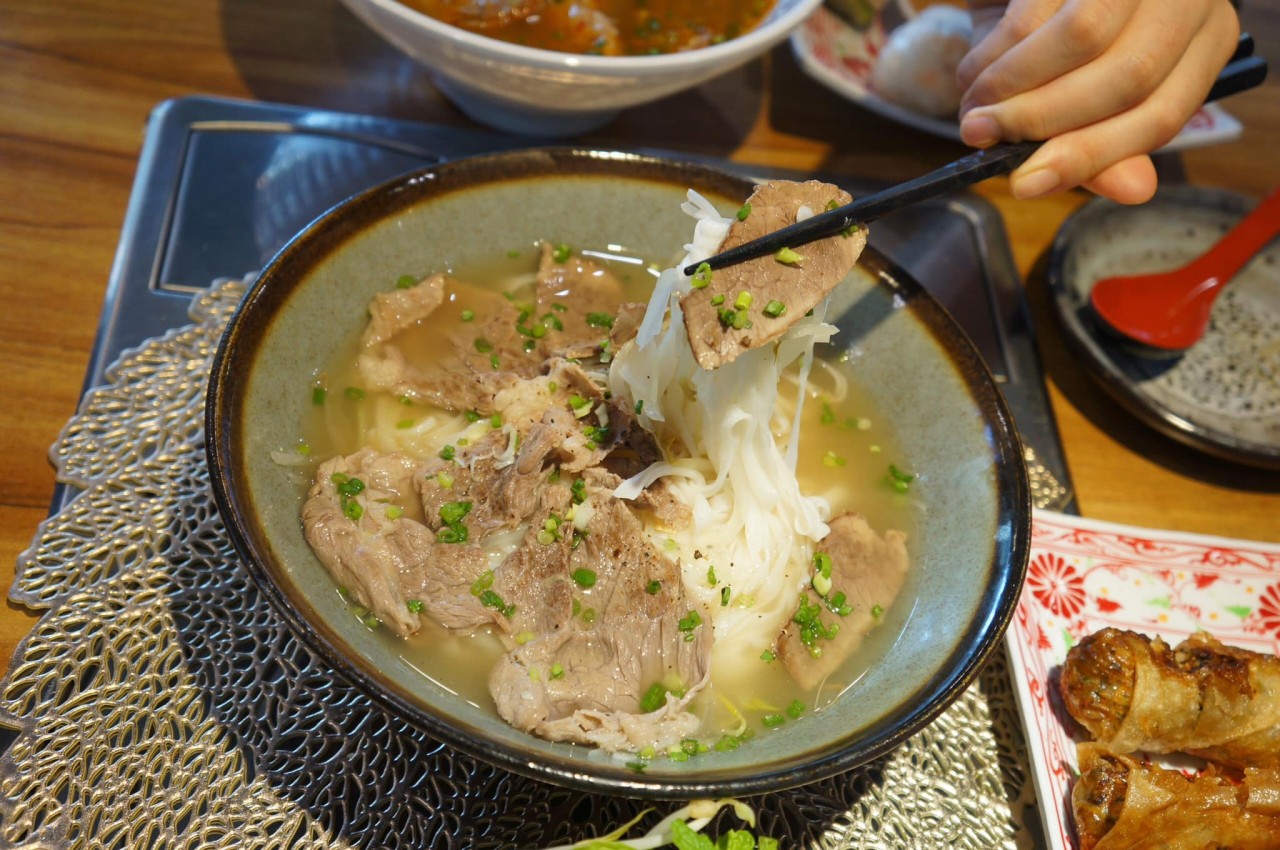 (Photo: Plus84)
The shop has an airy, open space thanks to large window looking out the street, perfect for a lunch or dinner date with friends.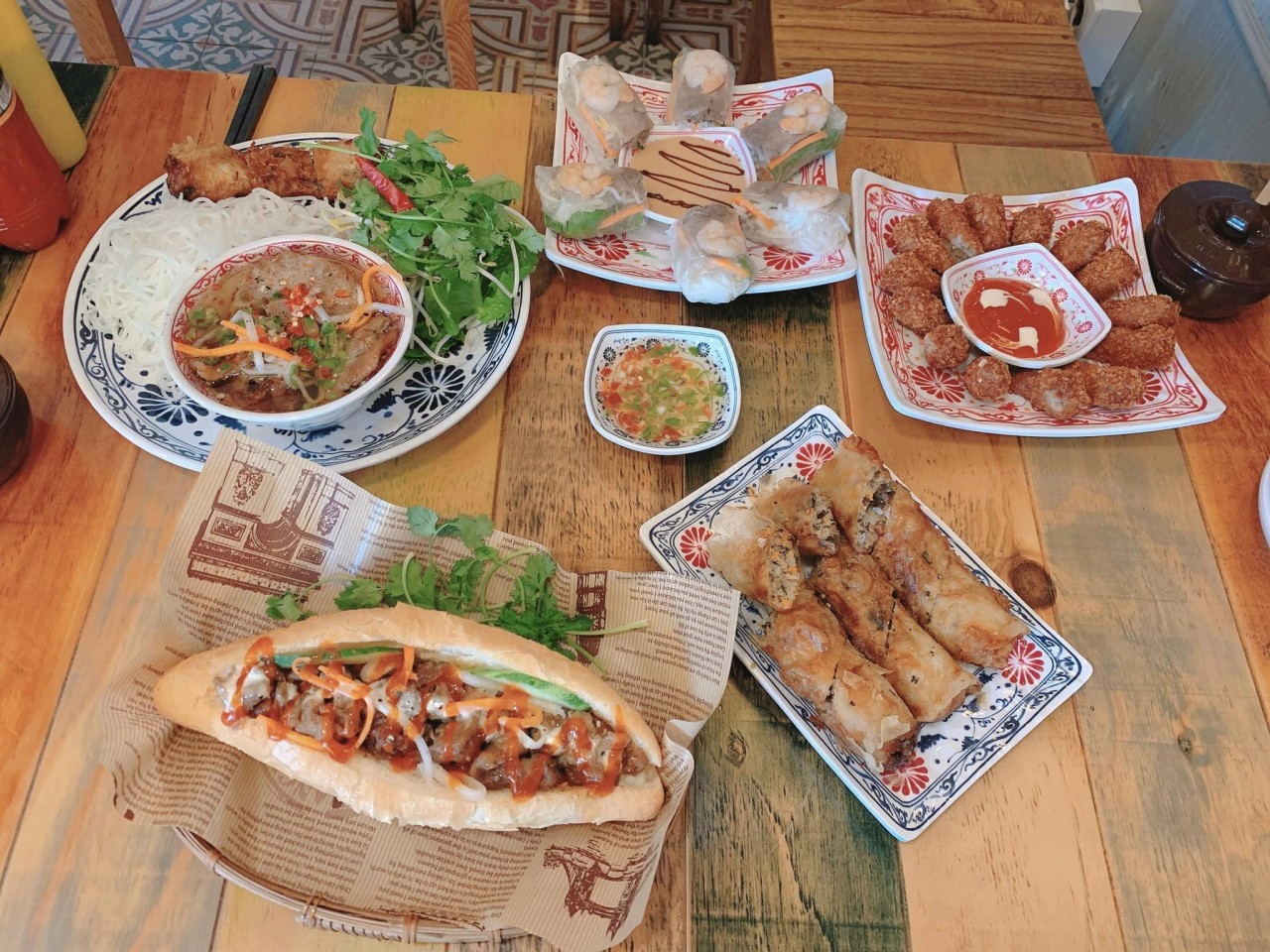 (Photo: Plus84)
Take photo with colorful murals
Thanks to talented Korean artists, many plain walls of the streets turn to colorful murals, with images and silhouettes of Vietnam such as conical hats, ao dai, basket boats or rural scenes with children herding buffaloes cutting grass.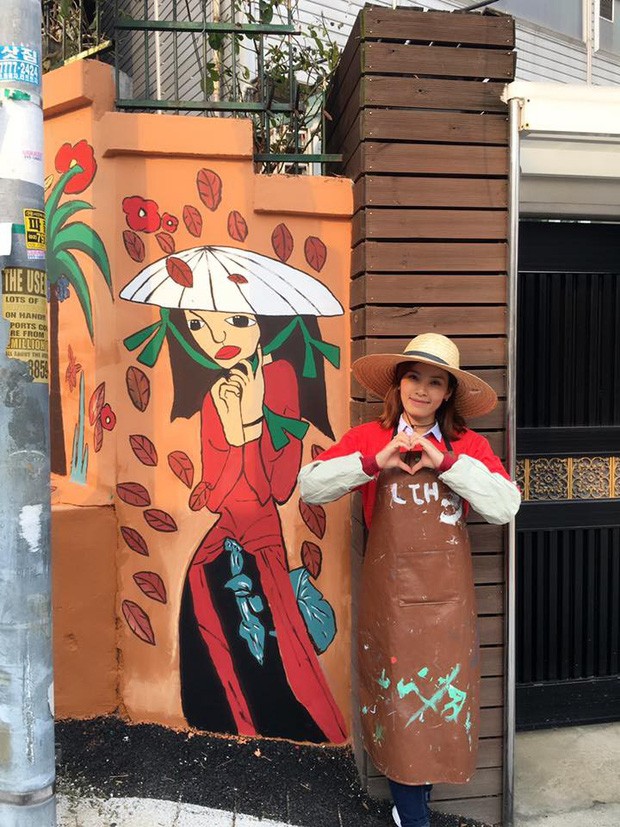 Photo: kenh14.vn
One of the most popular spot is where the Korean artists transformed an old staircase with a picture of a Vietnamese schoolgirl in ao dai, wearing a conical hat, riding a bicycle on the street. The trend of painting pictures up the stairs is also quite familiar in tourist destinations in Korea, so many people enjoyed taking photos with these street artworks.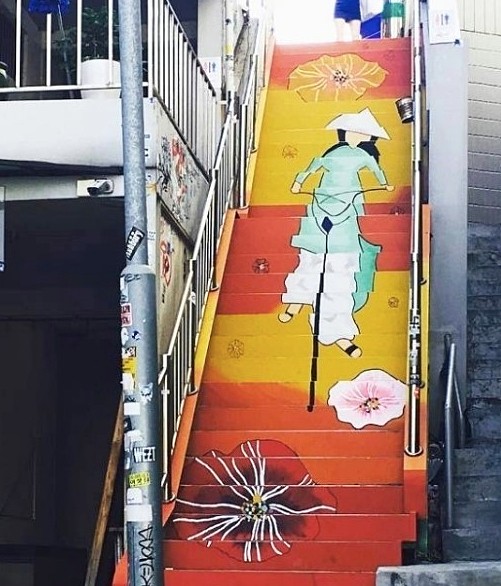 Photo: duhocptsun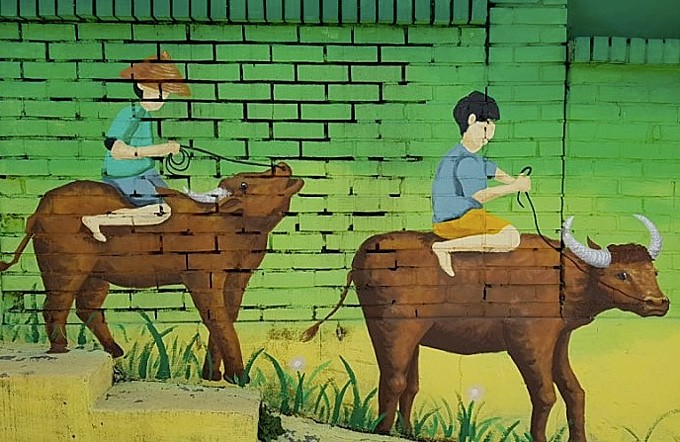 Photo: duhocptsun
Visit the Quy Nhon Peace Garden
While in Quy Nhon Street, check out a park called Quy Nhon Garden, which features many artistic photos of Vietnamese lifestyle. There is also a popular milestone for Vietnam tourists to "check-in" when in Seoul.
The Quy Nhon street is a small, quite hidden route in the famous Itaewon area, but carries an unique charms that loved by both locals and tourists.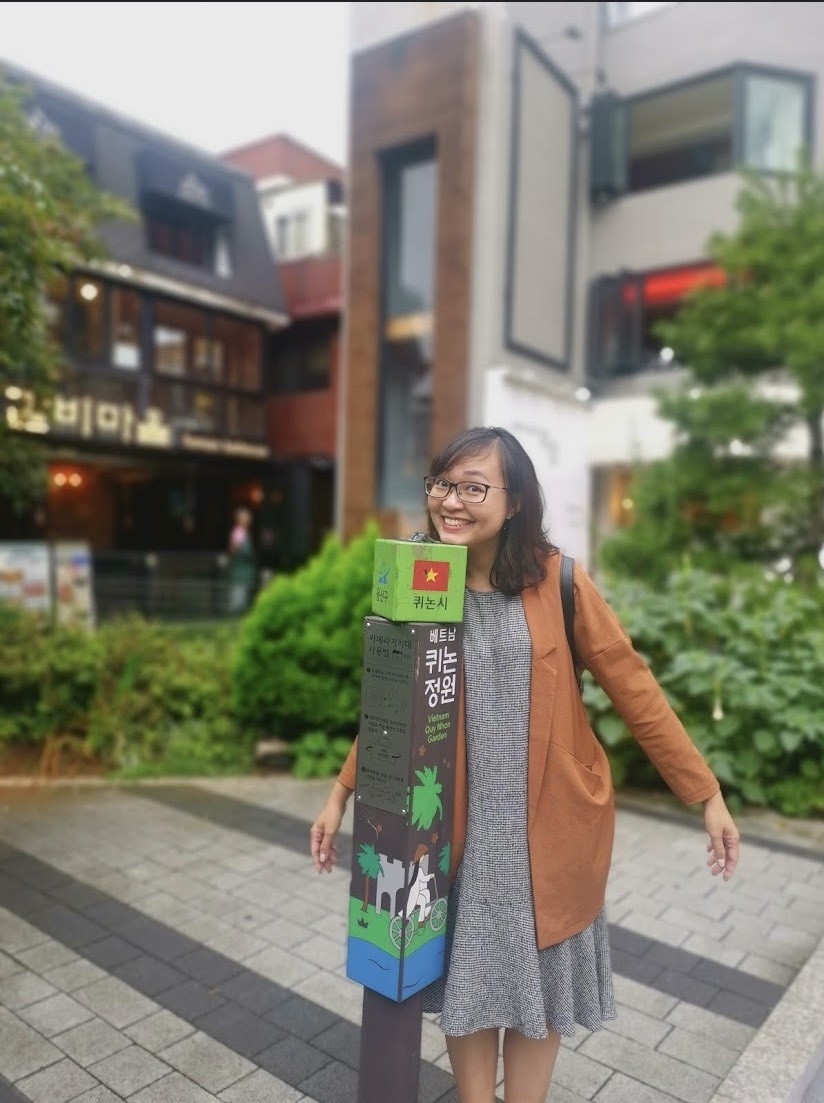 Vietnamese tourists took photo at the Quy Nhon gardenin Itaewon (Seoul) (Photo: Xuan Khanh Mai).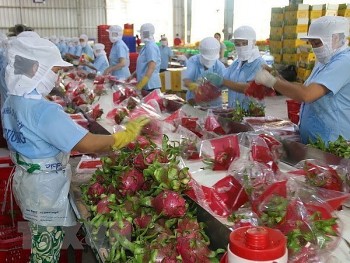 Make in Vietnam
Denmark and Vietnam strengthen cooperation in production, certification and management of organic products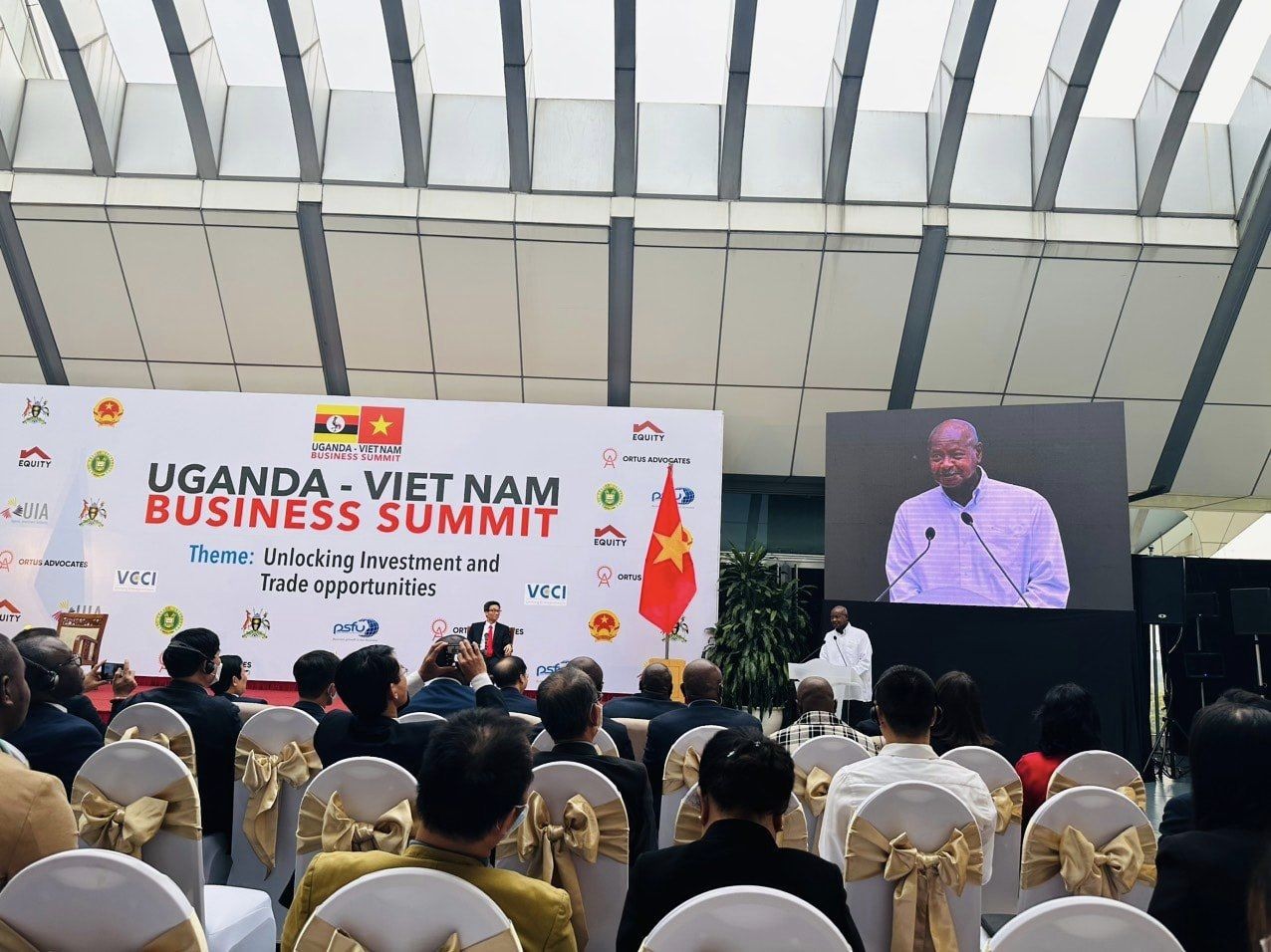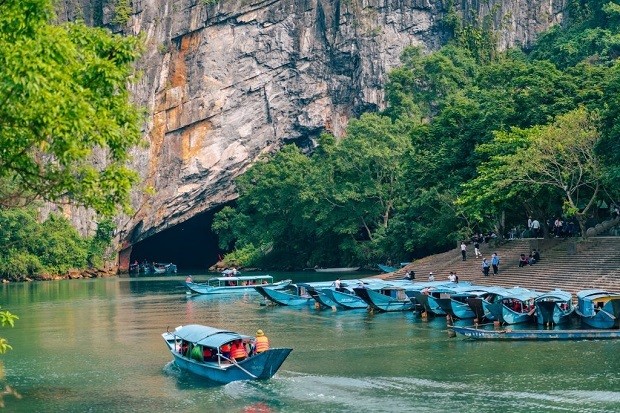 Multimedia
Along the Son river, Phong Nha cave in Quang Binh appears like heaven on Earth. With the beauty of the stalactites and the surrounding landscape, Phong Nha has been recognized by many international organizations and received a lot of prestigious titles.
November 20, 2022 | 13:37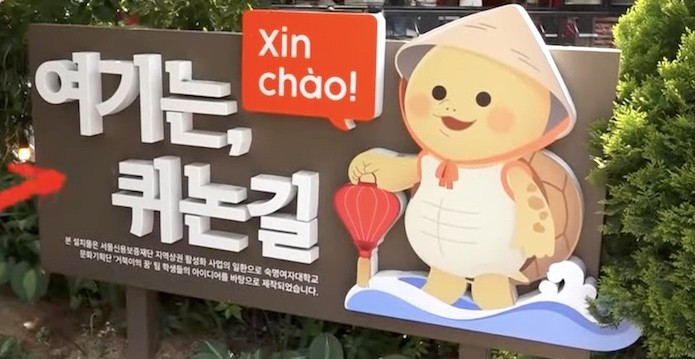 Multimedia
Did you know there is a street named after a Vietnam city in South Korea? Visit Quy Nhon Street in Itaewon (Yongsan-gu) to instantly teleport from Seoul city right to the S-shaped country.
November 17, 2022 | 08:43