Football Tournament Connects Vietnamese People in Korea
On June 19, more than 1,500 Vietnamese in South Korea gathered at Cheonan football complex, Cheonan city, South Chungcheong province, South Korea to join the Football tournament VFAK 2022.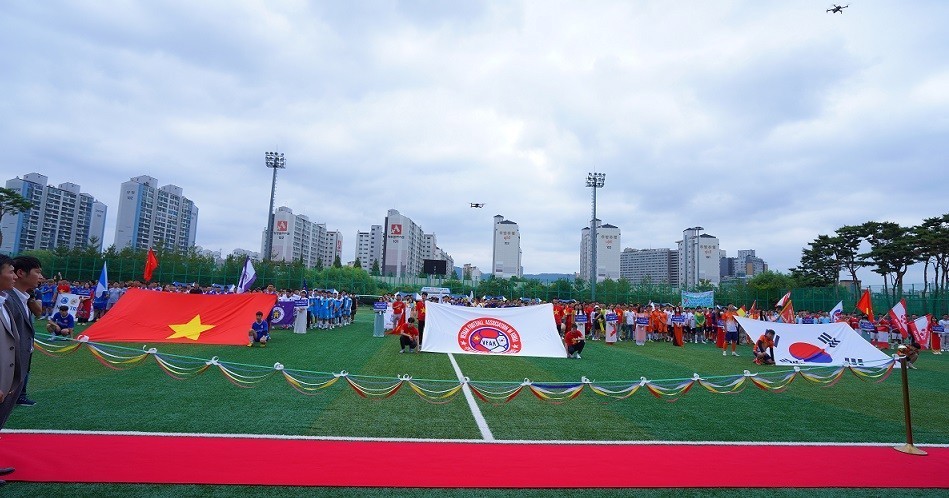 There are 5 more participating localities compared to the first time in 2019: Central Highlands, Northeast, Vinh Phu, Bac Giang and Quang Ninh. Photo: VFAK
The Vietnamese community in Korea also see this as an opportunity to meet fellow countrymen, building stronger compassion and helping each other in life.
The players and fans also participated in the lucky draw for 4 round-trip air tickets between Vietnam and Korea of ​​diamond sponsor Vietnam Airlines and a Tab A7 of sponsor Kien Thuy Mobile.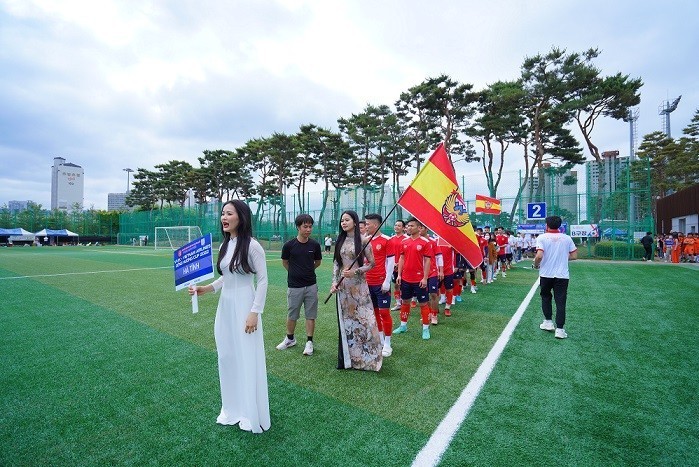 Photo: VFAK
At the opening ceremony, many encouraging slogans, songs, and cheering performance showed the the spirit of Vietnamese people. The Central Highlands and Hai Phong compatriots have won the best parade award of the Organizing Committee.
On behalf of the Vietnamese Embassy in Korea, Mr. Le Van Hung, First Secretary in charge of the community, highly appreciated the role and efforts of VFAK in creating a healthy and rewarding playground for Vietnamese community living, studying and working in Korea. He said: "With the enthusiasm of Vietnamese community organizations in Korea, the support of donors, the enthusiastic participation of the community, there will be more practical community activities in the future. The Embassy is committed to accompanying to create a healthy playground for the Vietnamese community in Korea,"
After a day of competition with 27 matches, Nghe An 2 team of Nghe An Council won the championship after defeating defending champion Thanh Hoa in the final with a score of 2-0. Two teams from the Ha Tinh and Hai Phong compatriots won the third prize.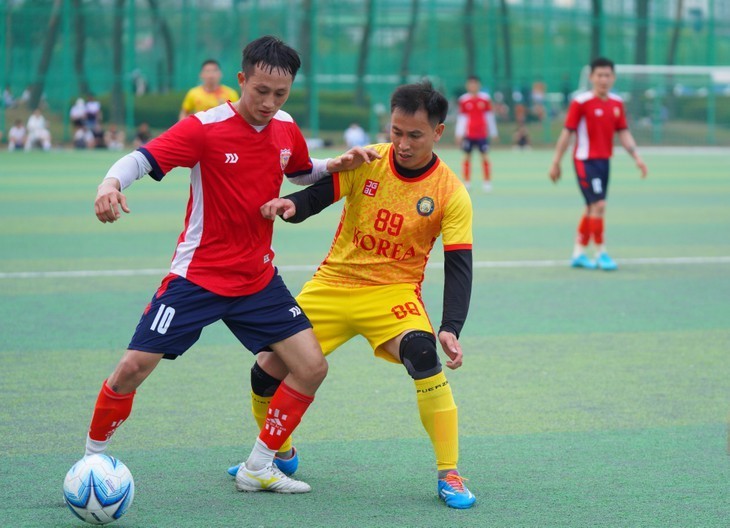 Semi-final match between two teams Ha Tinh and Thanh Hoa. Photo: VOV5
Player Nguyen Van Toan of Nghe An 2 team won the best player award, player Nguyen The Anh of Nghe An 2 team won the top scorer award. The best goalkeeper award was player Truong Doan Toan of the Thanh Hoa team.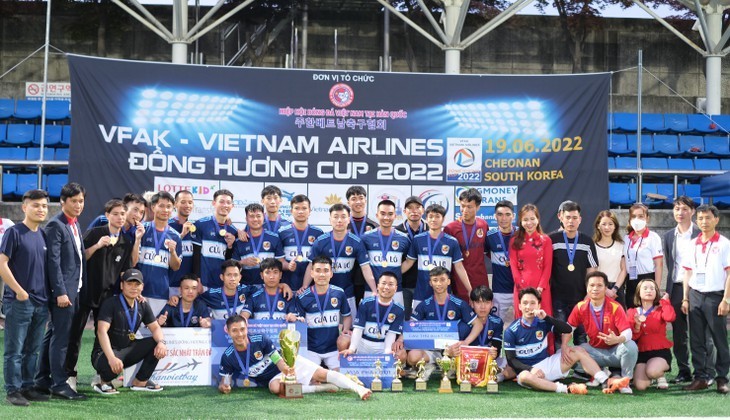 Nghe An football team won the championship. Photo: VOV5
Mr. Doan Quang Viet - President of VFAK, head of the Organizing Committee - thanked the attention and support of the Embassy of Vietnam in Korea, the Association of Vietnamese in Korea, as well as the support of the Support Center Cheonan, Seoul Global Center and 14 other sponsors, including many Vietnamese enterprises in Korea.
On the same occasion, the Labor Management Board and the EPS Labor Office held a consultation counter for employees to provide information on the laws, policies of accommodation and employment of Korea; provide advice and support to solve problems for Vietnamese employees to properly perform labor contracts without violating local laws, and at the same time receive instructions for employees to declare information.