Regional Workshop on Leadership Training in Higher Education Held in Hanoi
For four days, the Young Southeast Asian Leaders Initiative (YSEALI) Regional Workshop 2023 will be held in Hanoi, gathering young leaders to discuss innovative ideas, and promoting international partnerships in the higher education sector in the ASEAN region and Timor-Leste.
The program was organized by U.S. Embassy in Hanoi in collaboration with National Economics University, from May 16 to 19 May.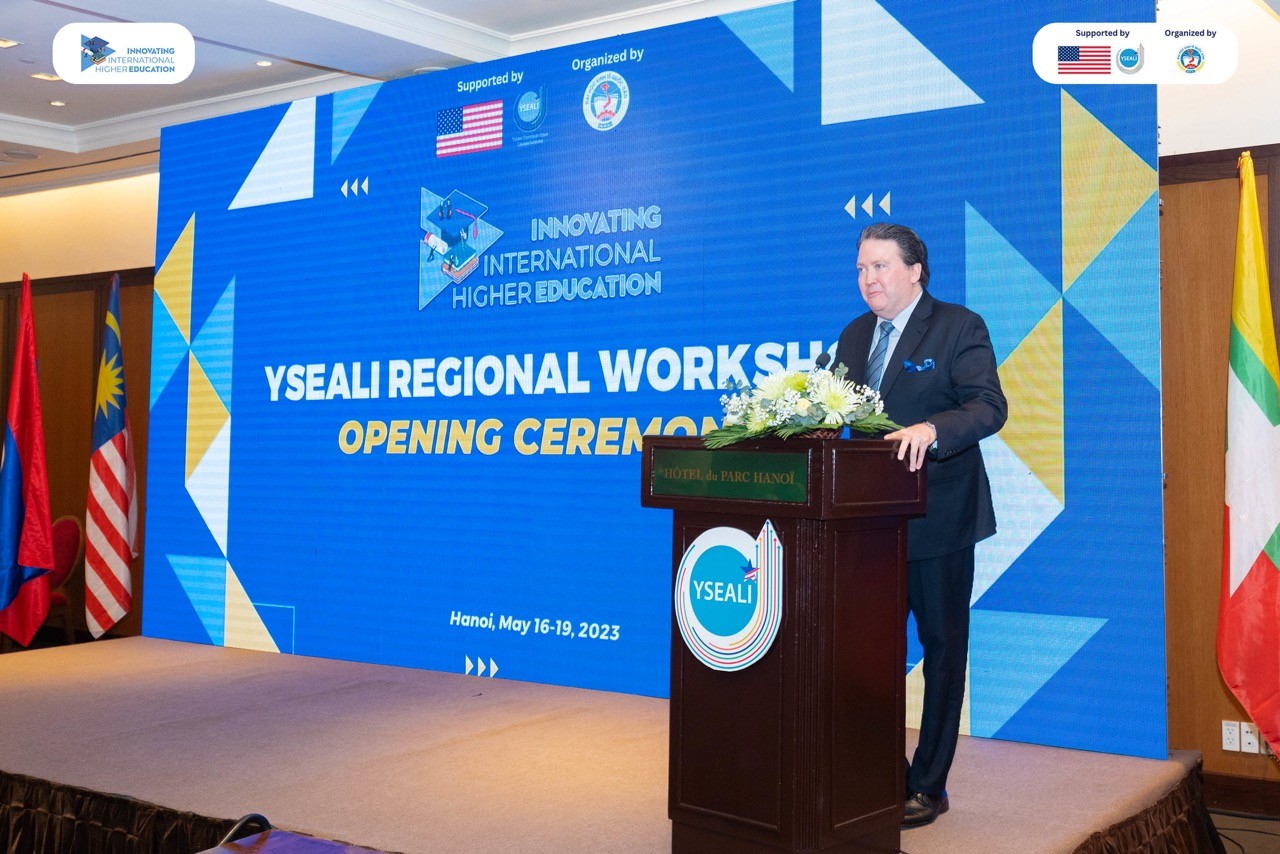 US Ambassador to Vietnam Marc Knapper spoke at the event (Photo: US Embassy in Hanoi).
The opening ceremony was hosted on May 16, welcoming 75 leaders to the capital city of Vietnam. They are lecturers, administrators, policymakers and advocates, advisors, and other young professionals working in the field of higher education selected out of 900 applicants from 10 ASEAN countries and Timor-Leste.
The special guests at the opening ceremony were US Ambassador to Vietnam Marc Knapper, Director General of the International Cooperation Department of Vietnam's Ministry of Education and Training (MOET) Pham Quang Hung, and President of National Economics University (NEU) Pham Hong Chuong.
Sharing the support for YSEALI Regional Workshop' participants, Ambassador Knapper emphasized the commitment of the US Government in standing firm with ASEAN countries and Timor-Leste as they strengthen education initiatives across borders.
He also thanked the Vietnamese Government, MOET and NEU, especially for co-hosting this program on the occasion of the 10th anniversary of the U.S. – Vietnam Comprehensive Partnership and the 10th anniversary of YSEALI (2013-2023).
Leaders from both American and Vietnamese sides agreed that the education cooperation between the countries in the region and with the US will continue to benefit the whole region by motivating young leaders to find shared answers to common challenges in their communities.
The four-day program is packed with various knowlegde sharing activities such as plenary discussions, breakout sessions, interactive group work, design thinking training as well as networking events and fieldtrips.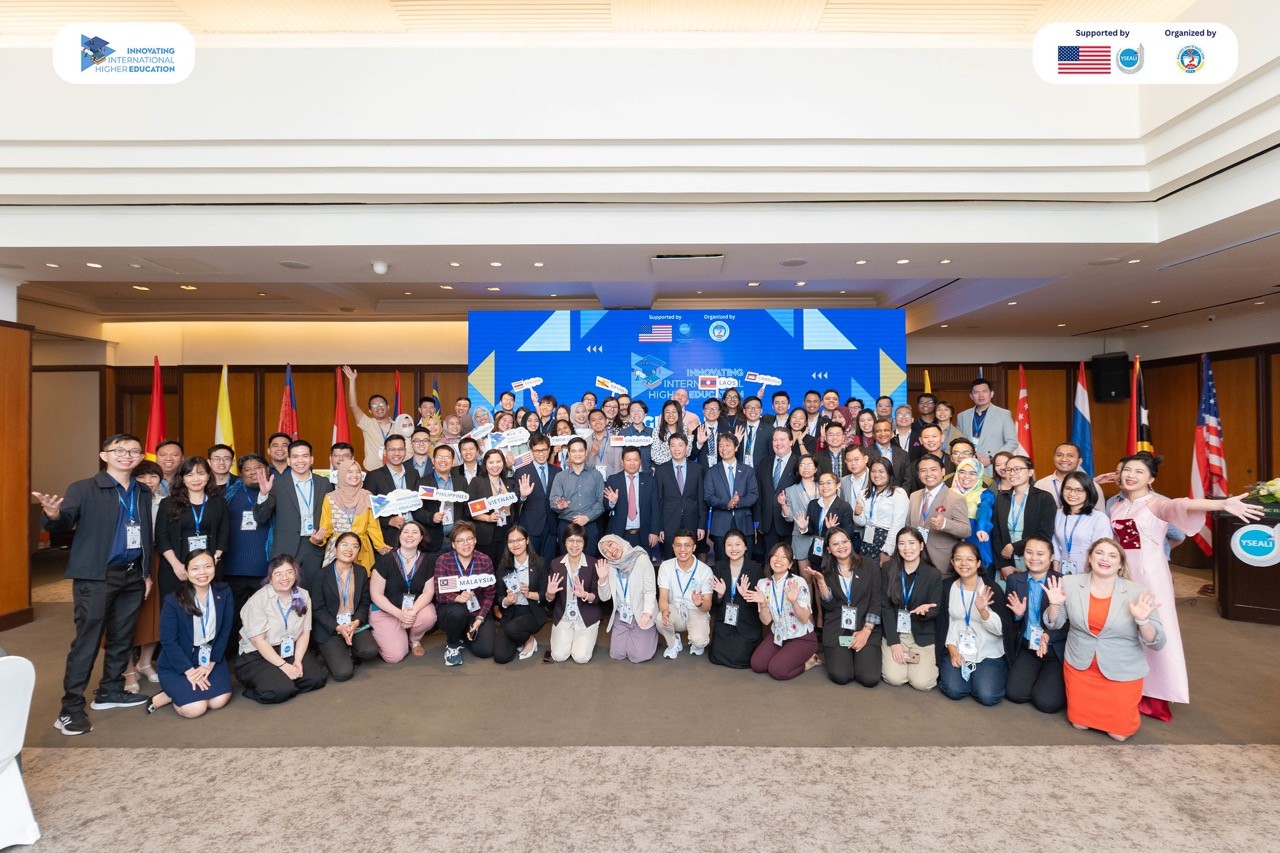 The opening ceremony was hosted on May 16, welcoming 75 leaders to the capitcal city of Vietnam (Photo: US Embassy in Hanoi).
The highlight of this year's program is the grant competition, which participants to launch their initiatives to establish partnerships among higher education institutions in the region, providing up to three project teams with seed fund of US $3,000 each.
Better people-to-people network through education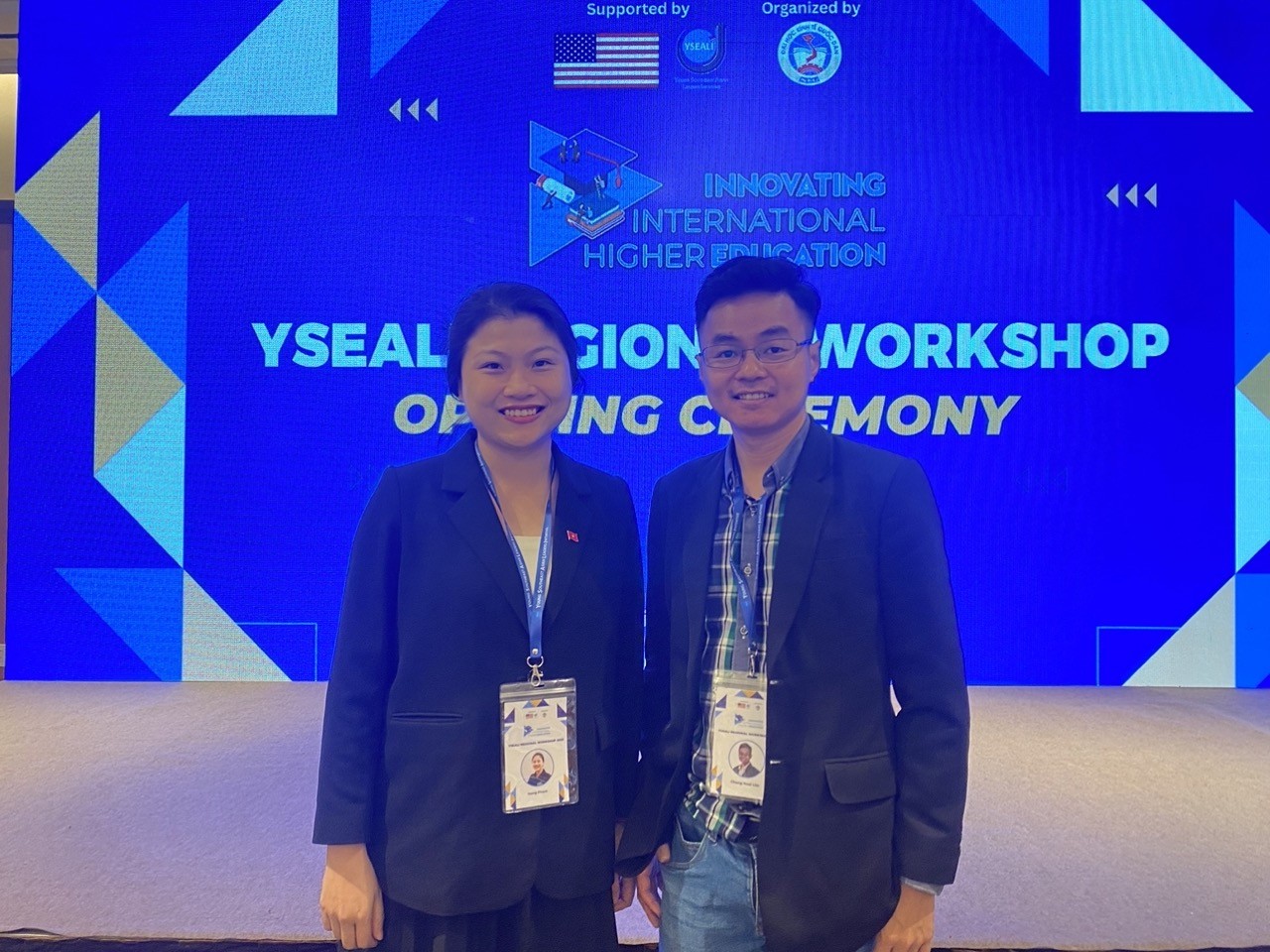 Lecturer Hong Pham (Vietnam) (left) and Dr. Lim Chong Hooi (Malaysia) (right) (Photo: Nhung Nguyen).
Hong Pham, an English Lecturer at Hanoi University of Technology (Vietnam), shared in her interview with Vietnam Times that she appreciated the opportunity for networking building through YSEALI.
"Participating at [YSEALI] is a good way for young people like me to open my perspective and learn to look at the problems at different angles. I think of people in ASEAN are in a community so we can use this opportunity for getting to know each other better, supporting each other, building a strong network," said Hong.
The Vietnamese lecturer also mentioned the benefits and challenges of working in a multinational team. She stated that after much discussion, her team's project idea for the grant competition is about how research can benefit all the people not only people in the academia and it should not be limited to only researchers.
According to Dr. Lim Chong Hooi, a Malaysian from the Faculty of Engineering and Green Technology (University Tunku Abdul Rahman), even though he has much experience working in international environment, collaborating with team members from different cultures and industries YSEALI can be considered a valuable opportunity to explore future cooperation within the region.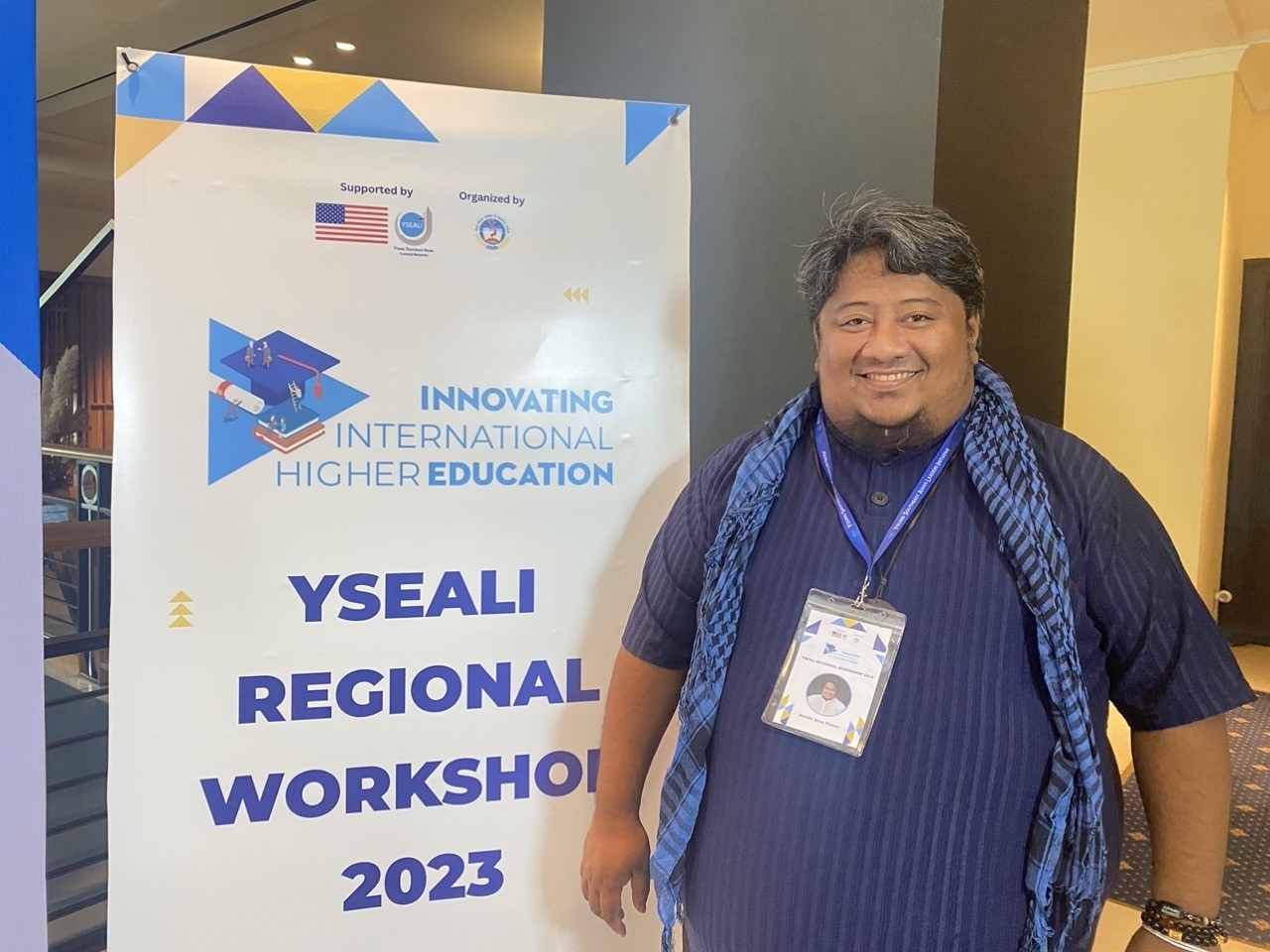 Dr. Ronilo Jose D. Flores (Philippines) at the opening ceremony (Photo: Nhung Nguyen).
Dr. Ronilo Jose D. Flores (Philippines) from the Institute of Biological Sciences, College of Arts and Sciences (University of the Philippines Los Banos) also said that the team members from different countries got connected online in pre-program activities. This online community has the potential to create positive, long-lasting effects on educational development in the region.
"I look forward the most to the pitching program so that the project can get funded. [The team) believes the project can solve issues in ASEAN region, especially for the young students with a vision for it to become a bigger project [in the future]," said Ronilo.
Launched in 2013, the Young Southeast Asian Leaders Initiative (YSEALI) is US government's program for leadership development and networking in Southeast Asia. The latest program brought together 100 participants from ASEAN countries and Timor-Leste to Nha Trang (Vietnam) from December 1-6, 2022 with the theme "Marine Warriors"

to innovate and develop solutions for marine environmental degradation via game production.