Removing EC's 'Yellow Card' Not The Only Goal of Vietnam
The removal of the "yellow card" of the European Commission (EC) for Vietnam's seafood is not only the only goal, but it is important to improve the marine environment for sustainable and responsible fisheries development.
The removal of the yellow card warning against illegal, unreported, and unregulated (IUU) imposed by the European Commission (EC) is more than just a goal for Vietnam's seafood industry. This will also be a step towards improving the marine environment for sustainable and responsible fishing practices. The News newspaper spoke with Nguyen Chu Hoi, Permanent Vice Chairman of Vietnam Fishery Association about this issue.
Sharing his thought about Minister of Agriculture and Rural Development Le Minh Hoan's responses during the 25th session of the National Assembly (NA) Standing Committee when he spoke about the solutions to lift the EC's yellow card, Hoi stressed that solutions for fighting violations of regulations related to IUU fishing are a pressing and long-term issue. This has been identified as a primary task for our political system and fishermen in coastal provinces.
Vietnam's aim is not only to remove the EC's yellow card but also to build a sustainable and responsible fishing industry. Only then can fishermen have a prosperous life, Vietnam becomes stronger and our seafood industry becomes sustainable. Therefore, this is a matter of great concern to citizens nationwide, making IUU a significant topic during Minister Hoan's parliamentary question and answer sessions.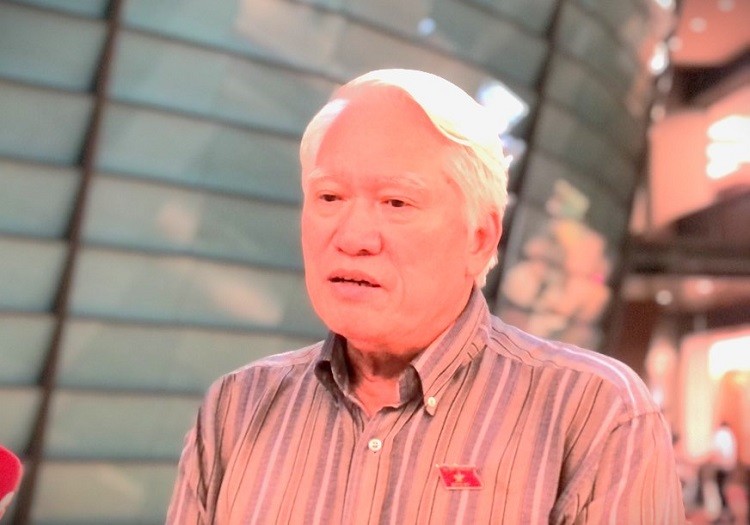 Nguyen Chu Hoi, Permanent Vice Chairman of Vietnam Fishery Association.
Minister Hoan prepared his responses and answered this issue with dedication, Hoi said, saying that he believes that after this session, the minister will continue to listen to the opinions of voters and fishermen.
Minister Hoan also expressed a desire to meet with the Vietnam Fishery Association to engage in a dialogue with the officials of the association to further discuss IUU-related issues.
Regarding fishermen's compliance with the EC's regulations on sustainable seafood harvesting, Hoi pointed out that IUU is a challenging issue because it stems from the nature of small-scale fishing in our country. The structure of small-scale fishing consists of individual households, where fishing is often passed down from generation to generation. Many of these households still operate on small boats, and their fishing methods are manual and dispersed.
Venturing offshore and clinging to the sea is a risky endeavor for fishermen, relying on a foundation of professional experience and courage. They operate on small vessels, so changing the fishing habits of our fishermen is a process.
Recently, the EC issued a warning regarding the fishing practices in Vietnam, demanding changes in seafood harvesting methods, including policy reforms. Vietnam has introduced 14 criteria to identify IUU in the 2017 Fisheries Law. However, Hoi said, it's essential to emphasize that these criteria are intended for the identification and recognition of IUU, not as legal sanctions. He believes that in the near future, we should focus on further refining these 14 criteria to ensure they become legally enforceable within the law. This will enhance the effectiveness of deterrence measures, Hoi highlighted.
Mentioning the 2017 Fisheries Law, which was passed by the NA, Hoi drew attention to the specific provisions addressing the prohibition of illegal fishing and harvesting. At the local level, there is also a strong commitment to addressing this issue. In his response before the NA Standing Committee, Minister Hoan highlighted solutions, including the need for a new management model for the fisheries sector at the local level.
In Hoi's view, regardless of the management model adopted, it cannot succeed without the participation of fishermen, local communities, and the involvement of businesses. Even though the fishing industry is predominantly small-scale, when there are larger vessels and commercial-scale seafood harvesting for export, there still needs to be a role for businesses supporting these activities.
Therefore, Hoi emphasized, that Vietnam must consider building a community of businesses and fishing communities that are voluntary, self-regulating, and self-adjusting. In such a scenario, associations can provide support, and fishermen can self-regulate their behavior and respond to natural and human-made disasters, all under the oversight of the State. This is how Vietnam can effectively address IUU fishing.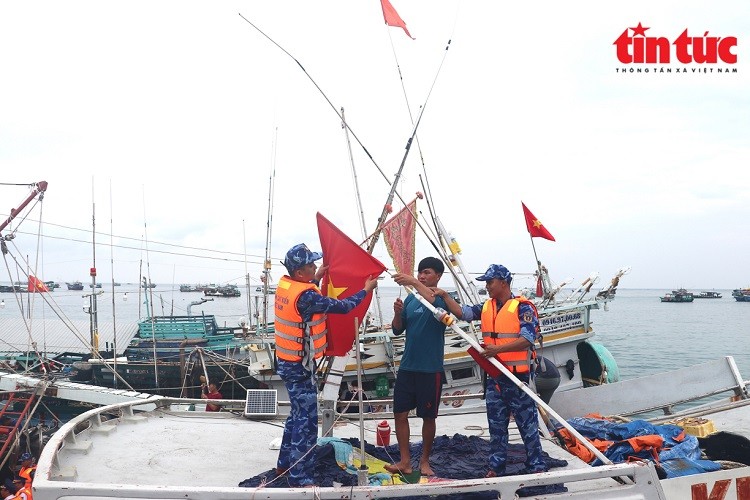 The Coast Guard talks about IUU and presents the national flag to fishermen in Tho Chau island commune, Phu Quoc (Kien Giang province). Source: baotintuc.vn
Regarding IUU fishing prevention, Vietnam is striving to use administrative measures to promptly lift the EC's yellow card to avoid economic losses. He understands that Vietnam's seafood exports to the European market account for approximately 16 percent. Therefore, Vietnam has the right to demand that the EU enhance cooperation in actively resolving this issue, which is mutually beneficial.
They cannot simply make demands without corresponding solutions for us to lift the yellow card for Vietnamese seafood. We are making efforts, but on the other hand, the EU also needs to cooperate with Vietnam.
Furthermore, Vietnam needs to implement long-term solutions, primarily ensuring that people comply with regulations and do not re-offend. When fishermen face numerous risks at sea, rising fuel costs, and the need to lay off their vessels while transitioning to ensure their livelihoods, it can lead to re-offending.
Marine conservation to preserve the ecosystem is crucial, as it sustains the habitat for seafood. If coral reefs are lost, seafood disappears, and without seafood, there is no fishing industry and there are no fishermen contributing to the country's seafood exports, and it weakens our capability to protect the sovereignty over marine territories.
Therefore, more than ever, fishermen are essential in combating IUU fishing. Hoi believes that we need specific policies to comprehensively address three aspects: fishermen, the fisheries industry, and fishing grounds, all aimed at sustainable and responsible fishing.
In the upcoming period, Hoi placed emphasis on lawful seafood harvesting practices with responsibility. Responsible seafood harvesting means not depleting seafood resources. This is not just the livelihood of an individual, a family, or a nation but also a global and humanitarian issue. In Government meetings, Prime Minister Pham Minh Chinh has emphasized multiple times that compliance with lawful seafood harvesting and the cessation of IUU violations are the keys to a healthy fishing industry, wealth for fishermen, and elevating the nation's reputation on the international stage.
The EC issued a "yellow card" warning against Vietnam's seafood due to IUU fishing in 2017. The "yellow card" is followed by a "green card" if the problem is resolved or a "red card" if it is not. A "red card" may lead to a ban on seafood exports to the EU.
An EC delegation is scheduled to return to Vietnam for the fourth fact-finding trip this October.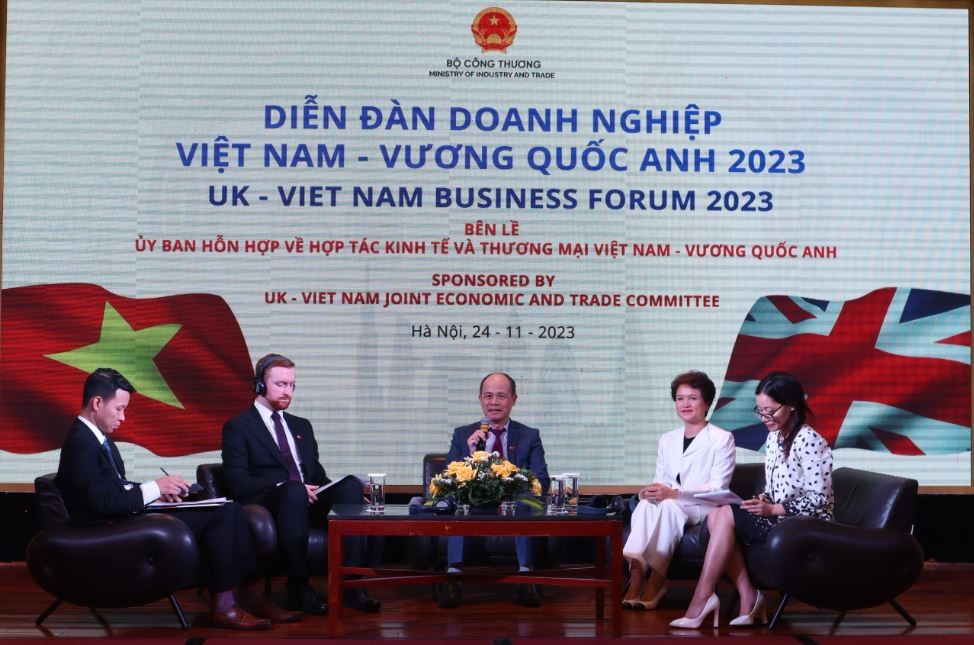 Economy
The dual impulse from FTAs will create more incentives for UK goods and services in the Vietnamese market, as well as increase investment attraction.
December 02, 2023 | 22:32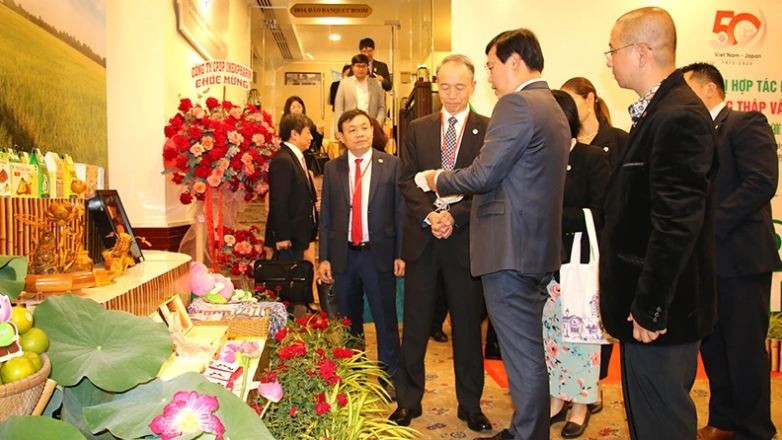 Economy
Japanese businesses expect the soon-to-be-completed road and waterway transportation system will increase investment opportunities in Dong Thap province.
December 02, 2023 | 22:02