Report: Vietnam is a perfect economic partner for Australia
Vietnam is a standout option for Australian businesses to consider as a market for goods and services and business investment.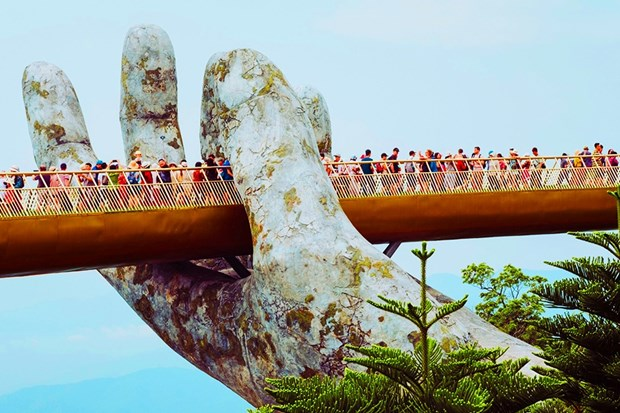 The Golden Bridge in Da Nang City, Vietnam. Photo: Asia Society Australia
Vietnam is a perfect economic partner for Australia, according to a joint report by Asia Society Australia and the Australian APEC Study Centre at RMIT University.
Supported by the Australian state of Victoria's government, the "A Path to Vietnam: Opportunities and Market Insights for Australian Business" report aimed to raise awareness of business opportunities and show pathways for Australian companies to succeed in Vietnam.
The findings from this report show "Vietnam is a standout option for Australian businesses to consider as a market for goods and services and business investment."
The market will help Australia capitalise on economic complementarities and diversify economic partnerships and supply chains.
The report said Vietnam, a densely populated, developing, and urbanising country, is rapidly transitioning to an industrial and market-based economy through trade and investment and is making strides to position itself to thrive in the Fourth Industrial Revolution (Industry 4.0).
"Vietnam has had uninterrupted economic growth since 1989 including during the 1997 Asian and 2008 global financial crises," the report said, adding that the country's domestic management of the initial phase of COVID-19 has been lauded around the world, and its leadership of the Association of Southeast Asian Nations (ASEAN) during the pandemic has been measured and effective.
"The Government has played an active role in regional economic agendas. And at home it has continued its economic modernisation optimising business conditions during a challenging period. As a result, the country is still attracting high levels of foreign investment from around the world," the report noted.
Strong Vietnam-Australia relationship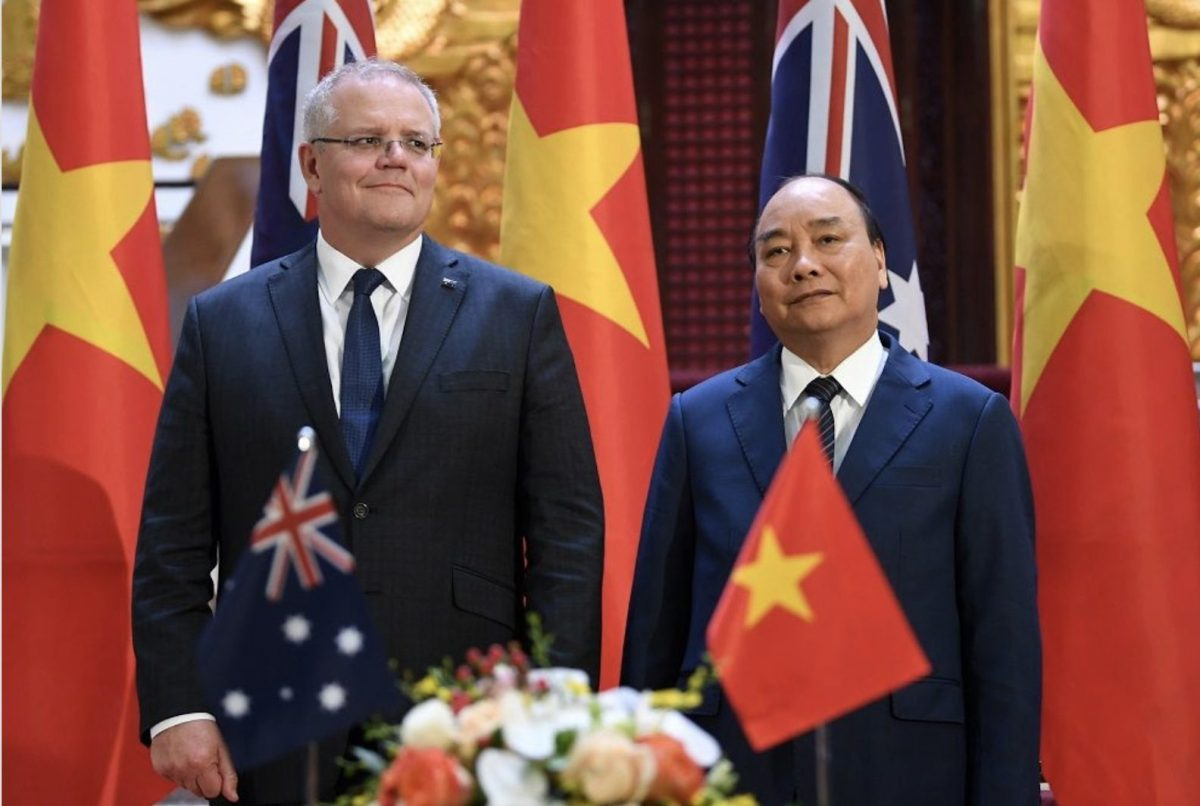 Prime Minister Nguyen Xuan Phuc (right) and his Australian counterpart Scott Morrison. Photo: AFP
The bilateral relationship between Vietnam and Australia has been strong, according to the report. It is poised to deepen through new bilateral commitments to enhance economic, security and innovation engagement.
Australia has three Free Trade Agreements (FTAs) with Vietnam - the Comprehensive Progressive Trans-Pacific Partnership (CPTPP), the ASEAN-Australia-New Zealand Free Trade Agreement (AANZFTA), and the recently signed Regional Comprehensive Economic Partnership (RCEP). These agreements have delivered market access advantages for Australian goods and services to Vietnam, in some cases creating measurable advantage over competitors.
In 2019, two-way trade between the two countries reached nearly $15.5 billion. Almost 500 Australian financed projects with capital totalling more than US$2 billion were reported by Vietnam, involving larger Australian subsidiaries as well as smaller enterprises.
Since the 2018 ASEAN-Australia Special Summit in Sydney, both countries have been working to elevate the bilateral relationship to a Comprehensive Strategic Partnership enhancing economic engagement, security and innovation collaboration.
They are both working on Enhanced Economic Strategies to meet a joint ambition to become top ten trading partners and doubling investment.
This new bilateral engagement should also be seen in the context of a commitment to a new chapter of enhanced relations under the ASEAN-Australia Strategic Partnership which was announced in November 2020 as part of Vietnam's 2020 ASEAN Chairmanship.
"We're at a sweet spot in our partnership," the report quoted Australian Prime Minister Scott Morrison as saying during his trip to Vietnam last year.
"The capacity for Australia and Vietnam to work even more closely together is enormous. Our partnership is full of potential. It's full of opportunities."
Where businesses can succeed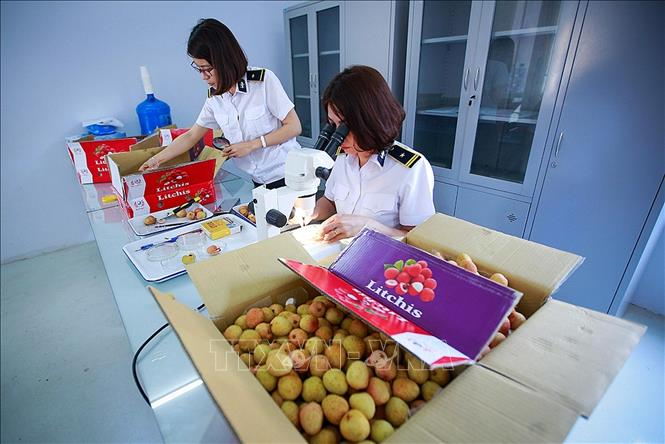 Fruits are quarantined before export to Australia. Photo: VNA
Vietnam is one of the most dynamic economies in the world: an open, growing and emerging market economy that offers opportunities for Australian businesses which are willing to engage and adapt to local market conditions, cultural realities and leverage the unique eco-system, the report said.
Significant opportunities for Australian businesses exist in beef, grains, cotton, horticulture, and processed foods; resources like mining, minerals, and metals; services in education, ICT, insurance, environmental protection and health; and Industry 4.0-related sectors of fintech, agtech, healthtech, edtech, logistics, IT services, and digital skills.
According to the report, Vietnam always welcomes Australian firms, with Australian brands highly evaluated.
One of the researchers, Craig Emerson, former Australian Minister for Trade and Competitiveness and incumbent director of the Australian APEC Study Centre, noted that both Australia and Vietnam have complimentary economic systems and seek diversification of their trading partnerships, amidst a weakening global economy and geopolitical tensions.
Vietnam will also be an important partner for Australia as the country seeks to expand its economic relationships in the Indo-Pacific and chart its pathway to recovery after COVID-19./.