Rice Farming in Vietnam Needs Investment from Private Sectors
Triple Pundit' sustainable business expert, journalist Carlos Manuel Rodriguez said that conventional farming methods in Vietnam, although rooted in the country's agriculture for thousands of years, are threatened by climate change and might cause a rice shortage.
Vietnam's Mekong Delta region has served as the country's breadbasket for years. Known for fertile soil, the area grows more than half of all rice produced in the country, a staple in the Vietnamese diet. In 2016, however, the delta experienced a devastating drought, leaving 600,000 people without access to fresh water. Rice yields had already been falling for seasons, but the drought represented a tipping point for many farming families. Degraded land, lack of water and pollution caused nearly 1.1 million people to migrate from the region.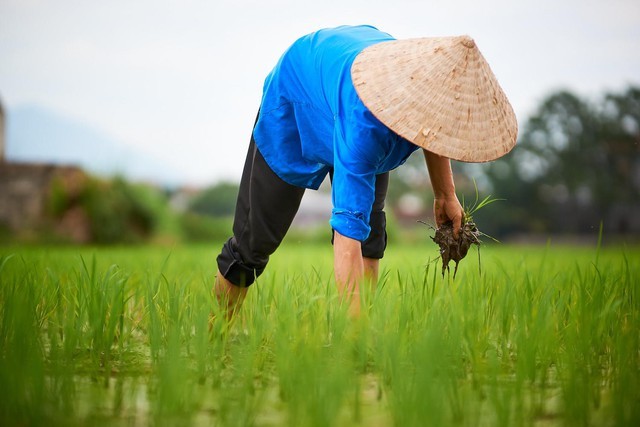 A Vietnamese rice farmer weeds her field by hand (Image: Bryon Lippincott/Flickr) .
A recent article by sustainable business expert Carlos Manuel Rodriguez on Triple Pundit said that conventional farming methods are threatened by climate change.
"If we continue cultivating rice using these methods, climate change-related weather incidents and exhausted resources will certainly cause a shortage, likely leading to a hunger disaster on a global scale," wrote Rodriguez.
The time is now for the private sector to invest in sustainable rice production, he insisted. It is not only to meet global climate policy requirements, but also to ensure that rice farming is able to adapt to our changing planet and that businesses remain profitable.
Former Costa Rican Environment and Energy Minister Carlos Manuel Rodriguez (Photo: Nature Markets).

The former Costa Rican Environment and Energy Minister Carlos Manuel Rodriguez was selected as CEO and Chairperson of the Global Environment Facility in June 2020. Rodriguez was a pioneer in the development of Payment for Ecosystem Services and strategies for forest restoration, ocean conservation, and decarbonization.

During his three terms as Environment and Energy Minister, Costa Rica doubled the size of its forests, made its electric sector fully renewable, and consolidated a national park system that has made the Central American.

Rodriguez was Vice-President for Global Policy at Conservation International, for 12 years, working in 30 tropical countries in Central and South America, Africa, and Southeast Asia.
"Conventional rice farming methods are a ticking time bomb. The foundation has been laid in terms of developing proven techniques, working with governments to shift national policies, and training farmers around the world. It's time for CEOs to take the leap, not only to save their businesses but also to prevent climate and hunger disasters," exclaimed the foreign expert.
To demonstrate how climate change threatens rice cultivation worldwide, Rodriguez referred to Vietnam's adaptation to methods of sustainable rice production that are resilient to climate change, and how it produces the same yields as conventional cultivation.
"A study in the An Giang province in Vietnam, the world's fifth largest rice producer, compared harvests between farmers using the more sustainable wetting-and-drying (AWD) field method to those using the conventional field flooding approach. Yields were almost identical, and the AWD method emitted less greenhouse gas and required fewer seeds and fertilizer."
Taking a business-imperative approach, Rodriguez believes that green farming techniques are the only pathway that can maintain rice productivity and adapt to rising global temperatures. However, more private-sector finance is needed to support and grow these programs.
Rice production shifts from quantity to quality
About 4.27 million tonnes of rice worth US $2.3 billion was exported in the first half of 2023. Despite a bright outlook predicted for rice production and exports in the second half of 2023, the rice sector still needs more support to shift from quantity to quality to seize global market opportunities. According to the Ministry of Agriculture and Rural Development (MARD), a plan on sustainably developing 1 million hectares of land specialized in high-quality rice farming in connection with green growth in the Mekong Delta is being structured. With this plan, Vietnam will be the first country to connect rice production with green growth