Vietnam's Rice Export to the Philippines Hit Record Level
Vietnam rice exports stay high on strong demand.
Deputy Prime Minister has signed a decision approving the Strategy on Development of Vietnam's Rice Export Markets until 2030, which aims to develop and diversify rice export markets with a reasonable, stable, and effective scale, market and product structure.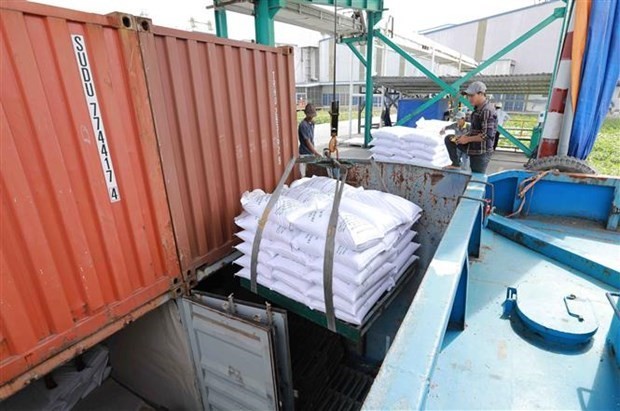 Illustrative image. Photo: VNA
Vietnam remained the biggest rice provider of the Philippines in the first five months of this year with turnover of USD 772.4 million, surging 31.1% year-on-year.
During January-May, the Philippines imported 1.5 million tonnes of rice from Vietnam, accounting for nearly 90% of its total imported rice, according to the Asia-Africa Market Department under the Ministry of Industry and Trade, citing data from the Philippine Bureau of Statistics.
This was also the record level of Vietnam's rice exports to the Philippines so far.
In the first five months, Vietnam exported 3.6 million tonnes of rice, with the Philippines accounting for 42.3% of the total.
In the last six months of the year, rice exports to the Philippines are forecast to continue to increase due to the impact of climate change and El Nino phenomenon that could severely affect domestic food production in the country of 113 million people.
According to the department, for the remaining months of 2023 and 2024, it is expected that the Philippines' rice consumption and import demand will continue to increase.
Meanwhile, the Strategy for the Development of Vietnam's Rice Export Markets until 2030 sets the targets of improving the value of exported rice and reducing export volume by 2030 to about 4 million tonnes with a turnover of about USD 2.62 billion.
The Ministry of Agriculture and Rural Development reported that last May, Vietnam shipped abroad some 1 million tonnes of rice valued at USD 489 million, raising rice export volume and value in the first five months of this year to nearly 3.9 million tonnes and USD 2.02 billion, representing year-on-year increases of 40.8% and 49%, respectively.
Among Vietnam's 15 biggest rice buyers, Indonesia experienced the sharpest rise in value (26.3 times), according to the ministry.
Under the strategy, Vietnam's rice sector will also increase exports of high-quality rice. Specifically, between 2023 and 2025, the proportion of low- and medium-grade white rice will not exceed 15%; high-grade white rice will account for about 20%; fragrant rice, japonica rice and specialty rice 40%; sticky rice 20%; rice products with high added value such as nutritious rice, parboiled rice, organic rice, rice flour, rice-processed products, rice bran and some other rice by-products 5%; and rice with brand names 20%.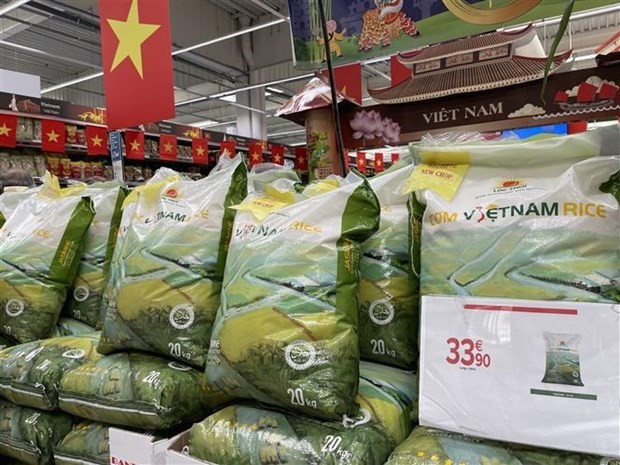 Bags of Com Vietnam rice displayed at at Carrefour Collagen. Photo: VNA
Nguyen Van Thanh, chairman and CEO of Phuoc Thanh IV Trading - Production Company Limited, said the adjustments are suitable, explaining that the Mekong Delta, Vietnam's rice bowl, reduced the number of rice crops to only one from three.
Experts said intensive processing will help Vietnam raise its rice value by multiple times, noting it requires investment in science-technology to put the grain on market shelves in Europe, the US, Canada, Japan and the Republic of Korea.
Deputy Minister of Agriculture and Rural Development Phung Duc Tien said up to 85% of Vietnamese rice varieties are high-quality ones. Therefore, the prices of Vietnamese rice have exceeded those of Thailand to stand at USD 485-495 per tonne.
Given the requirements of markets and free trade agreements, the research of high-quality rice varieties with affordable prices has proven effective in rice production, especially in terms of food security, he said.