Rice paper salad – A popular street snack in Vietnam
'Banh trang tron' (rice paper salad), is a popular street food for young people in big cities in Vietnam.
'Banh trang tron' (rice paper salad), is a popular street food for young people in big cities in Vietnam.
Along with a huge range of Vietnamese noodles, rice paper is one of the most common ingredients in Vietnamese food. Creative Vietnamese can make tons of different dishes out of it just one type of rice paper, and there are many. Undoubtedly, Banh trang tron is the most popular and addicting snack among the young locals. It's tangy from the green mangos and the kumquat/lime juice and it's salty and sweet from the beef and squid jerky. Also, it's crunchy and chewy from the softened rice paper after you pour in the soy sauce and from the peanuts and fried shallots. The beef and squid jerky alone will take you to flavor town, but mixed together with the mangos and herbs make this snack unstoppable.
The main ingredient of the classic rice paper salad is rice paper which is cut into thin strips and then kept dry. The dry rice paper is then mixed with shredded green mango, torn Vietnamese coriander, Tay Ninh shrimp salt, herbs and a squeeze of lime juice. All these ingredients are mixed well together until everything is blended thoroughly. Hard boiled eggs, dried beef or chicken floss can be added later as the final steps to finish the dish.
Rice paper salad is often served in a plastic bag with two skewers serving as chopsticks. It's often made to order, so you can customise your bag to make it less spicy or to omit peanuts if you're allergic. Since this snack is so popular, it is served at almost every pavement in a metal cart rolling along every street across cities in Vietnam, but the quality and flavor varies.
The dish is The price is amazingly cheap, starting only from VND 10,000 (USD 0.43), depending on extra ingredients that customers may wish to add to their portion./.
VNF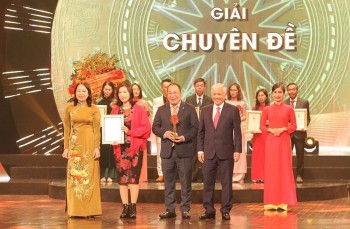 Overseas Vietnamese
VietnamTimes (Viet Nam Union of Friendship Organizations) is a reliable address for overseas Vietnamese to quickly and objectively update political, economic, cultural, and social news. The agency has created a helpful forum and connection between expatriates and the motherland.