Rice paper village keeps ancient craft alive
Take a trip 40 kilometres outside Can Tho City and you'll notice panels of rice papers drying in the sun on rattan racks lining the roads in Thot Not District's Thuan Hung Ward.
Take a trip 40 kilometres outside Can Tho City and you'll notice panels of rice papers drying in the sun on rattan racks lining the roads in Thot Not District's Thuan Hung Ward.
Stack that paper: Racks of rice paper at a factory.
Home to the Thuan Hung rice paper village, the ward has around 50 professional rice paper businesses.
No one knows when the rice paper making began here, but households in the area say they have been making the item for around 200 years, a craft passed down from generation to generation.
Since demand has always been steady for their products in this part of the country, villagers would often start the day at 2am, finish work at 4pm, and don't go to bed until around 8pm. During peak season, which starts three months before Tet, they may even have to stay up all night.
At times, demand could soar so high the workers can barely keep up with production schedules and have to turn down new customers.
The village households specialise in making different kinds of flavoured rice paper: plain, salted, sweetened and coconut, all of which can be used to wrap spring rolls, dip in water, grill, or eat raw.
Plain rice paper is especially popular during Tet (Lunar New Year) holiday, as it is used as offerings to ancestors and as treats for guests.
"We only use rice, clean river water, and other ingredients like salt or sugar. Strictly no preservatives or chemicals, only natural ingredients," said Nguyen Huu Nghia, who has owned his rice paper business for 30 years.
Despite the simple recipe, making good rice paper is a demanding skill and requires precision in selecting the right kind of rice as well as finesse in cooking and handling the rice paper.
First, rice is soaked in river water and then ground. The cook then pours and spreads the batter into a circular shape onto a piping hot griddle which sits on top of a pot of steaming, boiling hot water. The batter is covered with a rattan "hat", which helps to trap the heat and cook the paper in less than 10 seconds.
Since the freshly cooked rice papers are extremely fragile, the cook has to gently remove the paper with a cylindrical bamboo roll wrapped in cloth and transfer it to a cooling rack.
Freshly cooked rice papers normally take around half an hour to dry if under bright sunlight, or a few hours otherwise. Most households have to stop working when it rains.
Quality rice paper is expected to be smooth and crispy, with a satisfying crunch when bitten, yet soft and chewy when dipped in water.
The businesses also provide jobs for the village, since most households need extra workers to cope with demand. On average, workers make VND70,000 - 120,000 (US$3 - 5) per day.
Two households invested in rice paper factories with automated machinery and production lines to great success, but others are hesitant about bringing in technology.
A typical household can make around 32 kilos of rice paper per day. Each household can make from VND200,000 to 700,000 per day, depending on their output.
About 60 per cent of the rice paper businesses operate on a daily basis, while the rest only work during the peak season to pursue better-paying jobs the rest of the year.
Rice paper making is a tiring and time-consuming job that pays relatively poorly, but the local villagers are determined to keep the traditional craft alive.
Roll it up: A sheet of coconut rice paper being rolled and taken off the griddle.
Prepping product: Dried rice paper is ready for packaging.
Getting steamed: The owner of a rice paper business steams rice paper.
Roll up, roll up: Racks of rice paper lined up along the road. - VNS Photos Viet Dung
"Our family has been making rice paper for three generations now and our daughter is now making rice paper for a living," said Ha Thi Sau, who has been in the business for 30 years.
Little competition exists between the businesses even though many of them are clustered together and share tips with each other.
In 2008, Can Tho City recognised the village as a place of attraction deserving of value and preservation.
But, despite its rich history and popularity, Thuan Hung Village is not a famous tourist attraction and only occasionally visited by people on their way to other well-known places.
To create better awareness of its special product and tourism potential, the local authority is looking at plans to create a brand for Thuan Hung rice paper by 2019, according to the deputy chairman of Thuan Hung People's Committee./.
VNF/VNS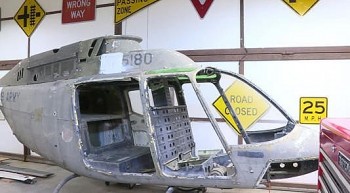 World
A piece of military history related to Vietnam is coming to life with a special project in a small Barton County townm in the US