RoK Province Promotes Agricultural Products in Vietnam
The Republic of Korea (RoK)'s Chungcheongbuk-do province introduces typical agricultural products to consumers in Hanoi
Following the success of programs promoting local Korean agricultural products in Vietnam, the Republic of Korea (RoK)'s Chungcheongbuk-do province continues to introduce typical agricultural products to consumers from August 12 to December 15.
The program to promote agricultural products in Chungcheongbuk province was organized by K&K Global Trading Co., Ltd and related units, to boost exports and enhance exchanges between the two countries.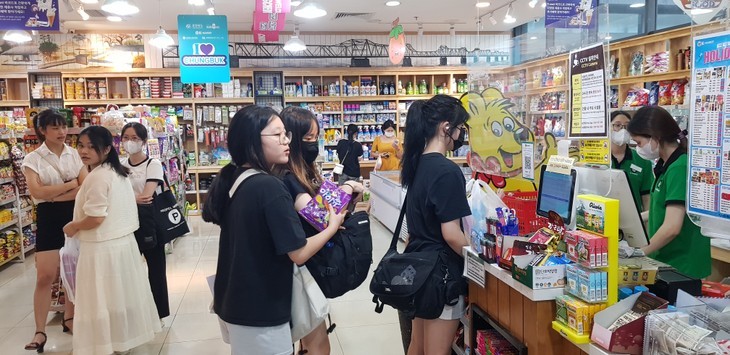 Consumers at K-MARKET Goldmark Sapphire. Photo: Ngoc Anh
The event takes place from August 12 to December 15 at the K-MARKET Goldmark Sapphire (Sapphire Building 1, Goldmark City, 136 Ho Tung Mau street, Hanoi).
Yong Mi Sook, Head of Agricultural Product Distribution and Circulation Department of Chungcheongbuk, said that this is the first time Chungcheongbuk-do has promoted local agricultural products in Vietnam. In this program, the province brings famous agricultural products such as fresh grapes, kimchi, seaweed, coniferous leaves, dried fruits, processed foods.
"We see great potential from the Vietnamese market as consumers here are very fond of products from Korea, Korean food and love Korean culture, especially young people." Yong Mi Sook shared.
Chungcheongbuk-do is located in the center of the country, this is also the only locality in Korea not adjacent to the sea. Therefore, Chungcheongbuk has a cool year-round climate, winter is not too cold, summer is not too hot. Thanks to the advantage of climatic conditions, Chungcheongbuk province has created favorable conditions to develop the growing and production of vegetables and fruit trees with delicious quality.
Meanwhile, a Vietnam - RoK trade promotion week kicked off in the northern city of Hai Phong on September 1, VNA reported.
The 10-day event, held by the Lala Station JSC, the Shining Media company and the Hai Phong Radio and Television Station, is among the activities marking 31 years of the two countries' diplomatic ties.
It aims to boost trade and investment links as well as cultural exchanges between the countries while introducing both sides' economic potential, history, culture, and tourism.
The week features 94 booths of localities and businesses from the two countries, including over 60 of Vietnam and 30 of the RoK. The RoK side showcases a variety of its typical products such as fashion, household appliances, and beauty care items.
Besides, a wide range of activities such as folk games and Dance Cover Kpop 2023 will also give visitors a chance to experience the Vietnamese and Korean cultures.
Vietnam, RoK Textile Associations Sign MoU

The Vietnam Textile and Apparel Association (VITAS) and the Korea Federation of Textile Industries (KOFOTI) have signed a memorandum of understanding (MoU) to strengthen bilateral ...