RoK's Consulate General opens in Da Nang
Given the great increase in the number of Korean visitors to Da Nang over the years, the government of the Republic of Korea (RoK) decided in March 2019 to establish a Consulate General in the city.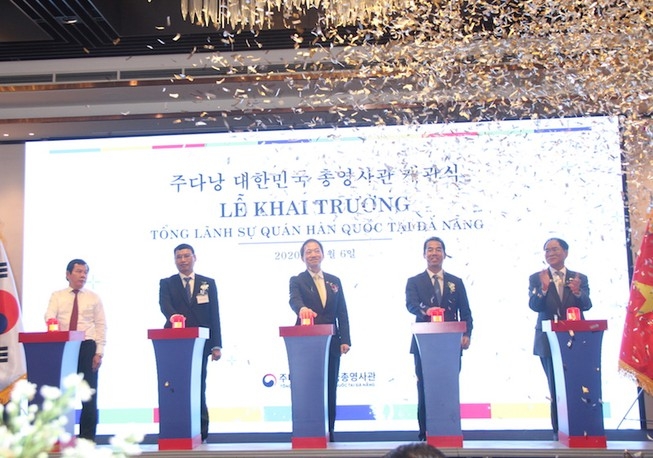 At the opening ceremony. Photo: VNA
The Consulate General of the RoK was officially opened in central Da Nang city on November 6.
The Consulate General in Da Nang, which fully started work in July, has postponed its opening ceremony in consideration of the local COVID-19 situation.
Speaking at the ceremony, RoK's Consul General Ahn Min-sik said that among the ten ASEAN nations, Vietnam is the only one where his country has set up three diplomatic agencies, which shows its expectations of Vietnam in its New Southern Policy.
RoK enterprises previously did business and conducted investments primarily in the northern and southern regions, but more and more RoK people and companies have paid attention to the central region in recent years, he noted.
The number of RoK people visiting the central region, including Da Nang, doubled each year between 2015 and 2018, and stood at about 1.8 million last year, or nearly half of the total.
The Consulate General will give top priority to helping further boost people-to-people and material exchanges between the RoK and the region, the diplomat added.
Vice Chairman of the Da Nang People's Committee Ho Ky Minh said the city has established cooperative ties with five RoK localities: Changwon, Daegu, Hwaseong, Seoul, and Gyeongsang.
Prior to the COVID-19 outbreak, investment, trade, and tourism between Da Nang and RoK organisations and businesses had developed strongly, he said, with the RoK having invested in 232 projects in the city, and there were three direct air routes linking its major localities with Da Nang.
Minh stressed that the Consulate General will be a bridge in further promoting the friendship, investment, trade, tourism, and cultural and scientific cooperation between RoK localities and partners and the central Vietnamese localities it covers, thereby contributing to the countries' strategic cooperative partnership.
Da Nang authorities will create the best conditions possible for the Consulate General to operate effectively and in line with international practices.
Da Nang is a popular attraction for RoK people, welcoming 1 million tourists every year. Source: Internet
Also at the ceremony, RoK Ambassador Park Noh-wan thanked the Vietnamese Government and authorities in Da Nang for facilitating the opening of the Consulate General, noting that this city is one of the favourite destinations of RoK people.
Meanwhile, Deputy Foreign Minister To Anh Dung said that together with the Embassy in Hanoi and the Consulate General in HCM City, the RoK's Consulate General in Da Nang will substantially boost the two countries' relations.
It will help introduce the city and also the nearby provinces of Quang Nam, Quang Ngai, and Thua Thien-Hue to the RoK people, to help lift bilateral ties to a new level.
Representatives from RoK enterprises presented aid worth over VND 470 million (USD 20,400) to Thua Thien-Hue and Quang Ngai provinces at the ceremony, to help them address the consequences of recent storms and flooding.
Speaker of the RoK's National Assembly (NA) Park Byeong-seug left Ho Chi Minh City on November 4 evening, concluding his five-day official visit to Vietnam.
During the trip, Park held talks with NA Chairwoman Nguyen Thi Kim Ngan, paid a courtesy call to Party General Secretary and State President Nguyen Phu Trong, met Prime Minister Nguyen Xuan Phuc, and received President of the Vietnam-RoK Friendship Parliamentarians' Group Tran Van Tuy.
At these functions, both sides affirmed the two nations shared a long standing relationship and people-to-people exchange, with their strategic cooperative partnership deepened and growing robustly.
The RoK remains the largest among the 136 countries and territories investing in Vietnam, with nearly 9,000 valid projects worth USD 70.2 billion. It currently ranks second in ODA provision for, trade with, and reception of workers from Vietnam. It is also one of the key sources of foreign tourists to the Southeast Asian country./.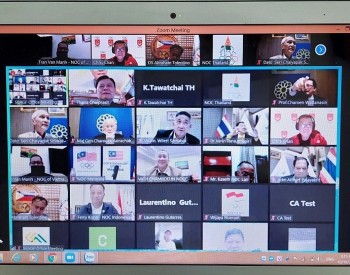 National
Vietnam News Today (October 19): Vietnam records 3,159 new local Covid cases; Vietnam ratifies ASEAN Trade in Services Agreement; SEA Games 31 likely to be held in Vietnam in May 2022; Goethe-Institut's science film festival goes virtual from October 18.
Friendship
PeaceTrees continued UXO-clearing efforts in the central province of Quang Tri in spite of severe storm warnings.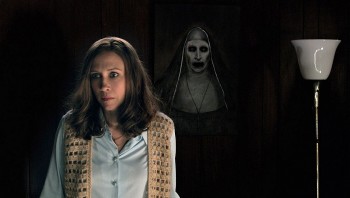 Handbook
Halloween is coming, and nothing is better than some good and spooky horror films. Here is a list of carefully selected 20 horror movies on Netflix that you can stream right now.