RoK's Gangwon province seeks to recruit seasonal labourers
Gangwon province of the Republic of Korea (RoK) needs 5,000 foreign labourers, but only 3,310 were recruited.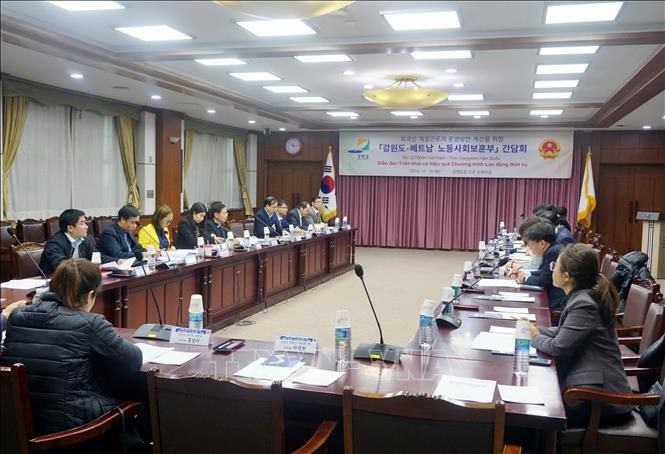 At the workshop. Source: VNA
Gangwon province discussed with Vietnamese partners problems in recruiting Vietnamese labourers for seasonal work in the RoK and solutions to the issues at a workshop on November 14.
During the event, which was jointly organised by the Gangwon authorities, the Vietnamese Ministry of Labour, Invalids and Social Affairs (MoLISA) and the Vietnamese Embassy in the RoK, participants were updated on revised contents in a draft new policy on temporary labour of the Korean Ministry of Justice.
Representatives from Gangwon said that the locality needs 5,000 foreign labourers, but only 3,310 were recruited, of which labourers from the Philippines account for the majority with 2,475 people, followed by Vietnam with 457 people.
The RoK province took the occasion to ask Vietnam's local authorities to pay attention to raising Vietnamese labourers' awareness of work responsibility. They also hoped for close cooperation by Vietnamese local authorities in quickly handling arising problems related to labourers.
Addressing the event, Nguyen Gia Liem, Deputy Director General of the Department of Overseas Labour Management said Vietnam is reviewing the implementation a two-year pilot programme on sending Vietnamese labourers to work in the RoK under cooperation mechanisms between the two countries' localities.
Based on lessons drawn, recommendations will be made to authorized agencies to issue appropriate regulations and devise measures to improve the quality of the programme.
According Liem, as many as 847 Vietnamese labourers were sent to the RoK to work in the framework of localities' cooperation over the last two years. After completing their working contract, many of the labourers wish to come back to the RoK under this programme.
The short-term seasonal labour programme is a long-term and stable cooperation project between local governments of the RoK and Vietnam, in order to help Korean farmers recruit short-term workers in peak crops.
After nearly three decades since the two nations established their diplomatic relations, the RoK is now the biggest foreign investor in Vietnam with more than 6,000 projects, creating jobs and ensuring welfare for over 700,000 workers.
As of November 2019, six Vietnamese provinces and cities - Da Nang, Dong Thap, Thai Binh, Ha Nam, Binh Thuan and Ha Tinh, have signed agreements with Korean localities and sent labourers to work there.
In August, MoLISA and the RoK's Ministry of Employment and Labor (MOEL) signed a memorandum of understanding on cooperation.
As per the MoU, the two ministries set the goal for the next five years of establishing a collaboration framework to boost their policy planning capacity in terms of employment, vocational training, occupational safety and hygiene, and labour management.
Based on positive results of their cooperation pacts signed in 2004, 2009 and 2013, the two ministries have agreed to set up a middle- and long-term partnership and expand their joint work in the labour and employment field./.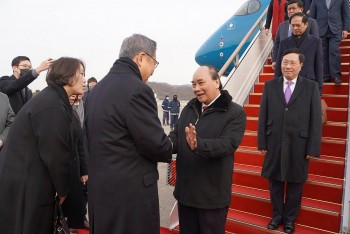 National
Vietnam News Today (Dec. 5): Additional 204 Covid-19 cases recorded on December 4; State President warmly welcomed in Seoul on RoK visit; Vietnam, Venezuela boast potential for fishery cooperation; Northerners feel chill as cold wave intensifies.