Saigon Children's Charity to hold 11th Saigon Summer Ball in September
The 11th annual Saigon Summer Ball will be held at the Park Hyatt Saigon on September 14.
First organised in 2009, the Saigon Summer Ball has long been one of the premier charity events in the Ho Chi Minh City social calendar.
Throughout its 11 years the Saigon Summer Ball has raised around US $1,3 million, last year raising $216,224. With this funding, Saigon Children's Charity will continue to improve the lives of thousands of disadvantaged children and their families across Vietnam.
Saigon Summer Ball fundraising supports all of the programmes; School Building, Special Needs Education, Getting Ready For Work, and the Child Development Scholarship Programme which gives underprivileged children the opportunity to continue their education rather than leaving school to earn money for their families. In this way Saigon Children can help ensure that every child reaches their full potential and gives them the ability to provide a better life for themselves and their families.
Saigon Children's Charity is an NGO registered in UK in 1992 and work exclusively in Vietnam for one purpose: to help disadvantaged Vietnamese children to get an education and a fairer start in life. The organization is committed to overcoming barriers to education for children, including poverty, geography, knowledge and disability.
VNF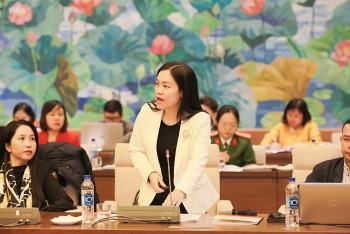 Friendship
Doan Thu Huyen, Vietnam Country Director for Campaign for Tobacco-Free Kids, made the statement at the "Child Downing Prevention" seminar.