Say NO to Tiger Products in Year of the Tiger, say Officials and Foreign Representatives
Say no to tiger bone glue and tiger products in the Year of Tiger 2022.
It is estimated that fewer than five tigers are left in the wild in Vietnam. British Ambassador to Vietnam, Gareth Ward, Dr. Khanh and representatives from USAID Vietnam and CITES, spread the message to protect tigers and other endangered species.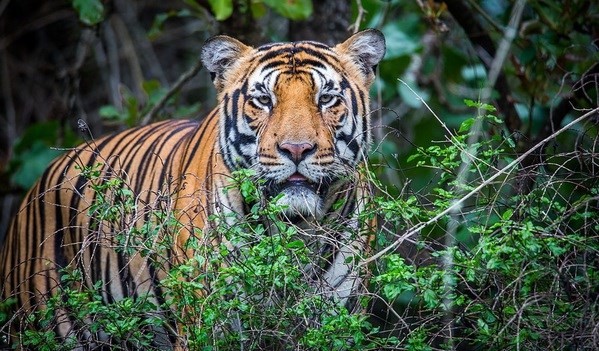 Illustrative image. Photo courtesy of the Ministry of Natural Resources and Environment
Leader of Vietnam's Central Committee for Propaganda and Education (CCPE), the British Ambassador to Vietnam, the USAID Vietnam Mission Director, Director of Vietnam CITES Management Authority, and a doctor from Viet Duc Hospital send an inspiring message to Vietnamese on stopping the trading, gifting, and consuming of tigers products in greeting the Year of the Tiger 2022.
During Lunar New Year, people present gifts to their relatives, friends, and partners as a token of appreciation and good luck. Among various types of presents, some consider tiger products as luxury gifts that will impress their friends and family.
"On this occasion of the New Year of the Tiger, let's get the message out there to your family and friends that it's not okay to use tiger bone glue and tiger products or any other illegal wildlife products. Report those who illegally trade in these products and encourage your family and friends to find alternative methods/medicine instead of tiger products. Let's stop this trade; all of you have a voice and can affect change. You can make a real difference," said British Ambassador to Vietnam Gareth Ward.
The video highlights the worldwide endangered status of wild tigers and reinforces that only an estimated five wild tigers still roam in Vietnam.
The speakers share the screen to emphasise the importance of a collective effort. Society needs to reduce the demand for products from tigers and other endangered species, encouraging people to find alternative products, adopt a healthy lifestyle, and consult doctors for scientifically proven medication.
"We highly appreciate the strong commitment of multi-stakeholders in tackling wildlife crime. Reducing consumption demand for tiger products is crucial to stop the illegal trade and sustain the population of this majestic species that is dwindling everywhere, including in Vietnam," said Trinh Nguyen, TRAFFIC Director of the Vietnam Office.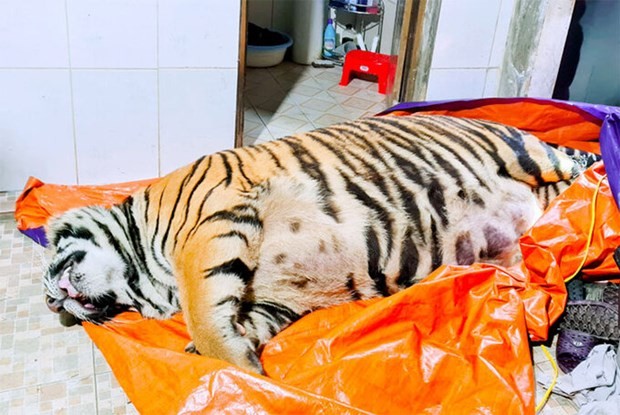 Ha Tinh police prosecute tiger bone glue maker in March 2021. Photo: VNA
The video is part of a three-year social marketing programme aiming to reduce demand for tiger products in Vietnam, funded by the UK government through the Illegal Wildlife Trade Challenge Fund.
It will be promoted via official communication channels of TRAFFIC, British Embassy, USAID in Vietnam, and the project's strategic partners.
Many people incorrectly believe that tiger bone glue has the ability to cure bone diseases and even improve a man's virility, despite the lack of any scientific evidence to support such ideas. These falsely-held beliefs are the main reason why tiger poaching is so rampant in Vietnam, and the production of tiger glue has led to a dramatic decline in the animal's numbers in the country.
The wild tiger population has decreased significantly in Vietnam and all around the world over the past 30 years. Meanwhile, the breeding of tigers for "non-commercial" purposes by individuals and businesses in Vietnam is growing strongly with the number of registered captive tigers increasing over the years.
Statistics showed that Vietnam currently has more than 300 tigers legally kept in captivity in farms, captivity facilities and households. However, the actual number of tigers being kept in captivity in the country may be much larger than the statistics, including those raised illegally.
According to the World Wildlife Fund (WWF), there were less than five tiger individuals left in the wild in Vietnam in 2016.
The International Union for Conservation of Nature and Natural Resources also said that no signs of the presence of wild tigers in the country and there has been no further survey of the tiger in Vietnam since 2009. Although there is no official statement, many people suggested that tigers may have become extinct in Vietnam.