Seaweed sweet soup a cure for summer heat
Chè đậu xanh rong biển (Seaweed – green bean sweet soup) may not be a familiar specialty for Vietnamese people, but its unique flavour does put footprints on the Vietnamese culinary map and can blow away the hot wind of summer at first bite.
A combination of green beans and seaweed, this sweet soup is a perfect blend of land and sea, which brings natural fresh nutrients and delighting flavour to customers.
The reason why seaweed – bean sweet soup is still relatively unknown is due to the use of seaweed, which is not so common in daily foods in the country.
People nowadays usually use seaweed for snacks, rolling Shushi, or making soup and salad, Thu Quỳnh in Hà Nội's Đống Đa District, said.
Cooling: Green beans, cooked with seaweed help to cool one down in the summer.
Students of Hà Nội Medical University, however, feel lucky to have "Ms. Quỳnh's Sweet Soup" nearby.
Located beside the stairs of an old apartment on Tôn Thất Tùng Street, Ms. Quỳnh's Sweet Soup shop is well known by students and locals not only because of the delicious and perse kinds of sweet soup on offer, but also as it is the only shop in Hà Nội until now that serves the unique seaweed – bean sweet soup.
"People don't usually see seaweed as an ingredient for making sweet soup, but in fact, it can be really delicious when cooked in the right way. Seaweed is also very good for your health. It balances the temperature inside your body, and is especially good for those super hot days of summer," Quỳnh said.
"To have a delicious cup of seaweed – bean sweet soup, everything has to be well prepared. First of all, the most important thing is selecting the seaweed. There are more than 800 kinds of seaweed in Việt Nam, and each has a different use. To choose the most suitable kind takes careful selection. In this case, I'll choose 'dried ear seaweed' – the one that has been widely used in cooking."
"Second, is about the green bean. Before selling, I have to wash the beans carefully and soak them in warm water to make them softer. All of the beans are bought from guaranteed sources to make sure of the purity and safety of the sweet soup."
Ms. Quỳnh cooks the beans carefully and stirs them until they become soft and thicken. Then she mixes the soft beans with fresh seaweed, adds black jelly, sweet pearls, coconut and coconut milk; all together creating an amazing flavour.
It isn't crunchy or too sweet as many people imagine, but rather it brings a whole new sensation.
Despite only opening in the afternoon, Ms. Quỳnh's shop is always crowded. Her customers are mainly students and locals nearby. They are always fascinated by the only shop that serves this special kind of sweet soup in Hà Nội. Sometimes it is so busy that her children or nieces have to help.
Nutritious: Fresh seaweed is ready for the chè rong biển.
A cup of seaweed — bean sweet soup is about VNĐ16,000, a bit higher that the average price for other kinds of sweet soup, but for many customers, it's still quite cheap for this special cup.
"At first, I didn't know about the existence of this kind of sweet soup, but thanks to my friend who is studying in Hà Nội Medical University, I had a chance to visit her and try this cup of special seaweed – bean sweet soup for the first time.
Just like my friend said, it was amazing. It is a perfect kind of food during the hot summer," said Nguyễn Hoàng Nam.
"I can feel that it is really good for your health, because from my knowledge, green bean and seaweed are cool, fresh and can purify your body. Before eating it twice a week, I had trouble with my endocrine as it caused severe acne. But now, I feel more confident with my skin, and I remember that seaweed – bean sweet soup was the only treatment that I used," Ngô Hoài Anh said.
There is research suggesting that seaweed is a precious medicine. Doctor Trần Bá Thoại, Executive Committee Member of the Vietnam Endocrinology Society, affirmed that besides being used as a delicious ingredient for cooking, seaweed is a unique 'vegetable' seafood, a gift from the ocean rich in healthy nutrients.
"In addition to high protein content, seaweed also contains a lot of minerals, trace elements and vitamins. Moreover, the vitamin A content in seaweed is two to three times higher than that of carrots, and the calcium content is three times higher than that of cow's milk. Its vitamin B2 content is four times higher than that of eggs," Dr. Thoại said.
"With low calories, seaweed helps provide bacteria that are beneficial to the intestines, helping the food to rapidly digest, as well as regulating blood circulation, detoxifying and eliminating intestinal residues.
Unique: A tasty and delicious bowl of seaweed sweet soup.
"Seaweed is also good for treating many chronic diseases such as obesity, diabetes, and hyperthyroidism. It provides calcium for children, and can reduce radiation poisoning. After the accident at the Fukushima nuclear power plant, Japanese people used a lot of seaweed and iodised salt to prevent radioactive contamination," he added.
Every year, in the summer, fishermen in central localities such as Đà Nẵng City and Quảng Ngãi, Bình Thuận and Khánh Hòa provinces rush to gather seaweed for a living.
However, due to the lack of modern technology and small size of the operation, most of the seaweed is still taken solo by fisherman without networking, providing difficulties for them.
"Seaweed exploitation is very hard. I have to suffer extremely cold water and hot sun light from morning to afternoon, and the boat was increasingly crowded," Trần Văn Phát, a fisherman from Khánh Hòa Province said.
Making seaweed – bean sweet soup requires not only the skillful hands of a cook, but also the hard work and persistency of fishermen.
Together they gather, transport and turn seaweed into a fresh, unique sweet soup perfect for those hot days of summer./.​
VNF/VNS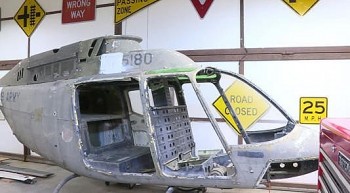 World
A piece of military history related to Vietnam is coming to life with a special project in a small Barton County townm in the US