Smoke from Australia bushfires reaches South America
Smoke from wildfires in Australia has drifted across the Pacific and affected cities in South America, and may have reached the Antarctic, the UN World Meteorological Organization said.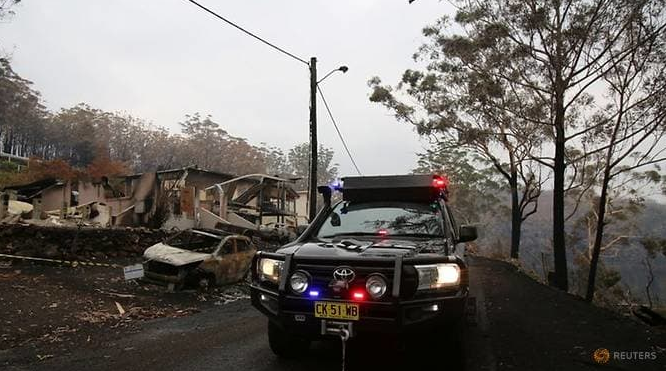 A police car drives past a damaged property during bushfire season in Lake Conjola, Australia Jan 6, 2020. (Photo: NSW POLICE FORCE/Rob Stewart /Handout via REUTERS)
Smoke from bushfires raging across Australia reached Brazil, an arm of the National Institute for Space Research said on Twitter on Tuesday (Jan 7), AFP reported.
Referring to satellite images, the agency's Department of Remote Sensing said the smoke had arrived in Brazil's southernmost state, Rio Grande do Sul.
Private meteorological company MetSul also tweeted about the arrival of a smoke cloud to Porto Alegre, the capital of Rio Grande do Sul, but emphasised that "the presence of smoke from Australia in the air is almost imperceptible, despite the satellite showing smoke in the atmosphere over the great Porto Alegre".
Chile's meteorological service said Monday that smoke from the fires was visible in Chile and Argentina.
That means the hazy cloud of smoke, sitting at about 6,000m in the air, travelled more than 12,000km to reach South America.
But the drifting smoke won't negatively affect the health of the continent's inhabitants, the Chilean service said.
Smoke from wildfires may have reached the Antarctic, the UN World Meteorological Organization said.
According to Reuters, Australian authorities on Wednesday warned people to prepare for another wave of evacuations as temperatures in the country's southeast began to rise after a days-long cool spell, bringing the danger of revitalised blazes.
More than 10.3 million hectares of land - an area the size of South Korea - have been razed by bushfires that have killed 24 people in recent weeks.
Ecologists at the University of Sydney on Wednesday doubled their estimate of the number of animals killed or injured in the fires to 1 billion, as the UN World Meteorological Organisation confirmed that smoke from the blazes has drifted as far as South America.
The three major cities in Australia's southeast, Sydney, Melbourne and the capital Canberra, were all blanketed in thick smoke, putting them among the most polluted cities in the world.
In rural areas, many towns were without power and telecommunications and some were running low on drinking water supplies.
The fires have already emitted 400 megatonnes of carbon dioxide into the atmosphere and produced harmful pollutants, the EU's Copernicus monitoring programme said.
Complicating the recovery effort, authorities have forecast another temperature spike as soon as Friday, with little rain, meaning a return to hazardous conditions./.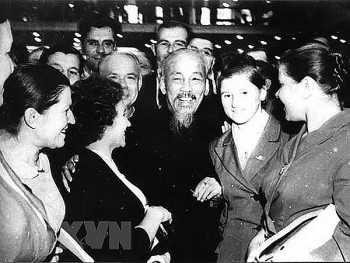 National
Throughout its history Vietnam has come into contact and exchanged with many cultures and civilizations.