'Soft Power' of Vietnamese Foreign Affairs
With softness, sophistication and determination, women working in foreign affairs have achieved great achievements, making practical contributions to the integration process, enhancing the position and prestige of Vietnam in the international arena.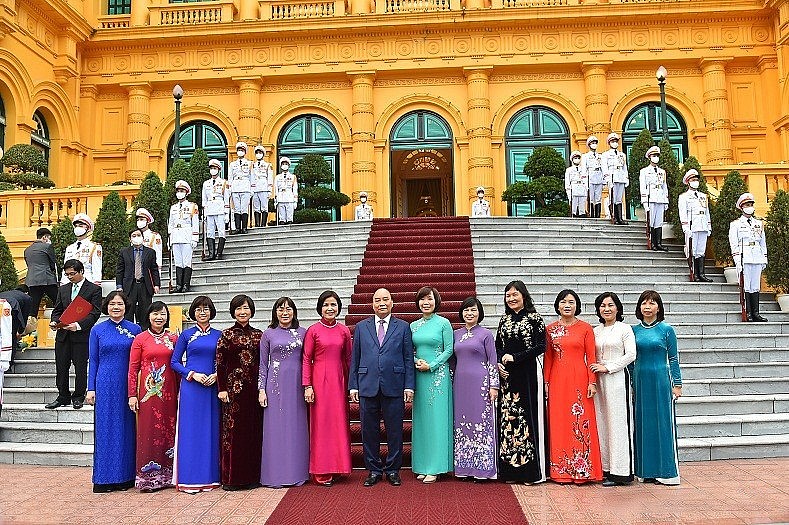 President Nguyen Xuan Phuc takes photo with female Ambassadors at the Presidential Palace, December 14, 2021. Photo: WVR
In wartime as well as in peacetime, Vietnam's female diplomats always fight bravely, making great contributions to the cause of national independence, defense, and development of the country.
Charming messengers
In addition to knowledge, professional qualifications, and unmatched bravery, with "soft power" of sensitivity and meticulousness, Vietnamese women in foreign affairs are appreciated by international friends. They contribute to the country's important foreign policy achievements.
Vietnamese female foreign affairs officers are demonstrating their roles, making outstanding contributions to peace, stability, development and international integration.
During the Covid-19 pandemic, foreign activities continued to be carried out effectively. They realize the policy of the 13th Party Congress, contribute to the pandemic prevention and restore socio-economic development.
"For our generation, the fight for peace and national independence is natural. It is also natural that we rush to work. Women also consider themselves a warrior, doing what men do."
Ambassador Nguyen Thi Hoi
Minister of Foreign Affairs Bui Thanh Son said that foreign affairs work in the past year has continued to introducing to the world the image of an independent, innovative and dynamic Vietnam.
According to the Minister, diplomacy has measures to deploy activities widely. These activities cover all areas such as bilateral, multilateral, political, economic, citizen protection and overseas Vietnamese work.
Assistant to the Foreign Minister cum Director-General of the Department of Economic Affairs Nguyen Minh Hang sympathizes with female colleagues. They both have to work hard day and night to carry out foreign activities, while taking care of their small family during the pandemic.
"Women even have strengths compared to men when they possess a distinctive and harmonious personality. They not only know how to listen, understand, be flexible, soft, but also persistent and determined. Those are the qualities required of a diplomat."
President of the Vietnam Union of Friendship Organizations Nguyen Phuong Nga
According to Nguyen Minh Hang, the key to the success of modern women in foreign affairs lies in the beauty of the soul, intelligence, as well as dedication and efforts to overcome difficulties.
Willingness to dedicate
The 13th Party Congress has clearly indicated the task of "continuing to strengthen the pioneering role of foreign affairs". This task lies in the realization of three goals: "creating and maintaining the environment, peace and stability", "mobilizing external resources for national development" and "raising the position and prestige of the country."
The country is also at a new stage when safely adapting to the pandemic, transitioning to a "new normal", towards the recovery of socio-economic development.
Carrying out the policy of the 13th Party Congress, with the requirements and aspirations for development in the new period, foreign affairs workers, including female officers, are taking on new heavy responsibilities.
This task requires female foreign affairs officers, with the sophistication and sensitivity, to always take the lead, be proactive, and adapt to new situations. In addition to cultivating knowledge, women working in foreign affairs need to grasp new technologies, strengthen their management ability, and hone the necessary skills in work.
With the new context and responsibilities, Assistant to the Foreign Minister Nguyen Minh Hang said: "Women will continue to give their best efforts, working with a sense of responsibility, enthusiasm and passion. This is to contribute to the foreign affairs tasks and the realization of the country's development goals and aspirations."
Vietnam's Foreign Affairs Tasks in 2022

The foreign affairs sector is set to actively and adequately contribute to the successful realization of Vietnam's three strategic development goals until 2025, 2030 and ...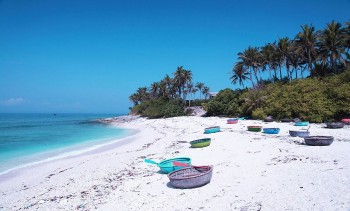 Travel
With more than 2000 miles of coastline, Vietnam brims with secluded coves, white sands, and waters fit for snorkeling. Crystal blue water, sandy beach, and bright sunshine, Vung Tau, and Nha Trang are voted among the most beautiful beaches by TikTok users.