Special police force goes through the 37th ASEAN Summit rehearsal
Vietnam's special police force exercised a security rehearsal for the 37th ASEAN Summit, despite this event sets to be held online.
According to Vn Express, on last Friday night, thousands of special forces including mobile police, soldiers, police dogs and specialized vehicles showcased their preparedness for major international events hosted in the country.
Battalion Commander Lieutenant Colonel Chu Van Quang, said that the exercise showcase readiness of units to support and handle possible scenarios like hijacking, hostage-taking, kidnapping, armed terrorism and bombing.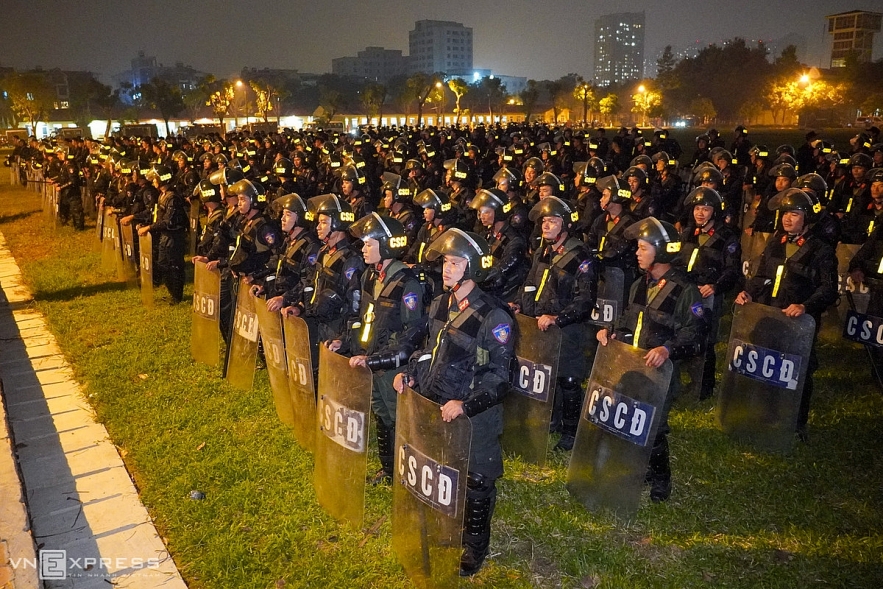 Photo: Vn Express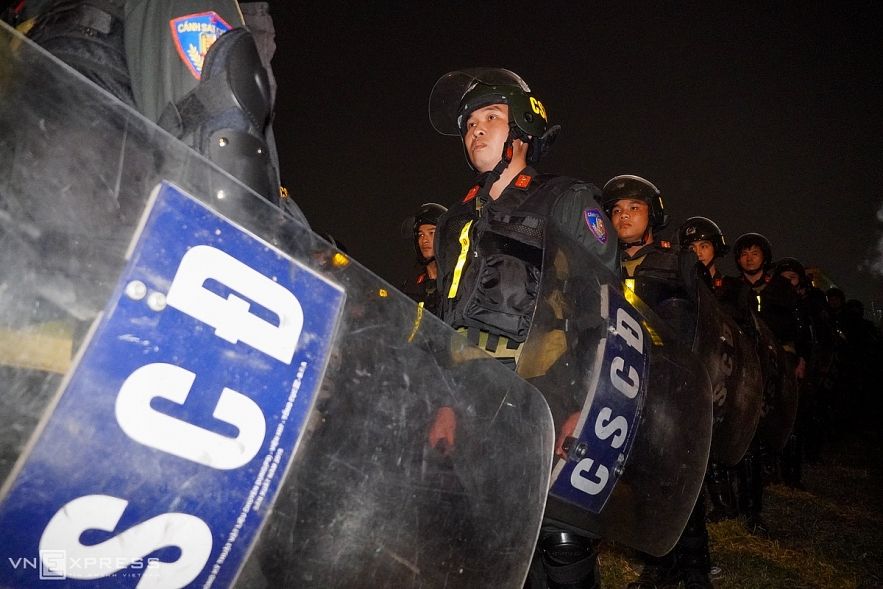 Photo: Vn Express
Lieutenant General Pham Quoc Cuong, Commander of the Mobile Police, oversaw the security preparedness exercise held in Hanoi.
"This rehearsal puts the force in an always-ready mentality, affirming their ability to go up against all destructive intentions and actions of hostile forces, reactionaries, crimes and illegal actions. This is also an affirmation for international friends that Vietnam is a safe destination for all of you," Cuong said.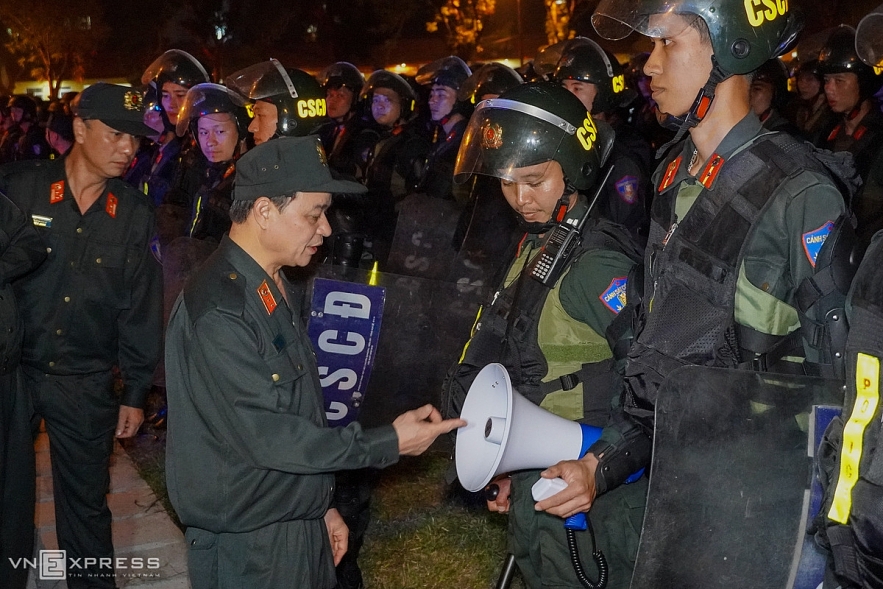 Photo: Vn Express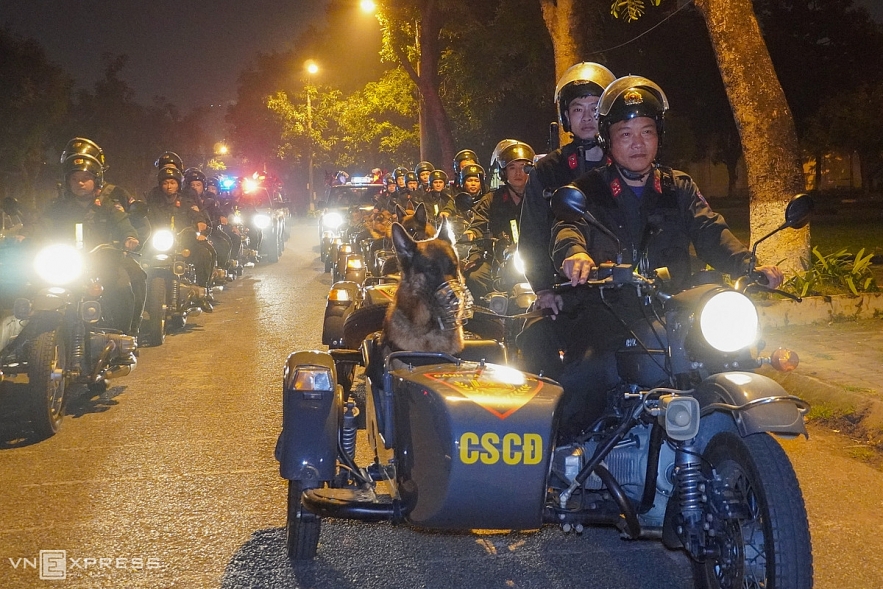 Photo: Vn Express
The Professional Animal Training Force under the Mobile Police Command mobilized 130 soldiers with 90 police dogs and 12 motorcycles with sidecars.
Mostly German shepherds, the 90 police dogs have undergone proficiency training at the Professional Training Center of the Mobile Police Command. Among other things, they are trained to sniff, detect explosives and search for mines.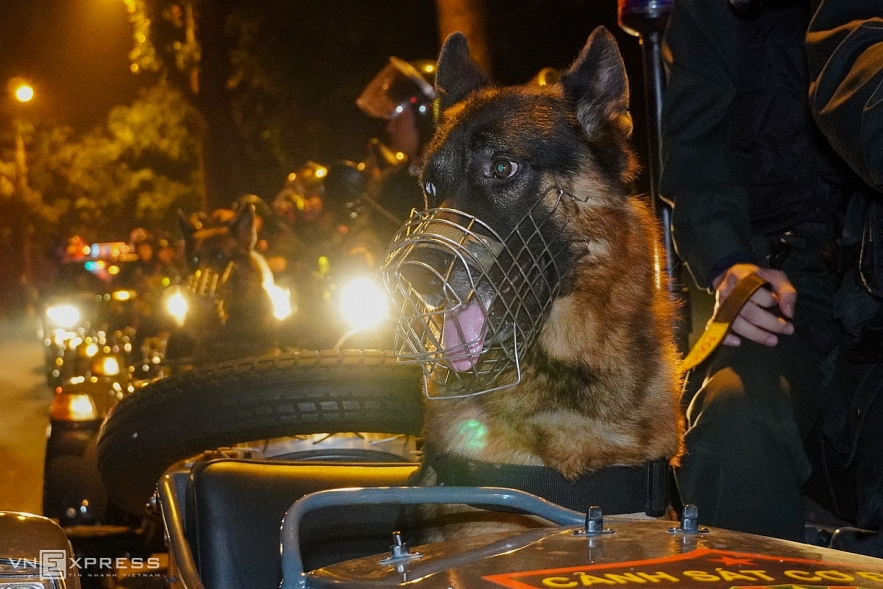 Photo: Vn Express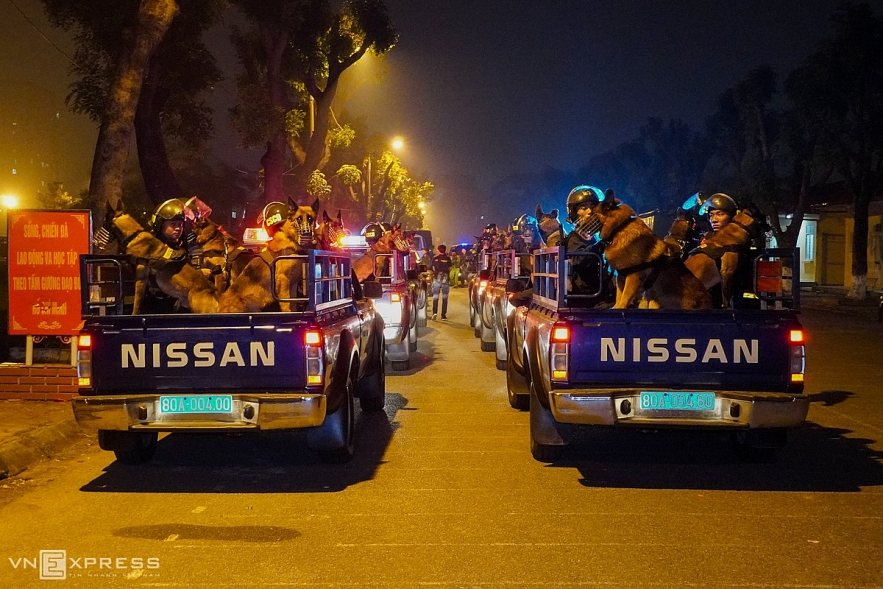 Photo: Vn Express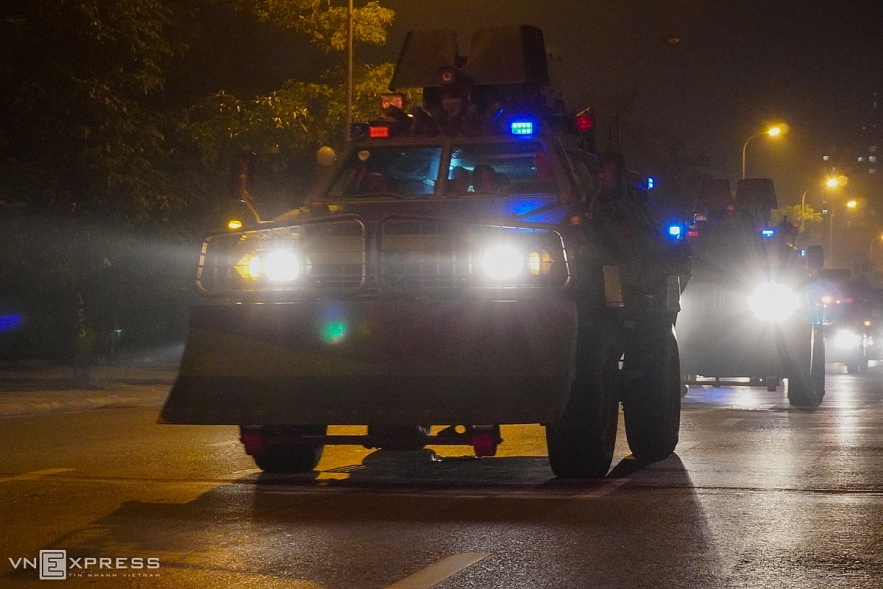 Photo: Vn Express
Four bullet-proof S5 armored vehicles were also on show during the exercise. The body and glass of these vehicles are bullet-proof, the underbody is mine-resistant and the bulletproof tires are capable of moving for an additional 50 km after being deflated.
The vehicles are equipped to clear obstacles half a meter high and move in 0.8 m deep water. They have racks for guns and smoke grenade launchers are arranged in the front and sides of the vehicle. The armored Ram 2000 vehicles were also deployed.
Photo: Vn Express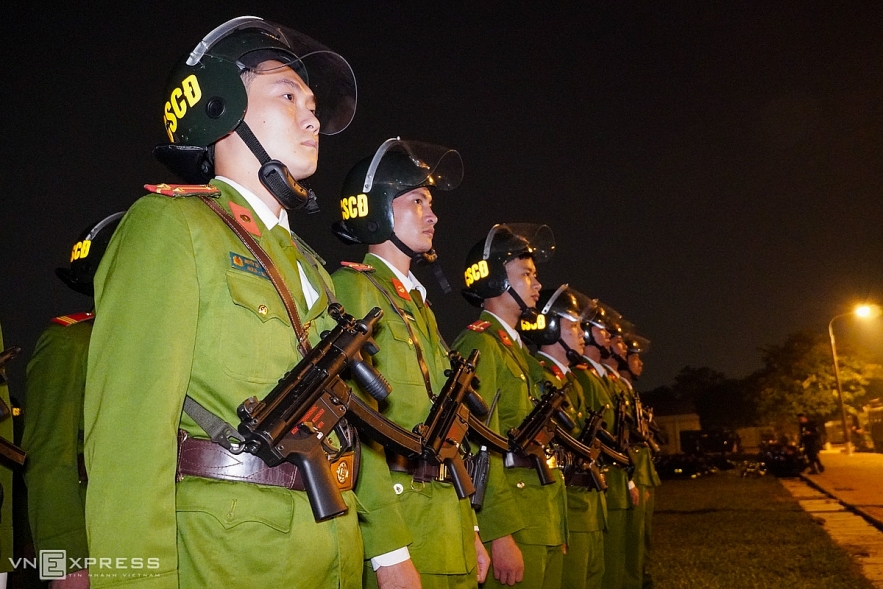 Photo: Vn Express
The mobile combat command vehicles capable of connecting, transmitting information, images or video conferencing at locations for live reporting were mobilized for the exercise. Water trucks and seven-seat armored vehicles to carry the commanders were also on show.
Vietnam is ready for 37th ASEAN Summit
Deputy Foreign Minister Nguyen Quoc Dung told reporters on Monday that the 37th ASEAN Summit and related summits will be held online between November 12 and 15. He said these meetings will be ASEAN's most important event this year, VOV News reported.
The 37th ASEAN Summit and related events will take place online from November 12-15 under the leadership of Prime Minister Nguyen Xuan Phuc.
Among important meetings to be held with Vietnam as the ASEAN chair are the ASEAN+1 summits with Australia, China, India, Japan, South Korea, the United States, and the United Nations.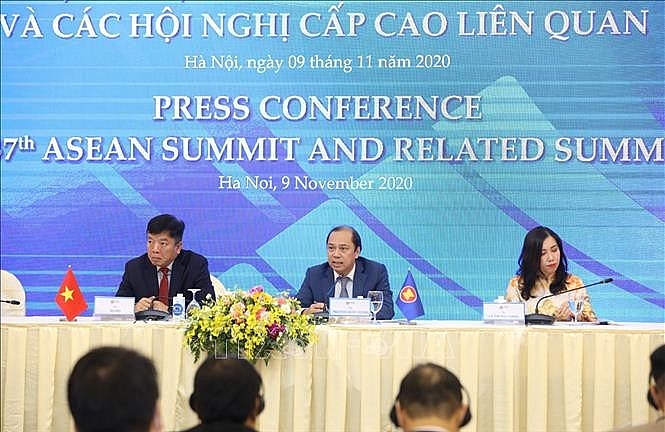 Deputy Foreign Minister Nguyen Quoc Dung (C). (Photo: VNA)
According to nhandan, The ASEAN Senior Officials' Preparatory Meeting took place via videoconference on November 9 to look into preparations for the 37th ASEAN Summit and related meetings, slated for later this week.
Participants spoke highly of preparations by Vietnam, as ASEAN Chair in 2020, for key events in the bloc this year. They also basically agreed on activities, agenda items, and documents to be submitted to leaders at upcoming meetings.
They expressed satisfaction that the initiatives and priorities for 2020 have been carried out well and on schedule despite the difficulties posed by COVID-19.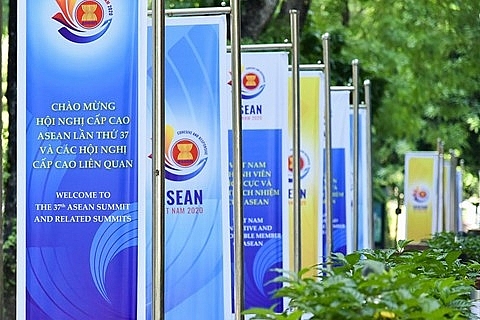 The 37th ASEAN Summit and related meetings are the most important events of the bloc this year. Photo: VGP News.
Outstanding initiatives include the mid-term review of the implementation of blueprints for the ASEAN Community Vision 2025, building the Hanoi Declaration on a post-2025 ASEAN Vision, reviewing the implementation of the ASEAN Charter, and promoting sub-regional cooperation for narrowing development gaps and promoting sustainable development, according to officials.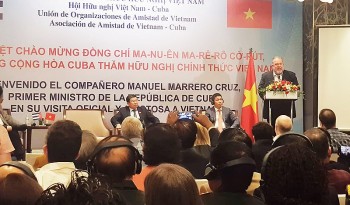 Friendship
Cuban Prime Minister Manuel Marrero Cruz met representatives from the Vietnam-Cuba Friendship Association in Hanoi on September 30, as part of his visit to Vietnam from September 28 to October 2.